Korla Travel Guide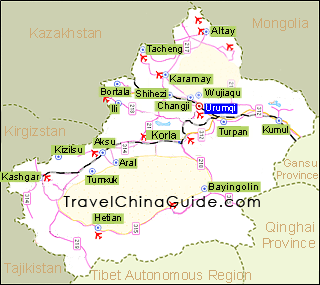 Korla Facts
Chinese Name: 库尔勒市 (kù ěr lè shì)
Population: 1,000,000
Area: 7,268 square kilometers (2,806 square miles)
Location: in the central area of Xinjiang, northwest China
Area Code: 0996
Zip Code: 841000
GDP (2019): CNY 70.366 billion (USD 15.527 billion)
Nationalities: Mongol, Uyghur, Han, Kazak, Hui, Kirgiz
The Capital of Bayingolin Known as the "Pear City"
Korla in the center of Xinjiang is the capital of Bayingolin and the second-largest city of Xinjiang. In history, Korla was the throat of the middle road of the Silk Road. Now, this ancient oasis has developed into an important transportation hub and material distribution center in the Xinjiang. Korla is also known as the "Pear City" because of producing juicy and crisp Korla pears favored.

Swan River Scenic Area in southern urban Korla spanning 10 kilometers (6.2 parts) is the highlight among a trip to Korla. The best way to visit it is by a boat in which you can see the beautiful cityscape and natural scenery. It is also easy to find some historic attractions in this city. The Ancient City of Loulan and Tiemen Pass is most famous. Besides, there are many unique natural landscapes around Korla, including grasslands, lakes, forests, stone forests and snow mountains. If you want to have a taste of local ethnic customs, just visit Korla Ethnic Culture Park, 14 kilometers (8.7 miles) from central Korla, where you can taste local delicacies, fresh fruits and watch performances.



Pictures
With its long and rich history and the specific physical features, the city is among the first group of National Excellent Tourist Destinations boasting many places worth seeing, such as Ancient City of Loulan, Bosten Lake, Bayanbulak Grassland, Lop Nur, Takla Makan Desert, Iron Gate Pass and Yadan Spectacle.



Other Scenic Spots: Tianshan Mountain Chain, Mt. Aerjinshan, Bosten Lake, Kongquehe River, Tarim River, Kuerchu Brook, Yinyanghu Lake, Lianhuahu Lake
| | |
| --- | --- |
| Downtown Area of Korla | Bayanbulak Grassland, Bayingolin |
How to Get to Korla
By Air: Korla Airport has flights to Chengdu, Shanghai, Beijing and other big cities in China every week. It also has daily flights to nearby cities, such as Yining, Urumqi and Kashgar.
By Train: Korla Railway Station has trains running to Urumqi, Turpan and Hami in Xinjiang, then to the other provincial cities like Lanzhou, Xi'an and Chengdu.
By Long-distance Bus: There are several major national highways linking Korla with the nearby cities and tourist destinations in and around Xinjiang. Everyday, there are buses to Urummqi, Aksu, Kashgar, Karamay City, etc. The newly built dessert road runs through the Taklimakan and reaches Minfeng County and Hetian City.
By Taxi: It is convenient to hire a taxi in this city. The flag down fare is 5 Yuan and may vary according to the size of the vehicle.
Weather
-
Dominated by continental climate, the area is dry with light rainfall, a high evaporation rate, lots of sun and a huge temperature disparity between day and night; the total sunshine is about 3000 hours per year, and there is an average frost-free period of 210 days. In summer, the temperature can be as high as 40 C and in winter as low as -30 C. The prevailing winds in the area are northeasterly. The annual precipitation of the rainfall is 25-100 mm. The best time to visit this area is from August to September due to the comfortable weather conditions.
Korla Travel Tips

Physical Features: The land is higher in the north, sloping to the lower south in a fan-shaped oasis of fertility. The Kongque River has the whole of its course through the area. This tributary of the Tarim flows through the south of the urban area into the largest river basin in China, the Tarim Basin. To the north of Korla, there are the Tianshan Mountain's branches-Kuluke Mountain and Hualashan Mountain, and to the south lies the Taklimakan Desert, the second-largest desert in the world.

History: With thousands of years of history, Korla was an important staging post in the middle of the Silk Road, because of the bottleneck of the Iron Gate Pass between Yanqi and Korla. It was set up as a county early in 1940, as a prefecture in 1954, and merged into the Bayin'guoleng Mongolia Autonomous prefecture in 1960. Finally, it was approved as a city in October 1979.



Special Local Products: Sweet Pear, Tomato, Muskmelon, Little Apricot In White, Fig, Mulberry, Raisin, Badamu, Cantaloup



Local Highlights: Singing and dancing are integral parts of the local life and have been around for centuries. Influenced by the ancient Silk Road civilizations, the song-and-dance styles have developed their own unique charm. Uyghur traditional and folk dances are very popular here, including the Bowl Dance, Big Drum Dance, Hoop Dance, Puta Dance, and the Synime, Xiadiyana, Nazirkom and Maixilaipu dances.
- Last updated on Apr. 12, 2021 -
Questions & Answers on Korla Travel
Asked by Rieng from THAILAND | Jul. 29, 2019 02:54

Reply
Sightseeing sround Korla
1. Please suggest places to see around Korla in 1 day
2. Including see sand dunes and ride camel near city
3. How much for renting van 12 seats to see places in 1 and 2
Thanks
Answers (1)
Answered by Hassan from USA | Jul. 31, 2019 20:49

0

0

Reply
You can go to Kuluke Mountain and Taklimakan Deser. Sorry, I'm not clear about the renting price of van.
Asked by Joshua from PHILIPPINES | Jul. 07, 2018 04:30

Reply
Read good things about Swan Lake, how far it it from Korla? How many hours is the drive?
Thinking of renting a car from there as it allows me to take my time exploring. Was thinking of taking the train from Urumqi, spending the night there and going to Swan Lake as a day trip.

Any info is appreciated, thanks!
Answers (5)
Answered by Cindy from FINLAND | Jul. 09, 2018 20:26

0

0

Reply
It's about 360 km and 5 hours is necessary by car to get there. I think it's ok for your schedule.
Answered by Joshua | Jul. 09, 2018 21:19

0

0

Reply
thanks for the reply! is the 5 hour drive from Korla or Urumqi? was thinking of taking the train to Korla (from Urumqi) then rent a car, just clarifying :D
Answered by Cindy | Jul. 10, 2018 17:54

0

0

Reply
5 hours just means driving from Korla to Swan Lake. It takes 6 to 7 hours to take a train from Urumqi to Korla.
Answered by Joshua | Jul. 10, 2018 23:51

0

0

Reply
Didn't know it was very far, bummer, anyway is there another town that has hotels for foreigners near swan lake? and if that town has public buses that go to and from Korla or Urumqi? might just spend the night there instead of a day trip, thanks for the info! :D
Answered by Cindy | Jul. 11, 2018 18:39

0

0

Reply
You can also choose to transit in Hejing County. However, it's also very far and you need to spend nearly the same time comparing with going to Korla. It seems that a day trip is unavoidable.