Bosten Lake
Lying in Bohu County of Korla, southeast of the Yanqi Basin, Bosten Lake is the biggest inland freshwater lake in China. It is 34 miles (55 kilometers) long from east to west and 15 miles (25 kilometers) wide from north to south, consisting of big and small lake districts. The big one is 381 square miles (988 square kilometers) and the small one covers 93 square miles (240 square kilometers). With an altitude of 3,438 feet (1,048 meters) and an average depth of 30 feet (9 meters), the lake is rich in fish and reeds. Besides, you can do many kinds of water sports here. The main scenic spots include Lotus Lake, Xihai Fishing Village, A Hong Kou, Electric Pumping Station, Bailuzhou and Golden Sand Beach.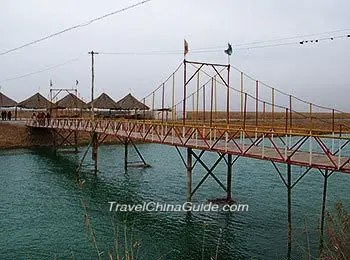 Bosten Lake
Lotus Lake
Lotus Lake, one of those small lakes located along the west coast of the Bosten Lake, is famous for its numerous lotuses. With the depth of 5.2 feet (1.6 meters), you can see the bottom of the lake. Some waterfront restaurants and platforms are built and you can also do various aquatic sports here. April to October is the best season to visit the Lotus Lake because large number of ducks, wild geese and egrets will gather here.
Xihai Fishing Village
Xihai Fishing Village, also called Da He Kou, lies along the west coast of the Bosten Lake. There are beautiful reeds and lotus ponds. You can catch and cook fish for yourself to experience fishermen's life here. Furthermore, you may have a chance to enjoy wonderful performances by local Mongolians.
A Hong Kou
A Hong Kou is situated along the southwest of the lake, covering a water area of over 40 square miles (104 square kilometers). A great deal of lotuses and reeds grow here. You can surf, paraglide and drive a motorboat at A Hong Kou.
Electric Pumping Station
Pumping Station is located along the south of the lake, 12 miles (20 kilometers) from Bohu County. It is the biggest electric pumping station of Xinjiang, built with a sightseeing stand for visitors' convenience. Besides the pumping station, what attracts visitors is the grape corridor.
Bailuzhou
Bailuzhou is along the south coast of the Bosten Lake, 30 miles (48 kilometers) from Bohu County. The south of it is a desert where soft sand hills roll up and down. You can do all kinds of beach sports here including beach motorcycles, volleyball, badminton and archery. What's more, the biggest Desert Ski Resort in China is at Bailuzhou, which has elementary and intermediate ski trails and ski trails for entertainment. If you visit the lake in winter, you must not miss Bailuzhou.
Golden Sand Beach
Golden Sand Beach is located in the north of the Yanqi Basin and along the northeast coast of the lake. It is a lake-type bathing beach being called "Hawaii of Xinjiang" because of its golden sands and clear water. You can angle, dive, play volleyball and watch horse racing here.
How to get to Bosten Lake from Korla

You can take the Shuigongtuan Bus Line at Defeng Mansion in the city center of Korla to Shuigongtuan Wulian, which is along the south coast of the lake. In summer, the bus has a stop by A Hong Kou and it is more convenient to get off there. The duration is 1h while the return journey to Korla takes 1.5h. The bus departs about half an hour in day time and the one-way trip costs CNY 7.

To Xihai Fishing Village, first take a bus at Korla Central Coach Terminal to Bohu County at the cost of CNY15. After, you can take the direct bus at Bohu County Coach Terminal to Xihai Fishing Village. The bus fare is CNY 3.

You can also hire a private car from Korla to the lake and travel around the scenic sites along the lake. It costs CNY 400-500 for a round trip.
Admission Fee
Combo ticket covering the Lotus Lake, A Hong Kou, Pumping Station and Bailuzhou: CNY 45
Xihai Fishing Village: CNY 30
Golden Sand Beach: CNY 40
Half price for children between 3.9 and 4.6 feet (1.2 - 1.5 meters) in height.
Free for children less than 3.9 feet (1.2 meters) in height.
Opening Hours
Bosten Lake: 10:00-19:30
Xihai Fishing Village: 09:00-18:00

Nearby Attractions

Iron Gate Pass

Xiangsi Lake
- Last modified on Apr. 22, 2019 -