Bayingolin (Bayin'guoleng) Travel Guide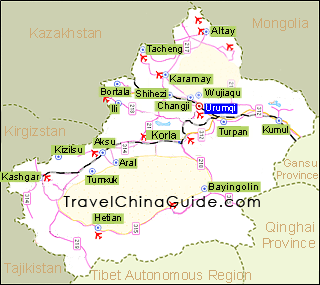 Bayingolin Facts
Chinese Name: 巴音郭楞蒙古族自治州 (bā yīn guō lèng méng gǔ zú zì zhì zhōu)
Population: 1,280,600
Area: 471,500 square kilometers (182,047 square miles)
Location: in the southeast of Xinjiang, northwest China
Administrative Division: 7 counties: Bugur (Luntai), Lopnur (Yuli), Qarkilik (Ruoqiang), Qarqan (Qiemo), Hejing, Hoxud (Heshuo), Bagrax (Bohu); 1 autonomous county (Yanqi Hui Autonomous County); 1 county-level city (Korla)
Area Code: 0996
Zip Code: 841000
GDP (2018): CNY 102.75 billion (USD 15.53 billion)
Nationalities: Mongolian, Uygur, Han, Hui

Bayingolin Mongol Autonomous Prefecture is situated in the southeast of Xinjiang, with neighboring provinces Gansu and Qinghai to the east. It is separated from Tibet by the Kunlun Mountains to the south. Within the Xinjiang Bayingolin Prefecture, it is bordered by Hotan to the west, and is in neighborhood of Ili, Changji, Urumqi, Turpan and Kumul with the Tianshan Mountains to the north acting as the boundary between Bayingolin and these regions.

Bayingolin is the largest prefecture-level administrative region in China as it occupies a quarter of the total area of Xinjiang. In the vast territory of Bayingolin, changeable natural landscapes are showcased from the rolling snow-capped mountains, deserts to the lakes, grasslands, Gobi, and populus euphratica forests. Visitors can also see a large number of elegant and beautiful wild swans in Bayanbulak Grassland in April, the largest mountain grassland in China.
Attractions

Bayanbulak Grassland: This is the largest alpine grassland in China, covering a total area of 23 thousand square kilometers (8,880 square miles). Swan Lake is a network of many small lakes located in the center of Bayanbulak Grassland. Every year around April, swans and many other birds fly from the south in succession. May to June is the season when little swan are born, and it is the best time to admire the swans. Also in the grassland, the Kunse (Gongnaisi) Forestry Center is a great natural treasury of wildlife, while also producing many precious herbs.

Tarim River: It is the largest inland river in China flowing through the Takla Makan Desert. Tarim River Tourist Zone lies in the Lopnur (Yuli) County, 105 kilometers (65 miles) from Korla. The tourist zone is praised to be '800 li (246 miles) of green corridor' with primitive diversified-leaf poplar trees planted along the river banks. How poetic while riding on camel back, meandering through the desert and admiring the fascinating scenery of sunrise and sunset.

Other Scenic Spots: Bosten Lake, Ancient City of Loulan, Lop Nur

| | |
| --- | --- |
| Takla Makan Desert, Xinjiang | Bayanbulak Grassland, Bayingolin |
How to Get to Bayingolin
1. The new Korla Airport completed in October, 2007 is the second largest airport in Xinjiang. It is about 17 kilometers (11 miles) southwest of downtown Korla. At present, it mainly operates flights shuttling between Korla and Urumqi. In the near future, there will be more flights to some of the larger cities of China.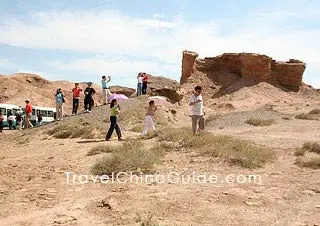 Yadan Spectacle, Lop Nur,
Ruoqiang County, Bayingolin

2. Qiemo Yudu Airport is located in Qigekashi Village, Bagherik Township, Qiemo County Bayingolin Mongol Autonomous Prefecture, Xinjiang Uygur Autonomous Region, about 11 kilometers (7 miles) from the county center. It has connected with Urumqi, Korla, Qarkilik and Hotan. Airport shuttle bus runs to downtown.

3. Ruoqiang Loulan Airport is located in Xita Tingrang Village, Wutamu Township, Ruoqiang County of Bayingolin Mongol Autonomous Prefecture in Xinjiang Uygur Autonomous Region, about 10 kilometers (6 miles) from the county. The airport opens flights to / from Urumqi, Qiemo, Korla and Zhengzhou.

4. Korla passenger transport center is seated in Beishan Lu, and visitors can take public busses No.2, 12, 19 and 26 to the bus station.
Weather
-
The prefecture enjoys a temperate continental climate characterized by aridity, lack of rainfall, much evaporation and long daylight hours. In higher mountainous regions, there is no summer heat all the year round, while in the plain areas, the four seasons are distinct. September and October are the most ideal times to visit Bayingolin. The weather is moderate and there are fresh melons and other fruits in the market. The Swan Lake is full of water filled depressions. Visitors going there should be escorted by guides. The temperature in the Bayanbulak Grassland may change greatly, adequate clothing is suggested.
Bayingolin Travel Tips

History: During the early years of the Western Han Dynasty (206BC-24AD), there were thirty-six city states and kingdoms in the western region of China and eleven of these states existed in the region of Xinjiang. Since the year 60BC, the central government began to set up protectorates to administer the area. When Korla was brought into the prefecture in 1960, the prefecture government simultaneously moved to Korla.



Physical Features: The whole prefecture fits into three morphologic regions: Tianshan Mountains, Tarim Basin and Kunlun-Arjin Mountains. Mountainous regions make up forty-nine percent of Bayingolin's territory. In addition, it has the Takla Makan Desert in the center and vast plains in the north.

Local Highlights: Bayingolin Mongol Autonomous Prefecture is the largest city-level administrative region possessing China's largest desert, longest inland river, largest inland freshwater lake, alpine grassland, diversified-leaf poplar protection zone, and the only forest park in a desert terrain and a swan nature reserve.

Special Local Products: Korla pear, fig, apocynum tea, grape, liquorice
- Last updated on Jul. 18, 2022 -
Questions & Answers on Bayingolin Travel
Asked by Ms.Evelyn from CHINA | Jun. 03, 2009 01:15

Reply
In the early 17th century, Mongolian Zhunger Tribe often bullied Turhute Tribe. So, Turhute Tribe decided to move westwards.In the middle of the 17th century, Mongolian Turhute Tribe could not tolerate of torture from czarist Russia. They went through hardship and bitterness and took a long way back from Volga River side to settle down in Bayingolin. At that time, China was dominated by the Qing Dynasty (1644-1911). The Emperor Qianlong met the leader of the Turhute Tribe, named Woerxi, the son of Mongolian Khan. Just guess what gift Woerxi send to the emperor. It's an official seal that Emperor Chengzu of the Ming Dynasty (1368-1644) endowed to Turhute tribe. In the Ming Dyansty, Turhute Tribe submitted to the Ming Dyansty. Why did he give that? Woerxi just wanted to prove he is a Chinese by right of this imperial seal. It shows that he admitted he is a Chinese. As the ruling dynasty of China, Emperor Qianlong, of course, was very pleased to accept this tribe.
Answers (2)
Answered by Mr.Xu from CHINA | Jun. 03, 2009 02:22

0

0

Reply
Turhute Tribe submitted to the Ming Dynasty. In the early Qing Dynasty, another Mongolian tribe Zhunger often bullied Turhute. Turhute could not stand the bully. They moved westwards and settled down along the Volga River.
Answered by Mr.Tan from SINGAPORE | Dec. 05, 2009 02:57

0

0

Reply
Very enlightening insight into history. Chinese history and culture are indeed fascinating - my limited knowledge of both makes me terriby embarraseed to say that I am a Chinese!