Karamay Travel Guide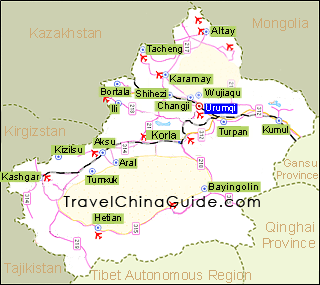 Karamay Facts
Chinese Name: 克拉玛依市 (kè lā mǎ yī shì)
Location: Karamay is situated in northwestern Xinjiang Uygur Autonomous Region at the edge of the Junggar Basin. The Tianshan Mountains zigzag south of the city, and the road mileage between Karamay and Urumqi is 313 kilometers (194 miles).

Population: 330,000
Area: 9,500 square kilometers (3,668 square miles)
Nationalities: Han, Uygur
Administrative Division: 4 districts (Karamay, Dushanzi, Baijiantan, Urho)
Useful Telephone Numbers:
Tourist Complaints: 0990-6888861, 6623009
Weather Forecast: 121
Zip Code Inquiry: 184
Attractions:

Ghost Town of World: Also called 'Urho Wind City', the Ghost Town is situated 110 kilometers (68 miles) northeast of the city, covering ten square kilometers of stunning Ya-dang landscape. When it is windy in spring and autumn, the rock formations blow like whistles, hence its name, the Ghost Town of World.
| | |
| --- | --- |
| Black Oil Mountain Park | Ghost Town |

Poplar River Gorge (Baiyanghe Gorge): It is located 17km (11mi) west of Urho District of the city. It is around 24km (15mi) long and averagely 400m (437 yd) wide. The river in the valley is 5-10m (16-33ft) wide and around 50cm (20in) deep. Steep and high Yardang landforms stand upright on both sides of the wandering river. The gorge is the most beautiful section of the river valley along Poplar River, the mother river of Urho, with flourishing poplars guarding this pretty area. Thick poplar forests, almond leaved willows, jujube trees, lush lawn, elms and scrub spread over. Aside from the fascinating surroundings, the gorge is also a good summer resort and a wonderful place for drifting. White yurts amidst straight poplars add radiance to this valuable green area in the far west of China.
Tips:
1. Accommodation: There are hotels or hostels in Urho District or downtown area to stay. Besides, to camp around the gorge would be interesting.
2. As the gorge is at the desert area with strong sunshine, it is necessary to prepare sunglasses, sunscreen cream, and other wind-proof and sun-proof items.
Admission Fee
CNY20
Opening Hours
08:00 - 18:00
Best Season/Time to Travel
1. Summer and Autumn
2. During the Eid-ul-Fitr, Corban Festival and Water-Sprinkling Festival
Transportation
1. There are tourism buses between these two places in operation.
2. It is recommended to rent a car or take a taxi to get there.
| | |
| --- | --- |
| Street Scene | Nine-Dragon Pool |
How to Get to Karamay
Karamay Airport is 17 kilometers (11 miles) from the city's downtown area. At present, only one daily flight leaves for Urumqi in the morning for an hour's journey. If going to Urumqi from the bus station of Karamay, a ten hours' drive may be needed.
Weather
-
The region has a typical continental climate characterized by a lack of rain and quite windy spring and autumn. Winter is extremely cold and summer is roasting, generating a large temperature difference between these two seasons. Comparatively, its spring and autumn are short during a year.
Karamay Travel Tips

History: Karamay is Uygur word meaning 'black oil'. It gained this name for the Black Oil Mountain near the city proper. After the first oil well of the mountain began to work in 1955, the city entered a great era of exploitation and construction.

Physical Features: The terrain is long and narrow, higher in the northwest and lower in the southeast. Generally speaking, its western and northern territories are occupied by mountains, while its central and eastern parts are vast open flat spaces.

Special Local Pproducts: embellished cap, woolen carpet