Karamay Travel Guide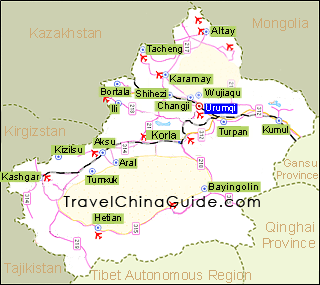 Karamay Facts
Chinese Name: 克拉玛依市 (kè lā mǎ yī shì)
Population: 460,000
Area: 7,733 square kilometers (2,986 square miles)
Location: in the northwest of Xinjiang, northwest China
Administrative Division: 4 districts (Karamay, Dushanzi, Baijiantan, Urho)
Area Code: 0990
Zip Code: 834000
GDP (2019): CNY 97.29 billion (USD 14.10 billion)
Nationalities: Han, Uygur, Kazak
A Modern Oil City with Unique Yardang Landform
Karamay is situated in northwestern Xinjiang Uygur Autonomous Region at the edge of the Junggar Basin. The Tianshan Mountains zigzag south of the city, and the road mileage between Karamay and Urumqi is 313 kilometers (194 miles). Karamay means "black oil" in the Uyghur language. Once most areas of Karamay were desolate and backward, but now it is a livable modern city and an important oil and petrochemical base in China. While touring the fascinating cityscape, visitors can also enjoy the unique Yardang landform in the Ghost Town of World regarded as China's 50 most worthy places for foreigners to go to, China's most beautiful highway - Dushanzi-Kuqa Highway and Poplar River Gorge with dense euphrates poplar forests.
Attractions:

Ghost Town of World: Also called 'Urho Wind City', the Ghost Town is situated 110 kilometers (68 miles) northeast of the city, covering ten square kilometers of stunning Ya-dang landscape. When it is windy in spring and autumn, the rock formations blow like whistles, hence its name, the Ghost Town of World.
| | |
| --- | --- |
| Black Oil Mountain Park | Ghost Town |

Poplar River Gorge (Baiyanghe Gorge): It is located 17km (11mi) west of Urho District of the city. It is around 24km (15mi) long and averagely 400m (437 yd) wide. The river in the valley is 5-10m (16-33ft) wide and around 50cm (20in) deep. Steep and high Yardang landforms stand upright on both sides of the wandering river. The gorge is the most beautiful section of the river valley along Poplar River, the mother river of Urho, with flourishing poplars guarding this pretty area. Thick poplar forests, almond leaved willows, jujube trees, lush lawn, elms and scrub spread over. Aside from the fascinating surroundings, the gorge is also a good summer resort and a wonderful place for drifting. White yurts amidst straight poplars add radiance to this valuable green area in the far west of China.
Tips:
1. Accommodation: There are hotels or hostels in Urho District or downtown area to stay. Besides, to camp around the gorge would be interesting.
2. As the gorge is at the desert area with strong sunshine, it is necessary to prepare sunglasses, sunscreen cream, and other wind-proof and sun-proof items.
Admission Fee
CNY20
Opening Hours
08:00 - 18:00
Best Season/Time to Travel
1. Summer and Autumn
2. During the Eid-ul-Fitr, Corban Festival and Water-Sprinkling Festival
Transportation
1. There are tourism buses between these two places in operation.
2. It is recommended to rent a car or take a taxi to get there.
| | |
| --- | --- |
| Street Scene | Nine-Dragon Pool |
How to Get to Karamay
Karamay Airport is 17 kilometers (11 miles) from the city's downtown area. At present, only one daily flight leaves for Urumqi in the morning for an hour's journey. If going to Urumqi from the bus station of Karamay, a ten hours' drive may be needed.
Weather
-
The region has a typical continental climate characterized by a lack of rain and quite windy spring and autumn. Winter is extremely cold and summer is roasting, generating a large temperature difference between these two seasons. Comparatively, its spring and autumn are short during a year.
Karamay Travel Tips

History: Karamay is Uygur word meaning 'black oil'. It gained this name for the Black Oil Mountain near the city proper. After the first oil well of the mountain began to work in 1955, the city entered a great era of exploitation and construction.

Physical Features: The terrain is long and narrow, higher in the northwest and lower in the southeast. Generally speaking, its western and northern territories are occupied by mountains, while its central and eastern parts are vast open flat spaces.

Special Local Pproducts: embellished cap, woolen carpet
- Last updated on Apr. 12, 2021 -
Questions & Answers on Karamay Travel
Asked by alan cameron from NEW ZEALAND | May. 06, 2015 22:48

Reply
Teaching English in Karamay
I'm thinking of coming there to teach English in September 2015.Is it easy to transfer funds back to NZ.?(financial obligations) Is it expensive to buy winter clothes?.Is accommodation well heated and how? Thanks.
alan
Answers (1)
Answered by Alice from RUSSIA | May. 07, 2015 02:02

0

0

Reply
1.Well, as far as I know, it's convenient for you to transfer money back to your country. There are several big banks including Bank of China and ICBC that can provide international remittance service. But they usually charge some service fee.
2.Most winter clothes there have reasonable price and good quality. And there are several shopping malls in the downtown area. You can go and see.
3.Most houses and hotels have heating system. So the indoor temperature will be warm and comfortable. Some are central heating by air-conditioning. And others have heating radiators.

Asked by George from AUSTRALIA | Dec. 27, 2012 17:51

Reply
When is spring & autumn in Karamay?
Answers (2)
Answered by Ellen | Dec. 27, 2012 21:20

0

0

Reply
The spring is from March to May, while autumn is from Spetember to November.
Answered by George from AUSTRALIA | Dec. 27, 2012 22:26

1

0

Reply
Thanks Ellen, and thanks to the 3 engineers and 5 editors who are devoted to maintaining this free platform. Give yourselves a big pat on the back, but be careful doing it, you may break your arm.
Asked by Mr.Mark Ammon from NEW ZEALAND | Jun. 25, 2010 20:28

Reply
I visited Karamay for 3 days in October 2007 as a guest of the City Government.
They were very kind hosts and it was a very interesting place - I was shown many places in a short time - would like to return and see the mountains and the markets.
My hosts were especially considerate in their welcome given that my itinerary meant I arrived at the start of the weekend.
Long day getting there - left Auckland - 11 hours to Shanghai - 5 hours in Shanghai - flew on to Urumqi (5 hours) - brief stop then flew on 1 hour to this place
That is a very clean and modern city - black oil hill and oil museum are good to see - as is Ghost Castle. Visited Dairy factory and fruit growing hydroponic garden.
Enjoyed visiting Community Center - meeting young and old.
Have met two delegations from the city back here in Waitomo - New Zealand since 2007.
Had a great lunch at Urho Town - very friendly - lots of Moutai 57% alcohol. It ignites! Gave me a rock ornament from Urho (My spelling may be a bit wrong)
The extent of the oilfield is very impressive.
I have a wish to take a delegation from NZ to visit the city- someday.

Answers (3)
Answered by Mr.King | Jun. 26, 2010 03:23

1

0

Reply
Nice trip, welcome to China again!
Answered by Don Lee from CANADA | Feb. 06, 2013 12:11

1

0

Reply
Hi ,

We want to visit Karamay this place October , how is the weather there in October ? Any tourism there in October ?
Answered by Kate | Feb. 06, 2013 20:48

1

0

Reply
It is a nice period to visit there. The general temperature at that time is around 10C with big temperature difference. The wind may be heavy then. If you can, you had better go in the early time of Oct.
This place has developed into a tourism city at present, so the tourism develop well there. It is not hard to find a local tour agency there.