Ghost Town of the World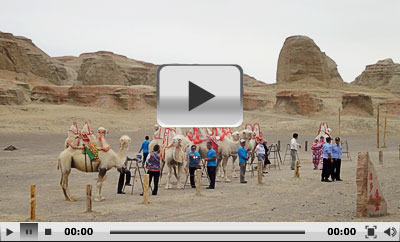 The "Ghost Town" in the desert is situated in Wuerhe, about 100 kilometers (62 miles) away from Karamay city, Xinjiang Uygur Autonomous Region and takes an area of 100,000 sq meters (10 hectares). Being one of the few typical wind erosion physiognomies in the world, the Ghost City has become a famous tourist area for its unique landform and the howling wind.

Origin of the Name "Ghost Town"
The Ghost Town is the nickname for Feng Cheng (the Windy Town), and it is named as such for just the wind rather than its appearance. Located in the northern edge of Junggar Basin, between the Altay Mountains and Tianshan Mountains, the Ghost Town is a noted spot in northern Xinjiang where wind blows everyday. Gales of force 8 on the Beaufort scale frequently blow in this area. In ancient times, there was no road linking the area to the outside world and there were no habitations in the surrounding area. When great winds or sand storms rose, they roared through the town like howling ghosts with sand and dust blocking out the sky. The howl came closer and closer sometimes it was sharp, sometimes hoarse and sometimes like the howl of a wolf which made people's hair stand on end. It hurt when hit the face by the sand. People could not open their eyes while the yellow sand filled the mouth, ears and neck. When the wind eventually stopped, they felt as if they had escaped from a devil' s talons. It is so dreadful that this area become known as the Ghost Town.
| | |
| --- | --- |
| Ghost Town of the World, Karamay | Yardang Landform |
Landscape of Ghost Town
After erosion by wind and water for eons, the raised stratum of the Ghost City has been carved into great mounds with various shapes and an average height of 10 meters (33 feet). Some mounds look like castles, temples, pavilions and beacons of the city wall, while some resemble lions, horses, turtles, and eagles. Wander in the Ghost City and you will find nature has re-created many world-famous buildings here. The Temple of Heaven in Beijing, the Potala Palace in Tibet, the Pyramids, the Arab mosques and other architecture all can be seen here. Colorful stones are scattered like pearls dropped by fairies making the place even more mysterious. These extraordinary natural masterpieces are infinitely wonderful, causing people to linger on with no thought of leaving. Your imagination will be brought into full play.
| | |
| --- | --- |
| Camels in the Ghost Town | Uygur people |
Origin of Landscapes
Yardang Landform is the origin of the landscape of this "Ghost Town". According to the textual research, a hundred million years ago, the place was a huge freshwater lake. In the warm and humid climate, the land was covered with dense tropical trees and shrubs. The wet ground and water plants created a green world, where ancient reptiles such as the stegosaurus and pterosaurs lived and multiplied. Following tectonic movement, the land rose gradually into an area of shale and sandstone. After millennia of erosion by wind and rain, the present strange sight of Yardang landform was made. This is not only a good place in which to travel but it also attracts a great deal of attention and interest from those who appreciate its scientific value.
Entrance Fee:
CNY 42
Sightseeing bus ticket fare: CNY 20
Transportation:
Take the local travel bus or hire a car from Karamay to the Ghost Town of World. The fee is about CNY 100-130.

Further reading: There is also ghost city at Kumul of Xinjiang, it is Devil City.
- Last updated on Apr. 12, 2021 -
Questions & Answers on Ghost Town of the World
Asked by ellie from CHINA | Nov. 02, 2017 05:18

Reply
Where is Karamay bus station and how long is the ride?
Hello there!

I just arrived there 6 weeks ago and would like to check out the ghost town. I only have one free day per week (monday). So i didn't get much around yet. Where can i find the city bus station and how long will it take the bus to go there?

I hope someone can help me with this!

Thanks :)

Greetings!
Answers (1)
Answered by Joe from ICELAND | Nov. 02, 2017 21:43

0

0

Reply
The bus station is in 131 Youyi Rd, Karamay District.
As I know, there are two buses available at 9:30 and 16:00 to Wuerhe, takig about 1 hour. After getting there, you can take a local car to the town, and it may cost CNY40-50, which you can share with other visitors.
Hav a nice trip!
Asked by mandy adams from UNITED KINGDOM | Jun. 27, 2011 18:20

Reply
I am asthmatic.Will I have breathing difficulties if I go to ghost city Xinjiang
Answers (1)
Answered by Vivi from CHINA | Jun. 27, 2011 20:08

0

0

Reply
It is uaully OK for you to visit the ghost city Xinjiang since its altitude is about 300~500m but it is windy with sands. Anyway, you'd better consult about your health condition from your personal doctor.