Ili Travel Guide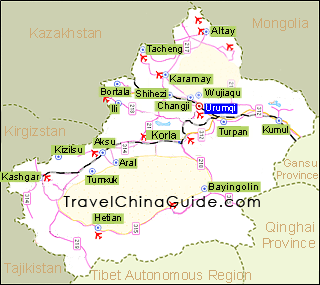 Ili Facts:
Chinese Name: 伊犁哈萨克自治州 (yī lí hā sà kè zì zhì zhōu)
Population: 2,930,600
Area: 56,500 square kilometers (21,815 square miles)
Location: in the west of Xinjiang, northwest China
Administrative Division: 1 autonomous county (Qapqal Xibe); 7 counties (Gulja, Qorghas, Tokkuztara, Kvnes, Monglkvre, Tekes, Nilka); 3 county-level cities (Yining, Kuytun, Khorgas); 2 regions (Qoqek, Altay)
Area Code: 0999
Zip Code: 835000
GDP (2019): CNY 222.645 billion (USD 32.272 billion)
Nationalities: Han, Kazak, Uygur, Hui
The Most Beautiful City in Xinjiang
Lying at the north foot of the Tianshan Mountain, Ili Kazak Autonomous Prefecture is in the west of Xinjiang Uygur Autonomous Region, bounded on the northeast by Russia and Mongolia, on the west by Kazakhstan. The capital of Ili is situated in Yining City. There is a saying goes that you do not know how vast China is until you visit Xinjiang and you cannot truly admire the beauty of Xinjiang until you tour Ili. So there is no exaggeration to say that Yili is the most beautiful place in Xinjiang. The city features broad and green grasslands, lofty snow mountains, clear lakes and colorful flower seas. Guozigou Valley, Sayram Lake, Nalati Grassland are the most well-known spots. Rich Kazakh folk customs and grassland culture are retained in the Nalati Grassland.



Pictures

Guozigou Valley (Fruits Valley): Located 40 kilometers (25 miles) northeast of Huocheng County, the Fruit Valley is well-known for its beautiful scenery, so it has been regarded as the 'No.1 Beauty' in Ili throughout the ages. The Valley, also named Talqi Valley, is an important pass of the present Urumqi–Yining Highway (No.312 National Highway). In ancient times, it was a vital strategic section and communication hub of the Northern Route of the Silk Road. In 1219, Genghis Khan made a west expedition to Ili, but he was blocked by the Tianshan Mountains. He ordered Qagatay, his second son, to knock through the Fruit Valley, the natural door of Ili. In the valley, 28 kilometers long, wild fruits, apricots, exotic flowers and rare herbs can be found everywhere. The valley takes on a different appearance with the passing of the seasons. In spring, brilliant aromatic flowers bloom and butterflies dance among the flowers. In summer, green pine and spruce forests cover it like a green ocean. In autumn, red leaves and mellow fruits spread through the valley. In winter, the valley covered with pure white snow is enchanting.
| | |
| --- | --- |
| Sayram Lake | Khorgos Port |

Sayram Lake, the largest lake in Tianshan Mountains, stands at the peak of the Fruit Valley. It looks like a huge sapphire inlaid in the mountains. The Valley is open all day around and no entrance fee is charged. The best time to visit there is from late May to June. Another good time to visit is from end of July to the beginning of August, during that time, local Mongolian and Kazakh herdsmen hold the Nadam Fair. It consists of recreational sports and entertainment, such as wrestling, horse-racing, archery, singing and dancing. Tourists can take buses from Urumqi to Yining pass through the Fruit Valley.



Nalati Grassland: is one of the four largest alpine meadows in the world.
| | |
| --- | --- |
| Nalati Grassland | Nalati Grassland |
How to Get to Ili
1. Yining Airport is only 5 kilometers (3 miles) from downtown Gulja City, operating flights to Urumqi and Kashgar.
2. Kazak is the largest ethnic minority living in this prefecture, and the Kazaks are hospitable. Visitors should be sure to see their traditional food and costumes.
Weather
-
The prefecture enjoys a cool, temperate, semi-arid, continental climate. Owing to the vast expanse of land, there are also microclimate features in different regions. Generally, summers here are short and the winters, long. The temperature varies greatly between day and night. The temperature in spring rises rapidly but unstably, while the autumn temperatures drop rapidly. Summer and autumn are the best time. The pastures are verdant. Melons and fruits are ripe. Notable is the sunset in Ili River. It is the favorite of many photographers.

The best travel time for Ili is from June to October every year. At this time, tourists can not only enjoy the beautiful natural scenery, but also taste all kinds of fresh seasonal fruits. In the middle of June, when the lavender is in full bloom, the local Lavender Festival will be held; in July, apricot flowers in Kvnes and rapeseed flowers in Monglkvre will also open one after another.
Ili Travel Tips

History: The Ili River gave birth to the primitive civilization of this area. In 552, the Tujue (a nomadic tribe living in the Altai Mountains) established the Turk Khan Kingdom on the river bank. The orbit of the central government entered the region in Tang Dynasty (618-907). It was given the name of Ili in the Qing Dynasty (1644-1911), and run as the political and military center of Xinjiang.



Physical Features: This prefecture is located in the heart of Central Asia. The Tianshan Mountains, the Altai Mountains, the Poluokenu Mountains, the Junggar Basin and the Monglkvre-Tekes Basin make up its main landforms, along with the Ili River, the Erqis River and their valleys.



Special Local Products: lavender, black currant
Recommended Tour Itinerary:
Hiking Tour: Information about hiking in Ili for your reference
- Last updated on Apr. 12, 2021 -
Questions & Answers on Ili Travel
Asked by Jess B from JAPAN | Oct. 06, 2019 18:56

Reply
Ili hostel for solo male foreigner backpacker
I want to stay in Ili hostels like 伊宁林栖舍民宿 can someone recommend hostel for foreigner? thanks !
Answers (3)
Answered by Liam from USA | Oct. 13, 2019 18:40

0

0

Reply
Do you mean Yili (伊犁)? Maybe you can go to Liuxing street to find the hostle.
Answered by ADMU77 | Oct. 14, 2019 18:32

0

0

Reply
thank you!
Answered by Teevara from THAILAND | Oct. 20, 2019 20:53

0

0

Reply
Now the role has change for foreigner must to booked in international hotel i recommend Long xin hotel
Asked by TEEVARA SAELEE from THAILAND | Sep. 11, 2019 12:42

Reply
Are there direct bus from Nalati grassland to Kuqa or from Xinyuan to Kuqa ?
And how about time and cost ?

Thanks
Answers (3)
Answered by Addington from CANADA | Sep. 11, 2019 18:57

0

0

Reply
As I know, there is only one direct long-distance bus from Xinyuan Coach Station to Kuqa. It departs at 16:00.
Answered by Teevara from THAILAND | Sep. 12, 2019 18:49

0

0

Reply
What's time arrive Kuqa?

Thanks you so much
Answered by Lisa from USA | Sep. 16, 2019 00:56

0

0

Reply
Around 4-5 hours.
Asked by JGB from JAPAN | Sep. 02, 2019 19:33

Reply
In Yining, are there any hostels which accept foreigners?
I am travelling to Yining next month. Solo backpacker. I prefer to stay at hostels. Any recommendations for hostels which accept foreigner?
Answers (1)
Answered by Leila from CANADA | Sep. 04, 2019 19:57

0

0

Reply
It is suggested to stay in regular hotel like Yili Hotel (Urumqi South Railway Station Wanda), which is located at No.339, Changjiang Road.
Asked by Edwin Tan from SINGAPORE | Feb. 15, 2019 14:05

Reply
Would the taxi do day trip to Sayram Lake from Kuitun via Fruit Valley? If so roughly how much?
I have booked a hotel in Kuitun for 2 nights this June. I can get by in basic Mandarin. Will I be a ble to get a taxi for a day trip to Sayram Lake from Kuitun via Fruit Valley?
Answers (1)
Answered by Justice from CANADA | Feb. 28, 2019 18:54

0

0

Reply
As I know, the fare is CNY600-800 per day.