Ili Attractions
Sayram Lake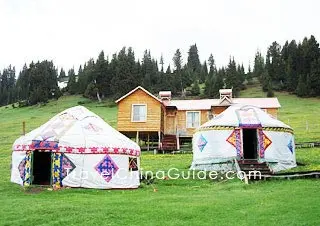 Tents at the bank of the Sayram Lake
Located at the gate of northwest China, Ili shares the border with Kazakhstan, Russia, Mongolia and other countries in length of more than 2,000 kilometers (1,243 miles). With an ample rainfall, it is a rare humid place in droughty and windy desert region of Xinjiang, and nicknamed 'Lush Southern Country beyond the Great Wall'. It possesses boundless grasslands, dense forests and rare wild animals. Also it's a vital stop on the north line of the Silk Road in Xinjiang. Numerous historical relics can be found there. In addition, it's a conflux of the eastern and western cultures and many different nationalities. The various and unique ethnic customs make this region become a fascinating tourist resort.
The best time to Ili is around July to September. During that time, grasslands become much more vigorous. On the lakefront of
Sayram Lake
, an appealing landscape comes into view – lush trees, fertile grassland, nameless flowers, flocks and herds, galloping horses, and dotted tents. Seeing this scene, you will marvel at the nature's charm from the bottom of the heart.
Situated to the west of Yining City, Ili, the Sayram Lake is the largest alpine lake in Xinjiang. With warm winter and cool summer, the climate there is favorable indeed. The lake is surrounded by vast pastures and lush forests. It's common to see spruces, birches, mountain ashes and hawthorns. In the forests, mushrooms grow here and there. Red deer, snow pheasants, golden eagles and peckerwoods can be seen. On the lake, swans, wild geese and mallards play happily.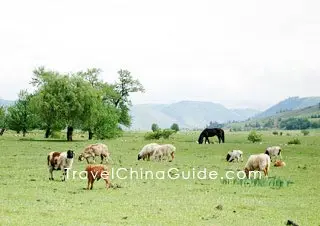 Nalati Grassland
In addition, the Nalati Grassland in Nalati Town of Xinyuan County is also attractive. It's the sub-alpine meadow of the Gongnaisi Grassland that is one of the four largest grasslands of the world. In summer and fall, wild flowers bloom all through the meadow. Nalati Grassland becomes a kaleidoscope of red, orange, yellow, green, blue and purple. In winter, the grassland showcases another look. Ski or take the horse-drawn sledge brings you endless enjoyment.

It's said that if you haven't been to Xinjiang, you don't know how large Xinjiang is; if you haven't been to Ili, you don't know how beautiful Ili is.' Through the above introduction of Ili, you can have some acquaintance with this region. However, words can not describe all the scenic spots of Ili. More attractions await your coming. If you want to explore this region, Qiaxi in Gongliu County, Guozigou Valley (Fruits Valley) in Yining and Huocheng County (the hometown of lavender) are high recommended.
- Last updated on Jul. 18, 2022 -