Nalati Grassland Pictures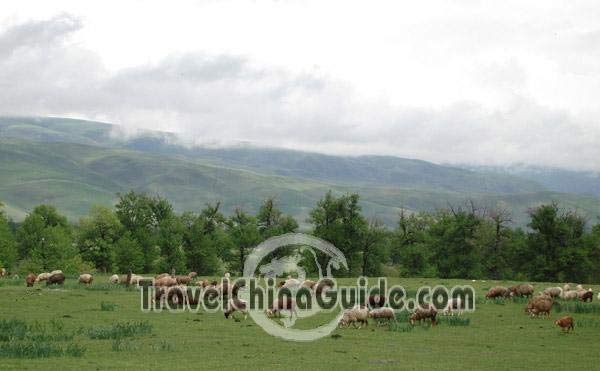 A group of plump sheep and fertile meadow on Nalati Grassland, Xinjiang
Lying in Nalati Town of Xinyuan County of Ili, the Nalati Grassland is the sub-alpine meadow of the Gongnaisi Grassland which is one of the four largest grasslands of the world. It is said that the best time to travel here is in summer and fall when wild flowers bloom all through the meadow. If you come here in winter, you can go skiing or take the horse-drawn sledge. Attraction Intro:
Nalati Grassland
- Last modified on Apr. 06, 2017 -
Questions & Answers on Nalati Grassland Pictures
Asked by Mr.KIMEP from KAZAKHSTAN | Feb. 28, 2009 23:31

Reply
I was in urumqi at the winter, i didnt like this place. There was very dirty ,and staff at hotels very rude and they dont know english language. Service is not good enough. Please imrpove your services at the hotels.
Answers (4)
Answered by Mr.Lee from CHINA | May. 10, 2009 21:33

9

0

Reply
I'm really sorry to hear that. Actually, Urumqi is a rather beautiful place,and the people there are quite friendly and helpful. It is a little bit dirty in the center of the city in winter, that's because they have to use coal to support the heating system. I don't know which hotel you stayed, but the services are quite good for most of the hotels. Probably, I can recommend you some good hotels if you go there next time.
Answered by Mrs.Li from CHINA | Jun. 26, 2009 09:06

9

0

Reply
Actually, maybe you are right, cause you saw the real face of Urumqi. im sorry about that, if you just live in a middle level hotel,not three ,four or five stars hotels, maybe the situation and services are lower than you thought.but afterall,Xinjiang is not a very wealthy city, but it's a very valuable palce to travel, i promise. you konw, the prople are enthusiasm and pure.not too much artificial. i love Xinjiang, not only because i lived there for several years, but also its special feeling give you passion and pure things. its not like Shanghai,which is very commercial so that makes you feel cold. Now, im studying in Shanghai international school.
Answered by Mrs.Mason from UK | Jul. 07, 2009 15:17

5

0

Reply
I went to Urumqi in 2004 and had a fabulous time. Loved the people, loved the markets, loved the food.

It needed an ATM in those days. Maybe one has arrived, now


Answered by Ms.fareda from USA | Aug. 23, 2009 13:08

0

0

Reply
Hi There,
Whar is the reason that you want future wife from Xinjiang? Are you uighur ? Thanks and have a good day.

Fareda