Hetian City Pictures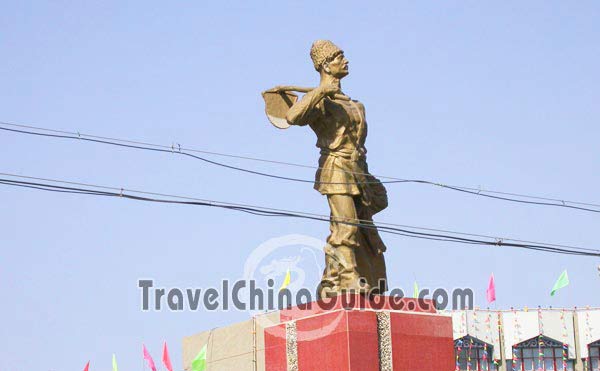 Photo Credit: Mr. Lynn Hurst

An outstanding statue is the symbol of diligence of people in Hetian City.
Lying to the south end of Xinjiang Province, Hetian City is a multiethnic area where 19 ethnic groups including Uygur, Han, Hui and Kazak people lived together. Covering an area of 189 square kilometers (73 square miles) it is 1,500 kilometers (932 miles) away from the provincial capital Urumiqi. The specialty of this city is the famous local jade, carpet and silk. Attraction Intro:
Hetian City
- Last modified on Aug. 10, 2017 -
Questions & Answers on Hetian City Pictures
Asked by Mr.Loong from MALAYSIA | Aug. 06, 2009 04:14

Reply
Hi, my group of 20 paxs are sceduled to arrive in Urumqi on 12 Sept. 2009. Until today, my travel agents told us that they couldn't be in contact with the Urumqi local ground arrangement agentto finalise our travel arrangement. It is said that telecommunication is barred from Xinjiang with the outside world? is this true?

How save is it for us as tourists from Malaysia ("Han") in Xinjiang particularly, the scenic spots in and around Urumqi like Tianchi and Turpan?

An honest view on the situation will be greatly apprecaited. TQ
Answers (2)
Answered by Mr.garbett from ENGLAND | Aug. 06, 2009 16:22

0

0

Reply
Hi, yes it is true that the telephone and internet from urumqi are suspended due to the problems that curently are going on in the city i got married in urumqi to a girl from urumqi last year she now lives in the uk with me but for one month she has not been able to speak to her family in urumqi as far as is it safe to be in the city the worst part is over there is a strong police and militry presence in the city at the moment so you will not see urumqi as it realy is ?as security is rather tight at the moment but the people are frendly and there is lots of intresting places to see heavenly lake in the winter is some thing else with the snow on the mountins and thick ice on the lake i hope you like hot food as urumqi food is a bit on the hot side (spicy hot) i went to urumqi 3 times last year for 3 months loved the place unfortunatly we will not be going back this year as i bought a house in the uk but next year i will be back again and ime very much looking forward to that

good place nice people good selection of shops meany resturants fantastic out door bbq from april to september in the new squere
Answered by Mr.Redwood from AUSTRALIA | Aug. 07, 2009 06:55

0

0

Reply
Mr Loong,
I revisiting china and Early next month will return to tour more of xinjaing. I have contacted my travel agent and they advised thet outside communication by phone and emails will not be back to normal till after the October 1st celebrations. So good luck.