Hotan Airport
Hotan Airport Code: HTN

Location: Hotan Airport is in No. 925, Yingbin Road, southwest of Hotan City, whose distance to Hotan city proper is about 11.5 kilometers (7 miles).

Terminal Building: The terminal of Hotan Airport has two floors. There is no self-service check-in machine, thus passengers need to check in at the counters. The ticket selling and inquiry counter is located in the west of the Departure Hall. Besides, the VIP Lounges can be found on the left after going through the security check channel.
Airlines of Hotan Airport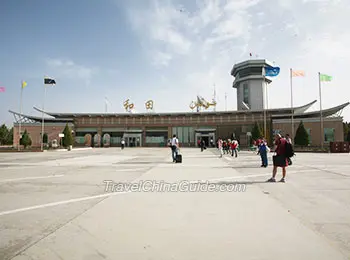 The flights of Hotan Airport are provided by Air China (CA), China Eastern Airlines (MU), China Southern Airlines (CZ), Tianjin Airlines (GS), China Express Airlines (G5), Shandong Airlines (SC), Shenzhen Airlines (ZH), Shanghai Airlines (FM), and Urumqi Air (UQ).
Flights Schedules of Hotan Airport

Destinations: Beijing, Chengdu, Chongqing, Guangzhou, Tianjin, Urumqi, Xi'an, Zhengzhou, Aksu, Korla, Kashgar, Karamay, Qarqan, Yarkand, Yining
Destinations
Frequency (weekly)
Duration
Beijing
1 on each Mon. & Fri.
4 on each Tue. & Thu.
2 on each Wed.
3 on each Sat. & Sun.
6h 20 minutes ~ 14h 55 minutes
Chengdu
3 on each Mon. Fri. & Sun.
7 on each Tue. & Thu.
2 on each Wed.
5 on each Sat.
4h 20 minutes ~ 15h 30 minutes
Chongqing
2 on each Mon. Wed. Fri. & Sun.
4 on each Tue. Thu. & Sat.
4h 10 minutes ~ 19h 10 minutes
Guangzhou
1 on each Wed. Fri. & Sun.
8h 10 minutes
Tianjin
4 on each Mon. Tue. Wed. Thu. Fri. & Sat.
3 on each Sun.
8h 25 minutes ~ 11h 45 minutes
Urumqi
6 on each day
1h 45 minutes
Xi'an
6 on each Mon. Wed. Fri. & Sun.
1 on each Tue.
3 on each Thu. & Sun.
4h ~ 14h 40 minutes
Zhengzhou
3 on each Mon. & Sat.
4 on each Tue. & Thu.
1 on each Wed.
2 on each Fri. & Sun.
4h 15 minutes ~ 11h 45 minutes
Aksu
6 on each Mon. Wed. Fri.
1h 10 minutes ~ 9h 50 minutes
Kashgar
7 on each Mon. Tue. Wed. Thu. Fri. & Sun.
55 minutes ~ 12h 10 minutes
Yining
1 on each day
2h
How to Travel Between Hotan Airport and Downtown Hotan
Airport Shuttle Bus: Airport – Hotan Railway Station
Airport – Hotan Railway Station
Hotan Railway Station – Airport
Operating Hours
according to the flights schedule
2.5 hours before the departure of flights
Route
Airport – Hotan People's Government – Huayu Hotel – Fengyuan Hotel – Yuzhou Hotel – Xihu Hotel – Tianjin Hotel – Hotan Hotel – Zhejiang Hotel – Wenzhou Hotel – Tianyu Hotel – Yiyuan Hotel – Yingbin International Hotel – Jinsanjiao Hotel – Hotan Railway Station
Duration
About 45 minutes
Ticket Fare
CNY 10/person
City Bus Line 9: Airport - Shangyou

Route: Airport – Shucai Jidi – Shiba Dadui – Shiqi Dadui – Ginning Factory – Tushala Village – Gas Station – Ershiliu Dadui – Qiakaixi – Traffic Police Brigade – Silk Factory – Shangyou

Operating Hours: 06:00 – 21:00

Ticket Fare: CNY 2/person
Taxi Reference from Hotan Airport
| Destination | Fare | Duration |
| --- | --- | --- |
| Downtown Hotan | CNY 15 - 25 | 25 minutes |
| Hotan Railway Station | CNY 20 - 30 | 35 minutes |
| Kunlun Lake Park | CNY 15 - 25 | 20 minutes |
| Hetian Museum | CNY 20 - 30 | 30 minutes |
- Last updated on Mar. 11, 2022 -