Dunhuang Weather
Dunhuang belongs to arid continental climate zone. Located in continental hinterland with a high altitude, Dunhuang weather is dry, accumulating to 35mm of annually precipitation; and the temperature difference between day and night is large. The hottest month is July with the average highest temperature of around 34℃ (93℉). The coldest month is January with the average lowest temperature of around -16℃ (3℉).
Best Time to Visit Dunhuang
Two durations, May to June and September to October, are highly recommended for sightseeing for the pleasant temperature and less windy days, especially for outdoor activities, including sand sliding, camel riding and desert camping.

7-Day Dunhuang Weather Forecast
Dunhuang Weather by Month
Averages for Dunhuang Weather
High/Low Temperatures of Dunhuang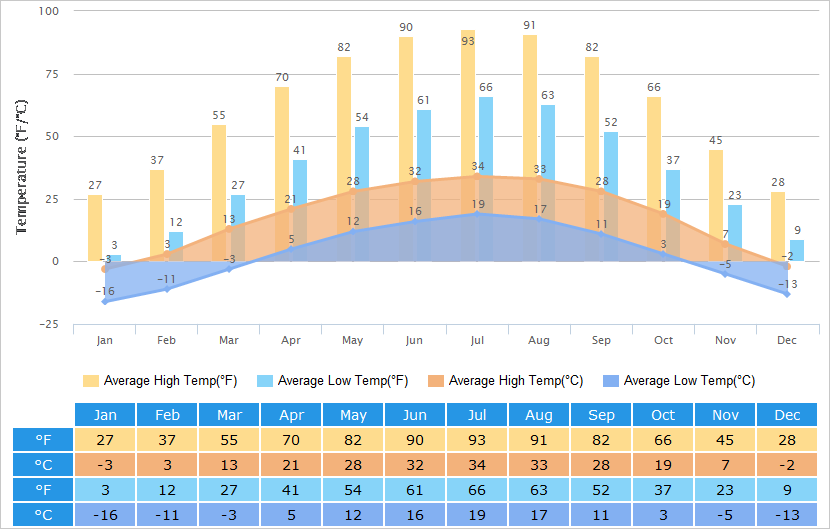 Average Temperatures of Dunhuang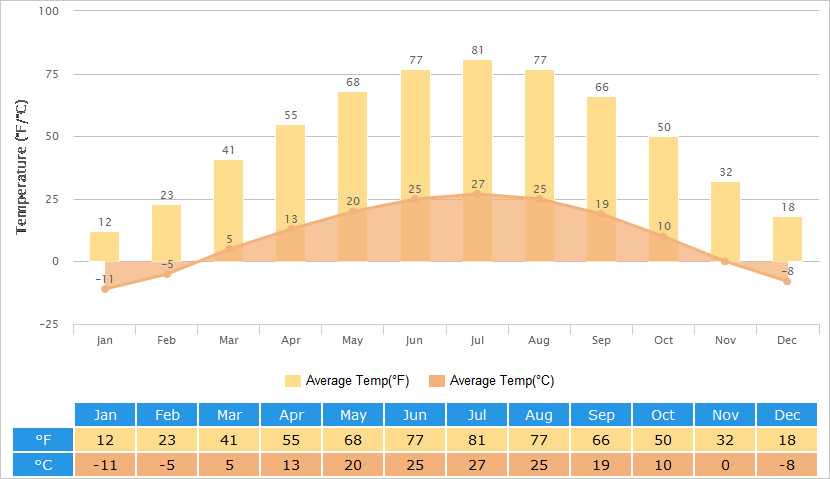 Humidity Graph of Dunhuang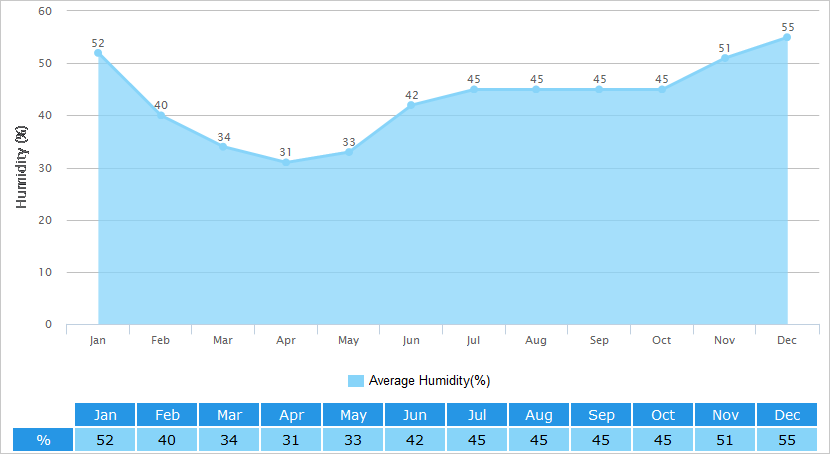 Average Rainfall of Dunhuang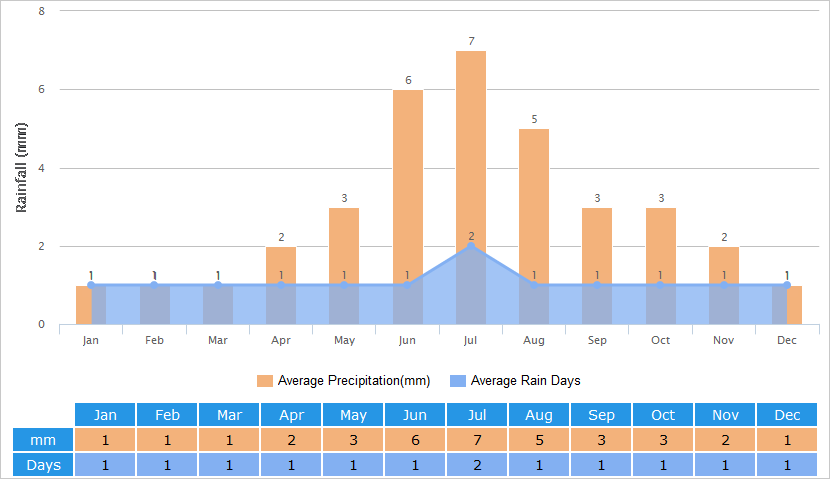 Dunhuang Climate - Seasons & Travel Advice
Dunhuang has four distinctive seasons: a warm and windy spring, a scorching summer, a cool and mild autumn, and a freezing winter.
Spring (March - Early June)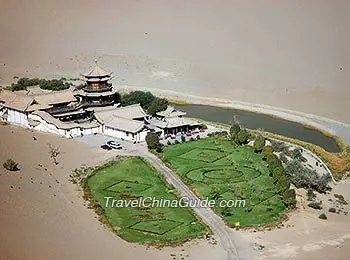 Dunhuang weather remains cold and dry in early spring. As the temperature gradually rises up, visitors may feel warm during daytime but still cold in the evenings in middle and late Spring. Strong winds and sandstorms are likely to take place in Dunhuang this time, so visitors are advised to choose the right time, like May when there are less windy days for a trip. Sweater, long-sleeve shirts plus wind breaker will do for Dunhuang climate in spring. If visitors plan to go across
Echoing Sand Mountain
, wear a mask or gauze-kerchief to prevent sands blowing into your noses, eyes and hairs.
Summer (Middle June - August)
Summer from middle June to late August is fervent with slight rainfall in Dunhuang. The temperature has a large rise with almost 12 sunshine hours per day. July records the hottest month of the year, as the average temperature runs up to 34℃ (93℉ ). Visitors may easily suffer from sunburn due to strong sunshine, so suggestions are to avoid staying outside for a long time, bring along sunscreen and wear hat. Breathable summer clothes, shorts, T-shirts, light pants, are appropriate to fit the fervent weather. In addition, timely water replenishment is in necessity in such hot, dry summer.
Autumn (September - October)
Autumn lasts from early September to late October in Dunhuang, and the temperature is gradually cooling down. Dunhuang weather in autumn is warm during the day and cool at night, generally neither too cold nor too hot, which makes autumn the high travel season. Hoddie, blouses and light pants are enough for warm days; when the weather gets cool at night, remember to put on a jacket or trench coat. Autumn is the local harvest season of many species of fruits, like sweet melons, pearls and grapes.
Winter (November - February)
A long and cold winter lasts from early November to late February. Dunhuang weather is bitingly cold this time with significant daily temperature fluctuation. Besides, there may be strong and cold winds, which brings quite dry air. Due to the freezing weather in winter, visitors should equip with warm thick clothes, like padded jackets, wool overcoat, down coat as well as snow boots.
- Last updated on May. 30, 2022 -
Questions & Answers on Dunhuang Weather
Asked by Aiman from MALAYSIA | Mar. 22, 2019 01:43

Reply
I'm going to Dunhuang on July, hottest time there
Any advice? I'm bringing my old parents as well. Is it safe?
Answers (1)
Answered by Peyton from CANADA | Mar. 27, 2019 00:15

0

0

Reply
Hi, Aiman, generally speaking, you don't need to worry about the safety problem. It will be ok for you to tour around in July. But you are suggested to bring some medicines to against sunstroke.
Asked by Qubit19 from SERBIA | Jan. 27, 2019 08:12

Reply
Hi, Is it worth going Dunhuang in February?
I know it's really cold, but is it sunny? Smog-free? Less crowded ? If I go, definitely will be after the spring festival.
Thanks in advance
Answers (1)
Answered by Veromca from USA | Jan. 27, 2019 23:05

0

0

Reply
There will mainly have sunny and cloudy days during that period of time. You are advised to avoid the holiday of Chinese Spring Festival.
Asked by Anthea from SINGAPORE | Oct. 23, 2017 20:18

Reply
Travel to Dunhuang in March 2018
What's the temperature in early March to end Marc 2018? Day trips can be booked when reach there instead of advanced booking? Suitable clothings to bring ? Taxis easily available?
Answers (1)
Answered by Neomy from USA | Oct. 24, 2017 03:20

1

0

Reply
I can only tell you the weather condition according to the history data. In the whole Mar. the lowest temp can be -5C, and the highest may reach 20C. You are suggested bring light sweater, thick long-sleeved shirts, coat, and jackets.

Day trip is easily accessible in the hotels. of course you can also book in advance. It is quite easy to flag down a taxi along any street, and the drivers usually don't charge by meter.