Dunhuang Weather in January
Dunhuang weather in January is the coldest of the year, and temperature differs greatly between day and night within a day. The average highest temperature is -3
°C
(27
°F
) and the lowest -16
°C
(3
°F
). It can be sunny most of the time, with almost no rainfall and the monthly precipitation is 1mm.
Although it is not recommended to visit Dunhuang in January, but one could get big discount for both hotels and flights due to the low travel season. Also, without the usual crowd of peak season, one can visit the scenic areas at a leisurely pace.
Averages for Dunhuang Weather in January
Temperature: -11°C / 12°F
High Temperature: -3°C / 27°F
Low Temperature: -16°C / 3°F
Humidity: 52%
Rainfall: 1 mm
Rainy Days: 1 day
Sunrise: 08:51 ~ 09:04
Sunset: 18:26 ~ 18:59
What to Wear
Winter clothings like parka, downcoat, wool sweater and padded trousers will do a lot to fight against the cold climate at this month. Woolen gloves and scarf are also a must to keep warm.


Where to Go
When talking about Dunhuang, the Mogao Caves, also known as Caves of the Thousand Buddha, immediately comes into mind. This is where visitors could learn about Buddhist culture and watch ancient temple architectures. The Mogao Caves is famous for its murals on the walls and ceiling inside the caves, other than the four thousand odd pieces of fully-painted clay sculptures of Buddhas and Bodhisattvas.
Echoing-sand Mountain
gets its name from the sound made by wind blowing pass the sand dune. It's a place visitors have fun playing with sands and partake in activities like sand skiing and camel riding.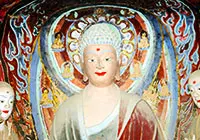 Mogao Caves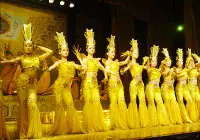 Acrobatic Dance and Music Performance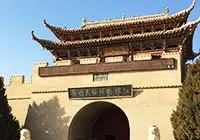 Dunhuang Folk Customs Museum
Dunhuang Night Market
Other Tips
Due to the cold and windy conditions, it is advisable to be ready with some medication for cold. Try to stay indoor if it gets too cold, otherwise enjoy the midday weather.
What is the temperature in Dunhuang in January?
High/Low Temperatures of Dunhuang in January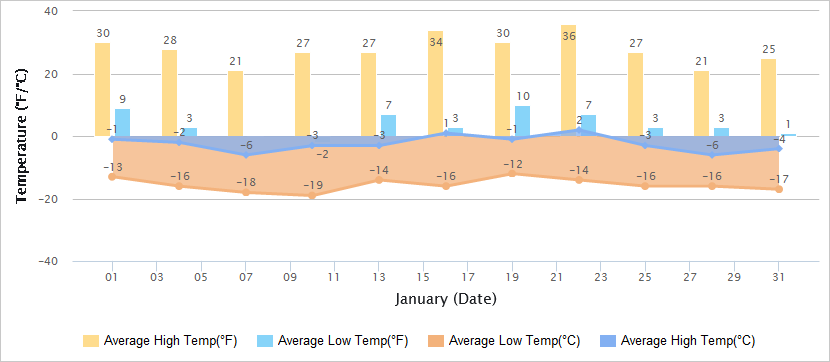 Historical Dunhuang Weather in January
Jan
Temperature
Sunrise / Sunset
Humi-
dity
(%)
High
Low
1
-1°C / 30.2°F
-13°C / 8.6°F

09:04

/

18:26

36
2
-1°C / 30.2°F
-15°C / 5°F

09:04

/

18:27

38
3
-4°C / 24.8°F
-15°C / 5°F

09:04

/

18:28

39
4
-2°C / 28.4°F
-16°C / 3.1°F

09:04

/

18:29

42
5
-5°C / 23°F
-18°C / -0.3°F

09:04

/

18:29

61
6
-6°C / 21.2°F
-19°C / -2.2°F

09:04

/

18:30

44
7
-6°C / 21.2°F
-18°C / -0.3°F

09:04

/

18:31

38
8
-6°C / 21.2°F
-20°C / -4°F

09:04

/

18:32

26
9
-5°C / 23°F
-18°C / -0.3°F

09:04

/

18:33

35
10
-3°C / 26.6°F
-19°C / -2.2°F

09:04

/

18:32

35
11
-3°C / 26.6°F
-17°C / 1.3°F

09:03

/

18:34

29
12
-2°C / 28.4°F
-16°C / 3.1°F

09:03

/

18:36

20
13
-3°C / 26.6°F
-14°C / 6.8°F

09:03

/

18:37

19
14
-2°C / 28.4°F
-14°C / 6.8°F

09:02

/

18:39

20
15
0°C / 32°F
-12°C / 10.3°F

09:02

/

18:40

21
16
1°C / 33.8°F
-16°C / 3.1°F

09:02

/

18:41

23
17
-2°C / 28.4°F
-13°C / 8.6°F

09:01

/

18:42

25
18
-1°C / 30.2°F
-12°C / 10.3°F

09:01

/

18:43

17
19
-1°C / 30.2°F
-12°C / 10.3°F

09:00

/

18:44

15
20
2°C / 35.6°F
-12°C / 10.3°F

09:00

/

18:45

24
21
0°C / 32°F
-13°C / 8.6°F

08:59

/

18:47

29
22
2°C / 35.6°F
-14°C / 6.8°F

08:58

/

18:48

29
23
2°C / 35.6°F
-9°C / 15.8°F

08:58

/

18:49

38
24
2°C / 35.6°F
-12°C / 10.3°F

08:57

/

18:50

29
25
-3°C / 26.6°F
-16°C / 3.1°F

08:56

/

18:51

32
26
-6°C / 21.2°F
-15°C / 5°F

08:56

/

18:52

35
27
-8°C / 17.6°F
-17°C / 1.3°F

08:55

/

18:54

44
28
-6°C / 21.2°F
-16°C / 3.1°F

08:54

/

18:55

41
29
-9°C / 15.8°F
-18°C / -0.3°F

08:53

/

18:56

49
30
-6°C / 21.2°F
-19°C / -2.2°F

08:52

/

18:57

60
31
-4°C / 24.8°F
-17°C / 1.3°F

08:51 /

18:59

65
- Last modified on Mar. 06, 2019 -