Dunhuang Weather in June
Generally, Dunhuang weather in June is hot during the day and cool at night. Temperature normally ranges from 16°C(61°F) to 32°C(90°F) which is good for travelling. However, it can be quite dry with an average 1 rainy day and 6mm of precipitation. The awfully dry air in Dunhuang calls for frequent rehydration for travelers.
June is not the peak travel season that visitors can enjoy their trip at a leisure pace. Due to the strong wind blowing sands, please remember to protect your camera with a sand or dust cover when visiting the Echoing Sand Mountain and
Crescent Moon Lake
.
Averages for Dunhuang Weather in June
Temperature: 25°C / 77°F
High Temperature: 32°C / 90°F
Low Temperature: 16°C / 61°F
Humidity: 42%
Rainfall: 6 mm
Rainy Days: 1 day
Sunrise: 06:11 ~ 06:15
Sunset: 21:04 ~ 21:05
What to Wear
Breathable clothes, like blouses, shirts or light pants, are suitable for hot daytime and protect skin from strong sunshine. While the climate gets cool in the evenings, put on a thin coat or thin jack.


Things to Do
Join in with thousands of others sliding down the sand dunes of the Echoing Sand Mountain, which usually takes place on the first day of June annually. It's reported that the whistling sand could be heard 5 kilometers (3 miles) away.
Stay overnight at the Crescent Moon Lake, and appreciate the sunset and beautiful night scene with dazzling light. Get up early the next day and catch the sunrise.
Thanks to Dunhuang climate in June, lots of fruits ripen faster, like Liguang apricots. The big differences in temperature and abundant sunshine make them rather sweet.
Yangguan Pass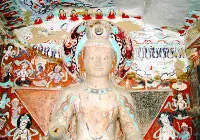 Mogao Caves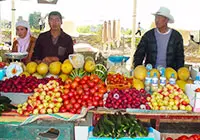 Various Fruit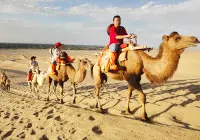 Echoing-Sand Mountain
Other Tips
On account of the rather hot climate of Dunhuang in June, it's better not stay outdoors for long time under strong sunshine in case you may easily get sunburn.
What is the temperature in Dunhuang in June?
High/Low Temperatures of Dunhuang in June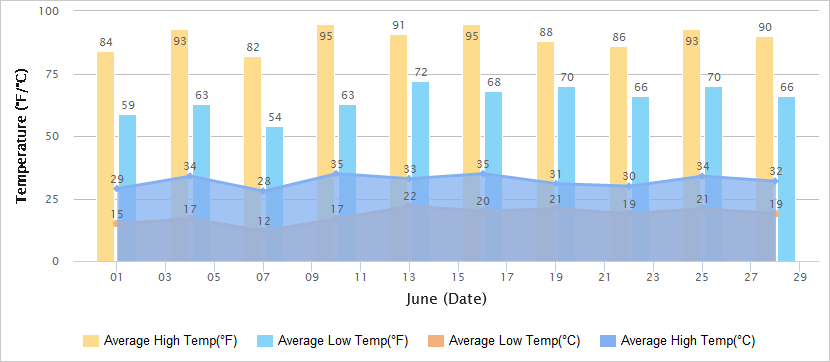 Historical Dunhuang Weather in June
Jun
Temperature
Sunrise / Sunset
Humi-
dity
(%)
High
Low
1
29°C / 84.2°F
15°C / 59°F

06:15

/

21:04

16
2
29°C / 84.2°F
13°C / 55.4°F

06:14

/

21:05

7
3
30°C / 86°F
15°C / 59°F

06:13

/

21:06

5
4
34°C / 93.2°F
17°C / 62.6°F

06:13

/

21:07

4
5
31°C / 87.8°F
16°C / 60.8°F

06:13

/

21:07

14
6
30°C / 86°F
17°C / 62.6°F

06:12

/

21:08

15
7
28°C / 82.4°F
12°C / 53.6°F

06:12

/

21:08

18
8
32°C / 89.6°F
17°C / 62.6°F

06:12

/

21:09

11
9
33°C / 91.4°F
16°C / 60.8°F

06:12

/

21:10

8
10
35°C / 95°F
17°C / 62.6°F

06:12

/

21:10

11
11
35°C / 95°F
18°C / 64.4°F

06:12

/

21:11

9
12
35°C / 95°F
21°C / 69.8°F

06:11

/

21:11

7
13
33°C / 91.4°F
22°C / 71.6°F

06:11

/

21:12

11
14
27°C / 86.5°F
17°C / 62.6°F

06:11

/

21:12

25
15
30°C / 86°F
16°C / 60.8°F

06:11

/

21:12

34
16
35°C / 95°F
20°C / 68°F

06:11

/

21:13

14
17
35°C / 95°F
22°C / 71.6°F

06:11

/

21:13

18
18
32°C / 89.6°F
20°C / 68°F

06:12

/

21:14

31
19
31°C / 87.8°F
21°C / 69.8°F

06:12

/

21:14

20
20
32°C / 89.6°F
19°C / 66.2°F

06:12

/

21:14

16
21
33°C / 91.4°F
20°C / 68°F

06:12

/

21:14

14
22
30°C / 86°F
19°C / 66.2°F

06:12

/

21:14

23
23
30°C / 86°F
17°C / 62.6°F

06:12

/

21:15

27
24
31°C / 87.8°F
19°C / 66.2°F

06:13

/

21:15

20
25
34°C / 93.2°F
21°C / 69.8°F

06:13

/

21:15

18
26
34°C / 93.2°F
22°C / 71.6°F

06:13

/

21:15

22
27
30°C / 86°F
21°C / 69.8°F

06:14

/

21:15

19
28
32°C / 89.6°F
19°C / 66.2°F

06:14

/

21:15

23
29
32°C / 89.6°F
20°C / 68°F

06:15

/

21:15

23
30
34°C / 93.2°F
19°C / 66.2°F

06:15

/

21:15

19
- Last modified on Mar. 06, 2019 -