Dunhuang Weather in September
Dunhuang weather in September varies with time passing by. In early September, Dunhuang weather remains hot at noon but cool at night; mid-September is the transition period from summer to autumn; by late September, the weather is characterized by a wide temperature range between day and night. Overall, Dunhuang weather in September is neither too cold nor too hot, with temperature varying from 11°C(52°F) to 28°C(82°F), making it one of the best months for sightseeing in Dunhuang.
Moreover, this period is the end of sunmmer vacation and the gold travel week, National Day Holiday, does not come yet, travelers will not experience crowded scenic spots.
Averages for Dunhuang Weather in September
Temperature: 19°C / 66°F
High Temperature: 28°C / 82°F
Low Temperature: 11°C / 52°F
Humidity: 45%
Rainfall: 3 mm
Rainy Days: 1 day
Sunrise: 07:09 ~ 07:37
Sunset: 19:26 ~20:14
What to Wear
Summer clothes like T-shirts and dresses are suitable for the hot climate in early September. Long-sleeve shirts, light pants and thin overcoats will be appropriate for late September.


Where to Go
September is a good time for outdoor activities. The Crescent Moon Lake and the Echoing Sand Mountain are recommended. When camel riding across the desert, visitors could hear the sands echoing, and at the same time, appreciate the clear Crescent Moon Lake surrounded by yellow or brown trees.
September is the fruits harvesting season, including grapes and pears. So seize the chance to have a fruit feast.
Wanyaodun Nature Reserve, about 80 minutes' drive from downtown Dunhuang, is home to several species of wild animals, including wild horses, camels, Mongolian gazelle, and golden eagles. This nature reserve aims to protect precious trees, like euphrates poplar and haloxylon.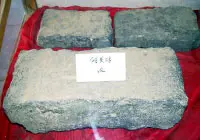 Bricks of Yangguan Pass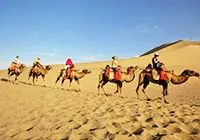 Echoing-Sand Mountain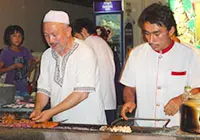 Delicious Snacks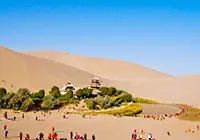 Crescent Lake
What is the temperature in Dunhuang in September?
High/Low Temperatures of Dunhuang in September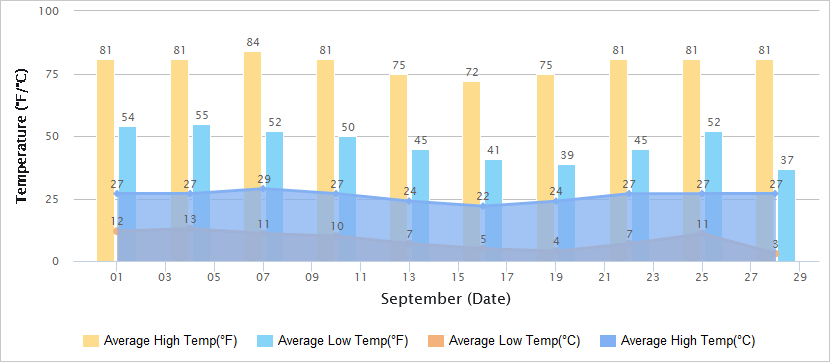 Historical Dunhuang Weather in September
Sep
Temperature
Sunrise / Sunset
Humi-
dity
(%)
High
Low
1
27°C / 80.6°F
12°C / 53.6°F

07:09

/

20:14

24
2
29°C / 84.2°F
12°C / 53.6°F

07:10

/

20:12

12
3
28°C / 82.4°F
13°C / 51.4°F

07:11

/

20:10

15
4
27°C / 80.6°F
13°C / 51.4°F

07:12

/

20:09

20
5
27°C / 80.6°F
14°C / 57.2°F

07:13

/

20:07

14
6
26°C / 78.8°F
13°C / 51.4°F

07:14

/

20:06

10
7
29°C / 84.2°F
11°C / 51.8°F

07:14

/

20:04

14
8
28°C / 82.4°F
9°C / 48.2°F

07:15

/

20:02

15
9
30°C / 86°F
11°C / 51.8°F

07:16

/

20:01

13
10
27°C / 80.6°F
10°C / 50°F

07:17

/ 19

:59

18
11
26°C / 78.8°F
9°C / 48.2°F

07:18

/ 19

:58

14
12
28°C / 82.4°F
8°C / 46.4°F

07:19

/ 19

:56

14
13
24°C / 75.2°F
7°C / 44.6°F

07:20

/ 19

:54

20
14
20°C / 68°F
4°C / 39.2°F

07:21

/ 19

:53

27
15
22°C / 71.6°F
6°C / 42.8°F

07:22

/ 19

:51

19
16
22°C / 71.6°F
5°C / 41°F

07:23

/ 19

:49

16
17
24°C / 75.2°F
7°C / 44.6°F

07:24

/ 19

:48

10
18
26°C / 78.8°F
9°C / 48.2°F

07:25

/ 19

:46

10
19
24°C / 75.2°F
4°C / 39.2°F

07:26

/ 19

:45

15
20
24°C / 75.2°F
5°C / 41°F

07:27

/ 19

:43

12
21
26°C / 78.8°F
5°C / 41°F

07:28

/ 19

:41

10
22
27°C / 80.6°F
7°C / 44.6°F

07:29

/ 19

:40

9
23
27°C / 80.6°F
8°C / 46.4°F

07:30

/ 19

:38

8
24
26°C / 78.8°F
10°C / 50°F

07:31

/ 19

:36

9
25
27°C / 80.6°F
11°C / 51.8°F

07:32

/ 19

:35

13
26
23°C / 70.2°F
3°C / 37.4°F

07:33

/ 19

:33

22
27
22°C / 71.6°F
2°C / 35.6°F

07:34

/ 19

:31

18
28
27°C / 80.6°F
3°C / 37.4°F

07:35

/ 19

:30

10
29
23°C / 73.4°F
5°C / 41°F

07:36

/ 19

:28

9
30
24°C / 75.2°F
4°C / 39.2°F

07:37

/ 19

:26

14
- Last modified on Mar. 06, 2019 -