Dunhuang Weather in March
Dunhuang weather in March gets warmer as the Spring season creeps in. However, there is still a big difference in temperature between the day and night. Daytime temperature average 13
°C
(55
°F
) and may drop to -3
°C
(27
°F
) as the day progresses.
Moreover, visitors may encounter windy days, even sand storms when traveling here during this time of the year. Advisable to wear mask when go outside due to the frequent windy days and occasional sand storm. Do not forget to pack your sunscreen cream to prevent intense UV rays.
Averages for Dunhuang Weather in March
Temperature: 5°C / 41°F
High Temperature: 13°C / 55°F
Low Temperature: -3°C / 27°F
Humidity: 34%
Rainfall: 1 mm
Rainy Days: 1 day
Sunrise: 07:28 ~ 08:15
Sunset: 19:33 ~ 20:04
What to Wear
It's advisable to wear a sweater, jacket, and winter pants during warm daytime. When the climate gets colder in the evenings or early mornings, thick coat, padded jacket or wool overcoat is recommended. For walking tours to scenic spots, choose comfortable shoes, like hiking shoes or sneakers.


Where to Go
Western Thousand-Buddha Cave
, lying to the west of Mogao Caves, is another famous Buddhist caves, excavated even earlier than the Mogao caves. See the ample sculptures and murals related to Buddha and Bodhisattva inside the caves.
Dunhuang Ancient City, located in middle and lower reaches of Dang River, dates back to the Tang Dynasty (618 - 907). The current city was restored based on the original with exotic style architecture.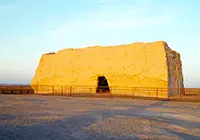 Yumenguan Pass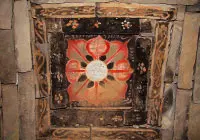 Western Jin Dynasty Brick Tomb
Mogao Caves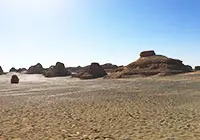 Yardang National Geopark
What is the temperature in Dunhuang in March?
High/Low Temperatures of Dunhuang in March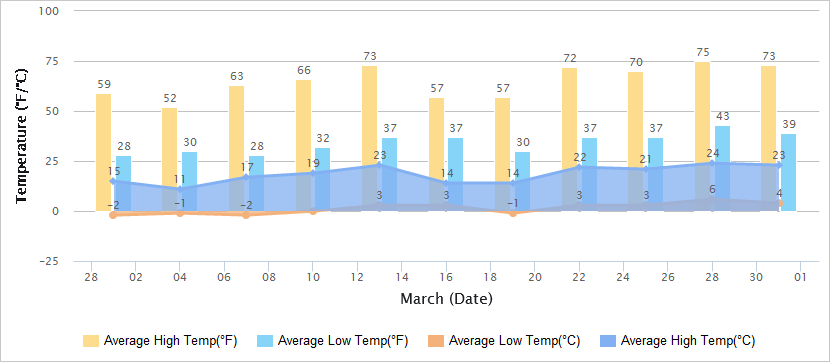 Historical Dunhuang Weather in March
Mar
Temperature
Sunrise / Sunset
Humi-
dity
(%)
High
Low
1
15°C / 59°F
-2°C / 28.4°F

08:15

/

19:33

23
2
19°C / 66.2°F
2°C / 35.6°F

08:14

/

19:34

24
3
11°C / 51.8°F
-1°C / 30.2°F

08:12

/

19:35

37
4
11°C / 51.8°F
-1°C / 30.2°F

08:11

/

19:36

31
5
13°C / 55.4°F
-3°C / 26.6°F

08:09

/

19:37

42
6
13°C / 55.4°F
-3°C / 26.6°F

08:08

/

19:38

33
7
17°C / 62.6°F
-2°C / 28.4°F

08:06

/

19:40

29
8
17°C / 62.6°F
-3°C / 26.6°F

08:05

/

19:41

17
9
17°C / 62.6°F
-1°C / 30.2°F

08:03

/

19:42

12
10
19°C / 66.2°F
0°C / 32°F

08:02

/

19:43

13
11
21°C / 69.8°F
1°C / 33.8°F

08:00

/

19:44

10
12
23°C / 73.4°F
3°C / 37.4°F

08:59

/

19:45

12
13
23°C / 73.4°F
3°C / 37.4°F

08:57

/

19:46

9
14
20°C / 68°F
5°C / 41°F

08:55

/

19:47

21
15
18°C / 64.4°F
3°C / 37.4°F

08:54

/

19:48

26
16
14°C / 57.2°F
3°C / 37.4°F

08:52

/

19:49

22
17
16°C / 60.8°F
2°C / 35.6°F

08:51

/

19:50

24
18
18°C / 64.4°F
0°C / 32°F

08:49

/

19:51

13
19
14°C / 57.2°F
-1°C / 30.2°F

08:47

/

19:52

32
20
17°C / 62.6°F
1°C / 33.8°F

08:46

/

19:53

17
21
19°C / 66.2°F
1°C / 33.8°F

08:44

/

19:54

15
22
22°C / 71.6°F
3°C / 37.4°F

08:43

/

19:55

14
23
23°C / 73.4°F
2°C / 35.6°F

08:41

/

19:56

16
24
24°C / 75.2°F
4°C / 39.2°F

08:39

/

19:57

15
25
21°C / 69.8°F
3°C / 37.4°F

08:38

/

19:58

15
26
24°C / 75.2°F
4°C / 39.2°F

08:36

/

19:59

10
27
25°C / 77°F
7°C / 44.6°F

07:34

/

20:00

8
28
24°C / 75.2°F
6°C / 42.8°F

07:33

/

20:01

17
29
19°C / 66.2°F
6°C / 42.8°F

07:31

/

20:02

24
30
20°C / 68°F
2°C / 35.6°F

07:30

/

20:03

20
31
23°C / 73.4°F
4°C / 39.2°F

07:28

/

20:04

12
- Last modified on Mar. 06, 2019 -