Dunhuang Weather in April
Dunhuang weather in April is characterized by warmer temperature, ranging from 5
°C
(41
°F
) to 21
°C
(70
°F
) but it can be a little frigid in the beginning, following which a rapid rise in temperature is often seen. However, there is a big temperature difference within one day. It is common to experience a little bit coldness in the early morning or at nights, while we may feel warm and even hot sometimes during midday. Moreover, be aware of high winds and the occasional sand storm during the April month.
More tourists' arrival is expected in this warmer month and hotel rates are expected to increase a little. However, tickets to scenic spots remain half priced. It's also recommended to book hotels and scenic tickets as early as possible.
Averages for Dunhuang Weather in April
Temperature: 13°C / 55°F
High Temperature: 21°C / 70°F
Low Temperature: 5°C / 41°F
Humidity: 31%
Rainfall: 1 mm
Rainy Days: 1 day
Sunrise: 06:43 ~ 07:26
Sunset: 20:05 ~ 20:35
What to Wear
Windbreaker or leather jacket plus a thin sweater is enough to fit the climate during the day. The coldness and strong winds at night warrant for thicker overcoat though. If travelling across desert, wear a mask to avoid sands being blown into mouth, nose and even eyes.


Things to Do
If visitors would like to taste local snacks, Dunhuang Sha Chau Night Market, as the most famous one, offers a wide variety of delicious snacks, where tourists could not only taste local foods, like niangpi, ass meat noodles, but also buy souvenirs, postcards, special local products and other handicrafts.
In spite of viewing scenic spots, Visitors could go to Dunhuang Grand Theatre, where visitors get the chance to appreciate ethnic dancing performance, Silk Road, and Encore Dunhuang.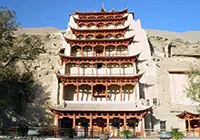 Mogao Caves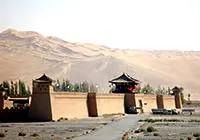 Dunhuang Movie Set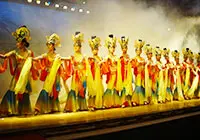 Music and Dance Show at Night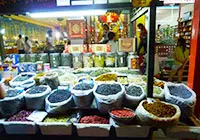 Dunhuang Night Market
What is the temperature in Dunhuang in April?
High/Low Temperatures of Dunhuang in April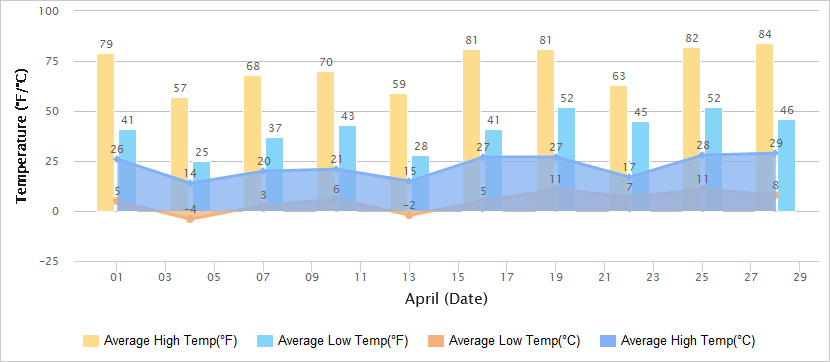 Historical Dunhuang Weather in April
Apr
Temperature
Sunrise / Sunset
Humi-
dity
(%)
High
Low
1
26°C / 78.8°F
5°C / 41°F

07:26

/

20:05

6
2
21°C / 69.8°F
3°C / 37.4°F

07:26

/

20:06

19
3
18°C / 64.4°F
4°C / 39.2°F

07:23

/

20:07

17
4
14°C / 57.2°F
-4°C / 24.8°F

07:21

/

20:08

36
5
9°C / 48.2°F
-5°C / 23°F

07:20

/

20:09

18
6
14°C / 57.2°F
-2°C / 28.4°F

07:18

/

20:10

7
7
20°C / 68°F
3°C / 37.4°F

07:17

/

20:11

5
8
24°C / 75.2°F
6°C / 42.8°F

07:15

/

20:12

6
9
19°C / 66.2°F
4°C / 39.2°F

07:14

/

20:13

22
10
21°C / 69.8°F
6°C / 42.8°F

07:12

/

20:14

15
11
20°C / 68°F
7°C / 44.6°F

07:10

/

20:15

13
12
16°C / 60.8°F
-2°C / 28.4°F

07:09

/

20:16

37
13
15°C / 59°F
-2°C / 28.4°F

07:07

/

20:17

13
14
19°C / 66.2°F
0°C / 32°F

07:06

/

20:18

9
15
23°C / 73.4°F
4°C / 39.2°F

07:04

/

20:19

5
16
27°C / 80.6°F
5°C / 41°F

07:03

/

20:20

7
17
27°C / 80.6°F
9°C / 48.2°F

07:01

/

20:21

5
18
26°C / 78.8°F
9°C / 48.2°F

07:00

/

20:22

19
19
27°C / 80.6°F
11°C / 51.8°F

06:58

/

20:24

18
20
23°C / 73.4°F
9°C / 48.2°F

06:57

/

20:25

22
21
22°C / 71.6°F
11°C / 51.8°F

06:55

/

20:26

18
22
17°C / 62.6°F
7°C / 44.6°F

06:54

/

20:27

25
23
22°C / 71.6°F
11°C / 51.8°F

06:52

/

20:28

28
24
25°C / 77°F
8°C / 46.4°F

06:51

/

20:29

20
25
28°C / 82.4°F
11°C / 51.8°F

06:50

/

20:30

11
26
29°C / 84.2°F
12°C / 53.6°F

06:48

/

20:31

8
27
30°C / 86°F
12°C / 53.6°F

06:47

/

20:32

6
28
29°C / 84.2°F
8°C / 46.4°F

06:46

/

20:33

22
29
23°C / 73.4°F
8°C / 46.4°F

06:44

/

20:34

17
30
25°C / 77°F
7°C / 44.6°F

06:43

/

20:35

17
- Last modified on Mar. 06, 2019 -