Dunhuang Weather in November
Dunhuang weather in November is freezing and dry for it gradually enters its winter season in this month. Temperaturre averagely varies from -5°C (23°F) to 7°C (45°F). Strong and cold winds occasionally occur during this period. It may sometime snow slightly, resulting in 2mm of precipitation for the whole month.
Off season sightseeing in Dunhuang starts in November, offering tourists a good chance to enjoy half-price tickets to scenic spots. Please check the weather forecast before going outside in case terrible climate changes may appear. If that, indoor activities will be a good choice.
Averages for Dunhuang Weather in November
Temperature: 0°C / 32°F
High Temperature: 7°C / 45°F
Low Temperature: -5°C / 23°F
Humidity: 51%
Rainfall: 2 mm
Rainy Days: 1 day
Sunrise: 08:10 ~ 08:43
Sunset: 18:16 ~ 18:39
What to Wear
Warm and thick clothing is a must, like sweater, wool overcoat, padded jacket and down coat. Scarf and mask are also recommended for additional protection from the cold and strong winds.


Where to Go
Mogao Caves consists of large numbers of Buddhist art treasures in 735 caves in total. Beautiful murals and religious sculptures are found inside the caves, and tourists could visit 12 caves per visit during this low travel season.
Yulin Caves is fascinating for displaying various and precious sculptures and murals inside its forty-three caves. However, visitors are forbidden to take photos inside the caves.
Alternatibely, tourists could make their way to Leiyin Temple, close to the Echoing Sand Mountain. Leiyin Temple was built in a Buddhist temple style during the Tang Dynasty (618-907), and has become the largest and most important Buddhist holy land in Dunhuang.
Tang Dynasty Music Show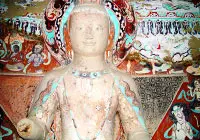 Mogao Caves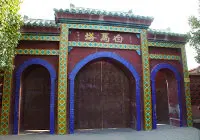 White Horse Pagoda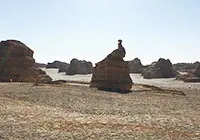 Yardang National Geopark
Other Tips
It's recommended to bring along a torch light when visiting caves as it is dark inside.
What is the temperature in Dunhuang in November?
High/Low Temperatures of Dunhuang in November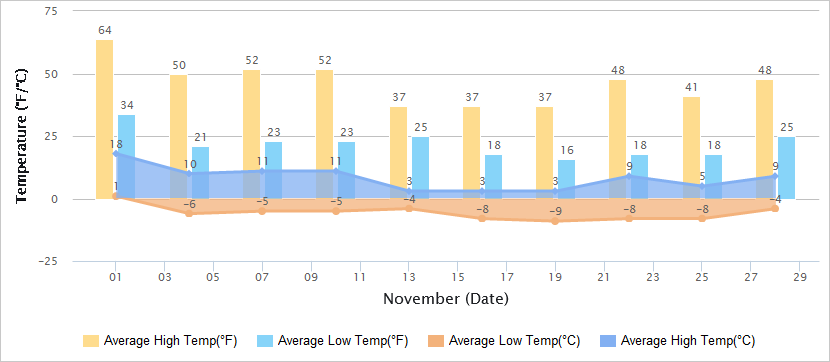 Historical Dunhuang Weather in November
Nov
Temperature
Sunrise / Sunset
Humi-
dity
(%)
High
Low
1
18°C / 64.4°F
1°C / 33.8°F

08:10

/

18:39

14
2
9°C / 48.2°F
-3°C / 26.6°F

08:11

/

18:38

31
3
11°C / 51.8°F
-6°C / 21.2°F

08:12

/

18:37

26
4
10°C / 50°F
-6°C / 21.2°F

08:13

/

18:36

20
5
8°C / 46.4°F
-5°C / 23°F

08:15

/

18:34

23
6
8°C / 46.4°F
-6°C / 21.2°F

08:16

/

18:33

31
7
11°C / 51.8°F
-5°C / 23°F

08:17

/

18:32

19
8
10°C / 50°F
-3°C / 26.6°F

08:18

/

18:31

24
9
8°C / 46.4°F
-5°C / 23°F

08:19

/

18:30

24
10
11°C / 51.8°F
-5°C / 23°F

08:20

/

18:29

27
11
11°C / 51.8°F
-4°C / 24.8°F

08:22

/

18:28

25
12
13°C / 55.4°F
-2°C / 46.8°F

08:23

/

18:27

23
13
3°C / 37.4°F
-4°C / 24.8°F

08:24

/

18:27

34
14
2°C / 35.6°F
-7°C / 19.4°F

08:25

/

18:26

45
15
2°C / 35.6°F
-8°C / 17.6°F

08:26

/

18:25

31
16
3°C / 37.4°F
-8°C / 17.6°F

08:27

/

18:24

26
17
2°C / 35.6°F
-11°C / 12.2°F

08:28

/

18:23

36
18
4°C / 39.2°F
-11°C / 12.2°F

08:30

/

18:23

35
19
3°C / 37.4°F
-9°C / 45.5°F

08:31

/

18:23

39
20
1°C / 33.8°F
-12°C / 10.3°F

08:32

/

18:21

31
21
5°C / 41°F
-12°C / 10.3°F

08:33

/

18:21

16
22
9°C / 48.2°F
-8°C / 17.6°F

08:34

/

18:20

18
23
5°C / 41°F
-8°C / 17.6°F

08:35

/

18:19

20
24
10°C / 50°F
-8°C / 17.6°F

08:36

/

18:19

16
25
5°C / 41°F
-8°C / 17.6°F

08:37

/

18:18

22
26
7°C / 44.6°F
-8°C / 17.6°F

08:39

/

18:18

27
27
9°C / 48.2°F
-9°C / 15.8°F

08:40

/

18:18

23
28
9°C / 48.2°F
-4°C / 24.8°F

08:41

/

18:17

21
29
9°C / 48.2°F
-6°C / 21.2°F

08:42

/

18:17

20
30
8°C / 46.4°F
-5°C / 23°F

08:43

/

18:16

21
- Last modified on Mar. 06, 2019 -