Dunhuang Weather in May
As Dunhuang weather in May is neither too hot nor too cold, the best time to visit Dunhuang is during this period. The big diffterence in temperature between day and night still exists, though, with average temperature ranging from 12°C(54°F) to 28°C(82°F). The precipitation in this month just increase a little and the climate is still greatly dry as the rainfall is around 3 mm in only one day.
The peak travel season in May and both the hotel rates and admission fees to scenic spots offer no discount. In addition to the May 1st 3-day International Labor Day Holiday, expect big crowds at all scenic spots.
Averages for Dunhuang Weather in May
Temperature: 20°C / 68°F
High Temperature: 28°C / 82°F
Low Temperature: 12°C / 54°F
Humidity: 33%
Rainfall: 3 mm
Rainy Days: 1 day
Sunrise: 06:15 ~ 06:42
Sunset: 20:36 ~ 21:04
What to Wear
Hoodie, blouses and long-sleeve T-shirts are suitable in May during the day. However, once it gets cooler at night, trench coat or windbreaker is recommended.


Where to Go
Dunhuang White Horse Pagoda, 2 kilometers (1.2 miles) away from urban district, is a famous destination with the lama style pagoda of the Ming Dynasty (1368-1644) It is surrounded by green trees as well as simple and unsophisticated houses.
Partake in the traditional royal Temple Fair, celebrated on April 8th of the lunar calendar, which often falls in mid- May, when Buddhist believers gathered at Mogao Caves, Leiyin Temple or Mount Sanwei for worshipping.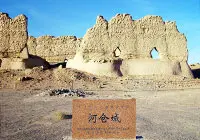 Hecang Ancient Town ruins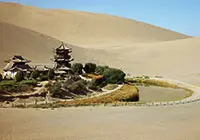 Crescent Lake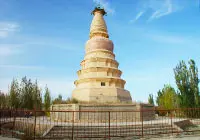 White Horse Pagoda
Other Tips
When visiting scenic spots related to Buddhism, tourists are expected to respect and obey the code of ethic in such religious locations.
What is the temperature in Dunhuang in May?
High/Low Temperatures of Dunhuang in May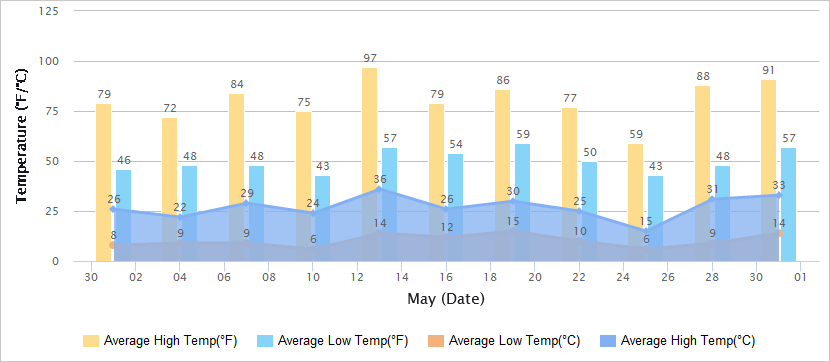 Historical Dunhuang Weather in May
May
Temperature
Sunrise / Sunset
Humi-
dity
(%)
High
Low
1
26°C / 78.8°F
8°C / 46.4°F

06:42

/

20:36

9
2
30°C / 86°F
10°C / 50°F

06:40

/

20:37

8
3
28°C / 82.4°F
12°C / 53.6°F

06:39

/

20:38

7
4
22°C / 71.6°F
9°C / 48.2°F

06:38

/

20:39

18
5
24°C / 75.2°F
10°C / 50°F

06:37

/

20:40

12
6
28°C / 82.4°F
13°C / 51.4°F

06:36

/

20:41

8
7
29°C / 84.2°F
9°C / 48.2°F

06:34

/

20:42

7
8
25°C / 77°F
8°C / 46.4°F

06:33

/

20:43

20
9
22°C / 71.6°F
7°C / 44.6°F

06:32

/

20:44

20
10
24°C / 75.2°F
6°C / 42.8°F

06:31

/

20:45

10
11
27°C / 80.6°F
9°C / 48.2°F

06:30

/

20:46

8
12
32°C / 89.6°F
14°C / 57.2°F

06:29

/

20:47

5
13
36°C / 96.8°F
14°C / 57.2°F

06:28

/

20:48

50
14
34°C / 93.2°F
19°C / 66.2°F

06:27

/

20:49

18
15
24°C / 75.2°F
15°C / 59°F

06:26

/

20:50

20
16
26°C / 78.8°F
12°C / 53.6°F

06:25

/

20:51

23
17
26°C / 78.8°F
14°C / 57.2°F

06:24

/

20:52

16
18
27°C / 80.6°F
13°C / 51.4°F

06:23

/

20:53

22
19
30°C / 86°F
15°C / 59°F

06:22

/

20:54

15
20
28°C / 82.4°F
15°C / 59°F

06:22

/

20:54

16
21
24°C / 75.2°F
11°C / 51.8°F

06:21

/

20:55

18
22
25°C / 77°F
10°C / 50°F

06:20

/

20:56

5
23
29°C / 84.2°F
12°C / 53.6°F

06:19

/

20:57

5
24
29°C / 84.2°F
9°C / 48.2°F

06:19

/

20:58

8
25
15°C / 59°F
6°C / 42.8°F

06:18

/

20:59

25
26
24°C / 75.2°F
7°C / 44.6°F

06:17

/

21:00

10
27
29°C / 84.2°F
10°C / 50°F

06:17

/

21:01

6
28
31°C / 87.8°F
9°C / 48.2°F

06:16

/

21:01

4
29
32°C / 89.6°F
14°C / 57.2°F

06:16

/

21:02

5
30
30°C / 86°F
17°C / 62.6°F

06:15

/

21:03

8
31
33°C / 91.4°F
14°C / 57.2°F

06:15

/

21:04

7
- Last updated on Mar. 06, 2019 -