Venetian Macau-Resort-Hotel
The Venetian Macau-Resort-Hotel is located on the Cotai Strip, Estrada da Baía de N. Senhora da Esperança with an area of about 980,000 square meters (242 acres). Opened on August 28th, 2008, it is the largest single block style hotel in Asia and the second largest building in the world. It has the function of performance, entertainment, shopping, exhibition, accommodation and large scale gaming.
| | |
| --- | --- |
| Outside of Venetian Hotel | Venetian Macau-Resort-Hotel |
In Venetian Macau-Resort-Hotel there are two main areas—the tourist area and the casino area.

Tourist Area in Venetian Macau
In the tourist area, there are the Venetian styled buildings, canals and plaza. The most amazing thing is that all of these are on the third floor. The Grand Canal Shoppes is also on the third floor and is the largest indoor shopping mall in Macau with an area of 9 hectares (22 acres) and with more than 350 stores. They are all internationally renowned names with clothes, jewelry, accessories and other goods. The famous brands and the duty-free advantage combine to give all the best shopping experience.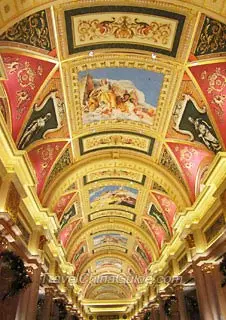 Fancy Roof in the Hotel

If you don't want to go shopping, touring around the Grand Canal Shoppes area would be the best choice. As in Venice, you are able to relax on a gondola as the pier is near the plaza with the trip taking 15 minutes accompanied by songs from the gondoliers. The San Luca, Marco Polo and Grand Canals are all named after the famous Venetian canals. Beside the canals there is the San Marco Square, which was also named after the Italian plaza.

Apart from shops and gondolas, visitors can enjoy the entertainment when walking around Venetian Macau-Resort-Hotel with a piano solo and mummeries on the San Marco Square every hour and the Streetmosphere™ performers (street performers) keeping you entertained along the way. And what's more, the man-made blue sky can produce sunrise and sunset effects under the control of a computer. Having experienced the shops, the activities and performances, you can go downstairs to the first level. Here you can go to the ZAİA Theatre to enjoy the ZAİA Show as presented by the Cirque Du Soleil as a permanent show.

Casino Area in Venetian Macau
The Venetian Macau-Resort-Hotel resort is also famous for its casino. It has one of the largest casinos in the world at 5 hectares (13 acres). Located on the first level of the building, the casino is divided into four areas - the Golden Fish, Imperial House, Red Dragon and Phoenix. There are altogether 850 gaming tables and more than 4,100 slot machines with baccarat, blackjack, roulette and other gambling games. Due to the local laws, youths under 18 years old are prohibited from entering the casino area.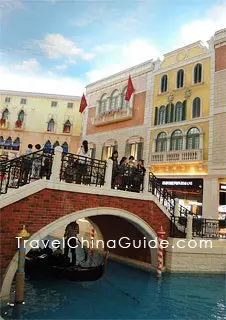 Grand Canal Shoppes Area
Tips for dining
There are more than 30 stylish restaurants in the Grand Canal Shoppes. In the casino area, there are also many restaurants with Chinese, Japanese, western food and snacks among which there is the largest restaurant in Asia with more than 1,000 tables—the Café Deco. In the evenings, visitors can relax over a few drinks at the Bellini Lounge and listen to some live music. Dancers, singers and musicians from all over the world perform day and night, with ladies being offered free drinks every Wednesday from 08:00-13:00.

How to get to Venetian Macau-Resort-Hotel
Public bus
Take bus 25B, 26A, 30X, 35, 51A, 72, MT1, or MT3 to Estrada da Baía de Nossa Senhora da Esperança.
Free shuttle bus
| From | Operating Hours |
| --- | --- |
| Macau Ferry | 9:00 - 0:00 (every 5 - 15mins) |
| Border Gate | 9:00 - 1:00 (every 5 - 15mins) |
| Taipa Ferry | 7:30 - 1:00 (every 5 - 15mins) |
| Macau International Airport | 10:00 - 22:30 (every 15 - 20mins) |
| Lotus Port | 9:30 - 20:00 (every 15 - 30mins) |
Ticket Fare of The Gondola Trip
MOP128 (adults);
MOP98 (kids from 1 - 12 years old);
Free for children less than 1 year old.
Opening Hours
Grand Canal: 11:00 - 22:00
Marco Polo Canal: 11:00 - 19:00
San Luca Canal: 11:00 - 19:00

Top 10 Things to Do in Macau
- Last modified on Apr. 08, 2021 -
Questions & Answers on Venetian Macau-Resort-Hotel
Asked by khazrina from MALAYSIA | Mar. 06, 2019 22:54

Reply
hi....i will be at Macau end of this month...i got a few question here
1. how i can reach Venetian from Monte fortress?
2. how i can reach kiang wu hospital from studio city?

tq
Answers (1)
Answered by Gale from CANADA | Mar. 08, 2019 00:43

0

0

Reply
1. Take bus no.26A to Avenida de Almeida Ribeiro. Then walk northeast around 550 meters to find the destination.
2. Do you refer to Studio City Hotel? If yes, take bus no.MT4 to Ponte 16 Bus Stop. Then walk northeast around 750 meters to find the destination.
Asked by Michelle from AUSTRALIA | Jan. 03, 2019 22:23

Reply
Travel from Zhuhai Station to Venetian Hotel
Hello,

I am looking to travel from Guangzhou to the Venetian Hotel in Macau.

I am planning to take the train from Guangzhou, getting off Zhuhai Station and walking to Zhuhai/Gongbei Port.
Does this work?
Is there a free shuttle service from Gongbei Port and Venetian Hotel?

Thank you
Answers (1)
Answered by Kennedy from FINLAND | Jan. 08, 2019 01:03

0

0

Reply
Yes, you can get off at Zhuhai Railway Station and walk to the port and enter Macau area. In addition, you can take the free shuttle bus to the hotel directly.
Asked by Yanti from MALAYSIA | Mar. 07, 2018 22:45

Reply
How can i reach Parisian from Venetian and how to go to Senado square from Parisian?
My plan is Venetian - Parisian - Senado Square. Thank you in advance.
Answers (1)
Answered by Cameron from FINLAND | Mar. 08, 2018 20:47

1

0

Reply
You can walk south for no more than 10mins to reach Parisian, and then take bus 26A to Xinmalu, you will get to the square.
Asked by Ade from INDONESIA | Sep. 19, 2017 07:54

Reply
How to go to senado square from Venetian by shuttle bus?
I'm planning to visit Macau this weekend. After arriving at outer harbour in the morning, we will go to Venetian then continue to Senado square. Is it possible to take shuttle bus? which one is better, venetian first then senado square or senado square first then venetian?
Answers (1)
Answered by Louis from ITALY | Sep. 21, 2017 03:38

0

0

Reply
You are suggested to take a free bus to Venetian first.
And then walk west along Estrada da Baía de Nossa Senhora da Esperança for 10 minutes to Galaxy Hotel, from where you can take a free bus to Avenida de Almeida Ribeiro, which is about 300 meters north to Senado Square.
Asked by Lina from INDONESIA | May. 05, 2017 00:26

Reply
How is Macau during Oct 1 Natioanal holiday?
Hi..I'm planning to visit there on Oct 1st. Can anyone tell me how actually the island during that day? would it be super crowded? thank you
Answers (1)
Answered by Marry from UK | May. 07, 2017 21:21

1

0

Reply
As I know, it will be crowed on that day. If you really want to visit there, you may avoid the peak hours to visit different attrations.