Cathedral, Macau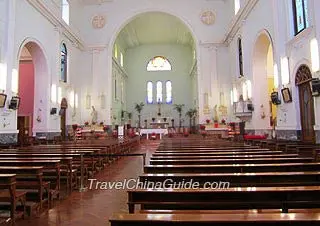 Cathedral, Macau
The Cathedral of Macau (Catedral Igreja da Sé), also known as the Cathedral of the Nativity of Our Lady, is located on Cathedral Square in central Macau Peninsula. First built in 1576, it is within the Historic Center of Macau, and was included on the list of World Heritage Sites in 2005. People call it the 'Great Church'; though it is not the largest, it is the most influential church in Macau. Dedicated to the Virgin Mary, Saint Joseph, and Jesus Christ, it serves the second largest parish on Macau Peninsular, including Avenida de Almeida Ribeiro, the South Bay, and Terminal Marítimo.
History of Cathedral, Macau
The Cathedral has a very long history. When first built in 1576, it was a small wooden chapel. In 1623, it was redesigned as a Cathedral. The extension in 1849 and the reconstruction in 1937 gave it a magnificent appearance which remains today. Whenever the local Catholics have any big celebrations, they hold them in the Macau Cathedral, showing the importance of the Cathedral in Macau people's heart.

Construction of Cathedral, Macau
Visitors arrive at the spectacular facade after passing by a small fountain and a cross on the square in front of the Cathedral. The Cathedral consists of a main building and the Bell Tower.

The Main Building
The main building has just one floor with a sloping roof and wooden truss. With a 12 meters (39 feet) high symmetrical-styled facade, the main building is constructed in typical neoclassical style. The main body of the Cathedral has an oblong shape, with a transept with chapels on each side. There are wooden Portuguese folding screens at the entrance to the Cathedral. With light green as the interior color, the indoor decoration of the main shrine basically keeps the reconstruction details of 1937, concise and majestic. The magnificent buildings and solemn atmosphere make people feel peaceful and equable in mind. Over and above its influence and attraction to Catholics, even a nonbeliever would be in awe standing in the Cathedral.

The main altar appears simple, for it just has stained glass windows as the background, but those bishops and devotees who remains are buried beneath the alter have brought immeasurable glory to the Cathedral. Some Catholic relics and monuments are restored in the Cathedral. Some famous religious paintings are also preserved in the Cathedral, these include St. John's Baptism Picture and the Japanese Catholics Crucified in Nagasaki. The oldest wing of the transept incorporates a wooden vault with the Duteous Madonna enshrined in it.

The Bell Tower
The Bell Tower is next to the main building. It is about 13 meters (43 feet) high, and has three floors with a flat roof. The bell was made in Britain. Whenever there are important Masses, Feast Days, or weddings, the Bell will ring. The Bell last rang on April 6th, 2005 - to mourn the death of the Sanctus Ioannes Paulus PP. Ⅱ (John Paul II).

Bishop's Mansion
On the right of the Cathedral is the Bishop's Mansion; which houses the highest administrative department of Catholic affairs in Macau.

Festival Activities
Every year on the first weekend of Lent, the Stations of the Cross enshrined in St. Augustine Church are paraded to the Cathedral and exhibited there for one day. It is one of the most important religious activities in the city.

Time for Mass and Rites
1. Sunday Mass: 7:30, 9:00 in Cantonese
11:00 in Portuguese
18:30 in English
The first Sunday of every month: 15:30 in Latin
Saturday Mass: 18:00 in English
2. Weekday Masses: 7:30, 8:00 in Cantonese
18:00 in Portuguese

How to get to of Cathedral, Macau
1. Take bus 2, 5, 6A, 16 or 28B to Avenida da Praia Grande.
2. Take bus 2A, 7, 8, 9A, 9, 12, 22, 25B, 25 or N2 to Rua do Campo.
| | |
| --- | --- |
| Entrance Fee | Free |
| Opening Hours | 9:30 - 18:00 |

Recommended Nearby Attractions:


Macau Museum


Ruins of St. Paul


St. Anthony's Catholic Church


Camoes Garden (Jardim de Luís de Camões)


Lou Kau Mansion (Casa de Lou Kau)


Senado Square (Largo do Senado)


St. Dominic's Church (Igreja de São Domingos)
- Last updated on Oct. 09, 2022 -
Questions & Answers on Questions & Answers on Cathedral, Macau
Asked by Teresa de Assis from AUSTRALIA | Sep. 25, 2022 22:54

Reply
how can I reach the secretary of the Se Catedral in Macau
My name is Teresa de Assis, I am the sister of Bishop Domingos Lam (who passed away in 1959), and would like to find whether NATALINO DE ASSIS JORGE, born on 25-12-1961, was registered in your BAPTISM BOOKS REGISTRY, son of Maria Rafaela de Assis, married to Artur Miguel Jorge on 27.7.1930. The reason is to confirm, as I am doing an ANCESTRY FOR ASSIS FAMILY.


Answers (1)
Answered by Teresa de Assis | Oct. 09, 2022 19:23

0

0

Reply
This is Teresa de Assis again, about 2 hours earlier, and I wrote a date of the passage of
my brother Bishop Domingos Lam's date of death was 8-8-2009 and not 1959, my apologies.

Looking forward to your reply.

Teresa de Assis
Asked by Richard Teo from SINGAPORE | Feb. 15, 2017 20:59

Reply
I will be in Macau Cathedral on 1st March 2017. Which is a Ash Wednesday, a Day of Obligation?
I would like to know whether is there any Masses on that day. Kindly advise. Thanks
Answers (4)
Answered by Julie from MEXICO | Feb. 18, 2017 20:48

1

0

Reply
Richard, I didn't find this information online, but I heard there is a mass at 18:00 which is in Portuguese.
Answered by Richard from SINGAPORE | Feb. 19, 2017 05:41

0

0

Reply
Hi Julie
Thank Julie for the information. Will try to attend even though I don't understand the language😀😀
Answered by putri from INDONESIA | Mar. 05, 2019 02:28

0

0

Reply
Yes, i also arrived macau on March, 6 and need information bout time of Ash Wed mass. at 6 pm ya ? hopefully valid information. see you there guys ;)
Answered by Parker from USA | Mar. 05, 2019 17:38

0

0

Reply
Yes, I heard that there is a mess at 6pm. But you are suggested to arrive there early and consult the staff.
Asked by Lelani Maria from INDONESIA | Nov. 20, 2016 20:44

Reply
How would I reach Cathedral of Macau from Ruin of St Paul?
Is it possible to go by foot and for someone use the wheel chair? Thank you.
Answers (1)
Answered by Abbey from AUSTRALIA | Nov. 21, 2016 00:58

1

0

Reply
It is about 500 yards to the south of Ruins of St. Paul's. You can walk there within 6-8 minutes. Also, you can get there on wheelchair. Don't worry! :)
Asked by flora jikilin jingulam from MALAYSIA | Oct. 20, 2016 18:55

Reply
Am at Macau Sun Sun Hotel, how do l go to the Cathedral or any nearby church I can go for mass?
Answers (1)
Answered by Addison from FRANCE | Oct. 22, 2016 00:52

0

0

Reply
Oh, the distance is not far. From the hotel, just walk east around 750 yards to find the church. :)