St. Dominic's Church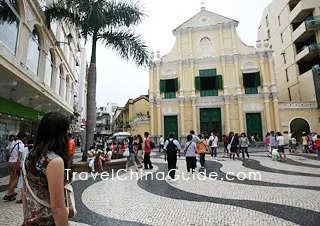 St. Dominic's Church
Located right in the heart of Senado Square of Macau, St. Dominic's Church, also St. Dominic's Church, was constructed by three Spanish Dominican priests in 1587 for worshiping Our Lady of the Rosary. It was refurbished in 1828 and was expanded to the large scale that it represents today. This church was placed on the World Heritage List in July 2005, and as such also became the 31st world heritage site of China.

The St. Dominic's Church has three halls: the deep and wide main hall is separated from the body of the church by a solid brick-built arch. Its chapiter is divided into three layers from upper to lower and each layer is partitioned from door and window by columns of different styles. The top of St. Dominic's Church is composed of triangular fins. This is Baroque style of seventeenth century churches which was influenced by both Portuguese and Spanish styles. The ceiling inside is covered with decorative patterns amongst which a crown pattern is significant just above the main altar which is decorated with white plaster reliefs and corkscrew pillars. In the main altar stands the statue of "The Madonna Holding the Infant Christ". The statue of Lady Fatima stands in the shrine, which has been approved to be displayed and worshiped in the church by the Diocesano de Macau since 1929. The Festival of Lady Fatima's statue traveling the streets starts from St. Dominic's Church on May 13th every year.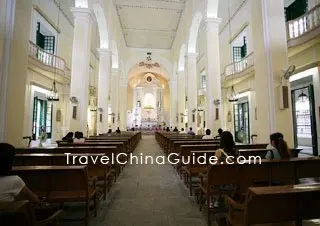 Inside of

St. Dominic's Church

As the only remaining part of the old church, the sacristy on the right side has nearly 300 pieces of religious artworks. A wide range of valued collections can be found here, such as golden, silver or cupreous utensils used for Mass; vivid icons made of wood, plaster or ivory; exquisite painting and paintings related to the Bible; color printing patterns and the gorgeous silk vestments used by the priests. Among these, a painting named 'St. Agustin' has a long history of over 300 years. Viewers can know about the phylogeny of Catholicism in Asia through these precious relics. At the end of the top floor of the sacristy, there are two bronze bells which are the oldest bell in the city. The St. Dominic's Church also has many interesting paintings and statues, amongst which the statue of Jesus Christ is the most famous. From this visitors will have a better understanding about the features of ancient Portuguese religions and associated arts.

St. Dominic's Church annually becomes one of the performing grounds of the annual 'Macau International Music Festival'. Now, most of the concerts are held at this church which is usually open in the afternoon. Visitors can first press the doorbell and then enter it through the east side door. Then passing across a long aisle, you will come into the interior of St. Dominic's Church. Behind the main church building, there is a small museum containing famous marbles and legacies from St. Paul's Cathedral.

How to get to St. Dominic's Church
Take bus 2, 3A, 3X, 3, 4, 5, 6A, 8A, 10A, 10, 18A, 18, 19, 26A, 33, NIA, N1B or N3 to Avenida de Almeida Ribeiro.
| | |
| --- | --- |
| Entrance Fee | Free |
| Opening Hours | 10:00 - 18:00 |

Recommended Nearby Attractions:

Senado Square
(Largo do Senado)

Lou Kau Mansion
(Casa de Lou Kau)

Cathedral, Macau

The Museum of Macau

Ruins of St. Paul's
- Last updated on Dec. 13, 2018 -
Questions & Answers on Macau St. Dominic\s Church
Asked by Samantha from SINGAPORE | Dec. 11, 2018 10:27

Reply
What is the Sunday mass schedule at St Dominic's church ?
My family plan for a day tour to Macau from HK on 16th Dec & would like to attend Sunday morning mass. We are tourist & want to visit the church as well. Please advise if we can attend mass.
Answers (1)
Answered by Qahira from AUSTRALIA | Dec. 13, 2018 17:19

0

0

Reply
The Sunday mass time is from 06:00 to 17:00. But during the mass time, tourists are not allowed into.
Asked by PENELOPE from SINGAPORE | Dec. 03, 2018 23:11

Reply
Opening Hours for St. Dominic's Church Macau
Would like to know the opening hours for St. Dominic's Church, Macau at Senado Sq.
Especially for 17th Dec.2018 and is there a mass on that day?
I am flying from Singapore. Just to visit this church. Would like to plan my timing well?
Thank you so much.
Answers (1)
Answered by David from USA | Dec. 04, 2018 21:39

0

0

Reply
The opening hour is from 10:00 to 18:00. Every Sunday, from 06:00 to 17:00 is the mass time and tourists are not allowed into. 17, December is a Monday.
Asked by mary ng from MALAYSIA | Mar. 19, 2016 12:08

Reply
What time is Easter Sunday Service in English at St. Domingo's Church on 27 March 2016?
Answers (1)
Answered by Paco from SPAIN | Mar. 21, 2016 02:58

0

0

Reply
As I know, there is no English Mass at the church. But I heard that there will be English mass at 10:00 at Our Lady of Mount Carmel Church.

Asked by Dana from PHILIPPINES | Aug. 26, 2015 12:51

Reply
How long is the travel period from macau to hongkong prince edward station?
Answers (1)
Answered by Ryan from ITALY | Aug. 27, 2015 03:11

1

0

Reply
First of all, you can take direct ferry from Macao to HK-Macao Ferry Terminal. The duration is about 55 mins.
Then from the ferry terminal to Prince Edward Station, it takes around 25 mins if by taking subways.
Asked by Prime Navoa from PHILIPPINES | Feb. 16, 2015 00:08

Reply
How do we go to Villa Universal if we take buses and also if we take airport taxi?
How much will it cost. Thanks
Answers (1)
Answered by Joe from SINGAPORE | Feb. 16, 2015 01:20

0

0

Reply
Maybe it's not easy for you to find a taxi because of the convenient public transportation.
So you are suggested to take public bus no. 26 at the airport, and get off at Rua das Lorchas Station. After arriving, walk around 220 yards to the east and find the hotel. The ticket fare is no more than MOP$5 per adult.