Lou Kau Mansion (Case de Lou Kau)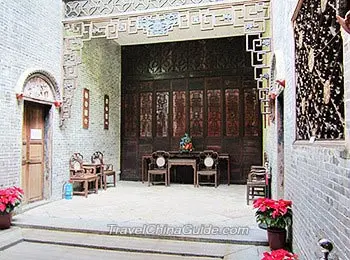 Macau Lou Kau Mansion
Located at no. 7, Travessa Da Se in Macau, the Lou Kau Mansion (Case de Lou Kau) is the former residence of the famous businessman Lu Huashao. It was built in around 1889 during the reign of
Emperor Guangxu
in the
Qing Dynasty
(1644-1911). The mansion perfectly integrates Portuguese decoration materials and methods into Chinese-style architecture. It is an essential part of the
Historic Center of Macau
, which was listed as a World Cultural Heritage site in 2005.
Structural Layout of Lou Kau Mansion
As a typical Chinese-style mansion, the two-storey Lou Kau Mansion is made of blue bricks. Three courtyards can be found in Lou Kau Mansion for the purpose of better lighting and ventilation. Inside, visitors can find Chinese architectural features coexisting superbly with western styles. To be specific, the Chinese-style brick carvings, wood carvings, and lime sculptures contrast well with the western-style iron handrails, colorful glass, and French windows, making it very interesting and beautiful.
In the living room of Lou Kau Mansion on the first storey stand a row of spectacular screens. Behind them is a door which bears the inscriptions "Great Wealth and High Position". All the front windows towards the street are in Portuguese style, among which the upper two are the most delicate. They are embellished with lime sculptures and the corners are wrapped with metal.
Ascending the second storey of Lou Kau Mansion, tourists can look down at the halls and courtyards in the mansion. The brick carvings and the lime sculptures above the doors on the first floor can also be appreciated and studied clearly. The second storey consists of a master bedroom and a living room with a lot of ancient flavor. The window frames are carved with elaborate patterns. The wood boards under the windows bear inscriptions and paintings. Even the floor is decorated with intricate patterns, which is very fascinating!
Artistic Activities in Lou Kau Mansion
The Macau Chinese Orchestra has held a great number of small-scale concerts in the Lou Kau Mansion. The traditional Chinese melodies played by the excellent musicians in the orchestra are very popular among tourists both from home and abroad.
What is more, plenty of folk artists present the local customs and practices in the mansion. Take the Chaozhou
Embroidery
and the Foshan
Paper-cut
for example, both of which are unique folk handicrafts in Guangdong Province, and have been listed as items of "National Intangible Cultural Heritage". Both of them have been presented in the mansion and are of great interest to tourists.
Tips
On the desk at the entrance is a memorial stamp and sheets of paper. You can stamp a mark on a piece of paper, and take it back home as a souvenir.
How to get to Lou Kau Mansion
1. Take bus 2, 5, 6A, 16 or 28B to Avenida da Praia Grande.
2. Take bus 3X, 3, 4, 8A, 18A, 19, 26A, 33, or N1A to Avenida de Almeida Ribeiro.
| | |
| --- | --- |
| Entrance Fee | Free of charge |
| Opening hours | 10:00 - 18:00, closed on Mondays except during holidays. |
- Last updated on Apr. 08, 2021 -