The Museum of Macau (Macau Museum)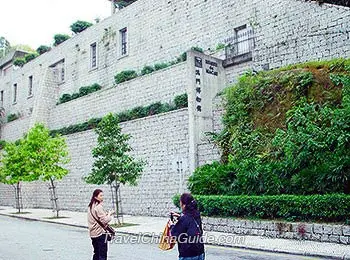 The Museum of Macau is the biggest museum in Macau. It is located in the famous Monte Fortress, in the heart of the city and where the Portuguese first set foot.

Construction of the the Museum of Macau includes an exhibition building in Monte Fortress and an administration building to the north of fortress. It was begun in 1996 and completed and opened to the public on April 18th of 1998.

Different from other museums in Macau, which have only one specific theme, the Museum of Macau was built to show the face of different nationalities harmoniously living here together during the past centuries and preserve this visage from the aspect of tradition, custom and culture.

Exhibition Building of the Museum of Macau
The exhibition building of the Museum of Macau is a three-floor structure, covering a total area of 2,800 square meters (around 30,139 square feet), among which 2,100 square meters (about 22,604 square feet) are for exhibition of more than 3,000 exhibits and historical relics. The first and second floors are built below ground level of the Monte Fortress.

The exhibition is classified into different groups:

Original Civilization, 1st floor
The origin of this region and its prosperity from the Neolithic period to the mid 17th century, which is known as the 'Golden Period' of Macau is introduced here.

Popular Art and Traditional Culture, 2nd floor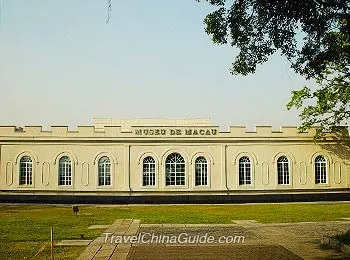 Different cultural themes which make Macau's culture rich and unique are showcased here. These themes usually derive from the existing culture, such as traditional festivals, daily customs, traditional handicraft and typical professions.

Contemporary Macau, 3rd floor
Here one sees the panorama of modern Macau. It also exhibits some works whose writers have been closely linked with Macau. The final part is an exhibition of the city's prospects and opportunities.
Administration Building of the Museum of Macau
The administration building covers an area of 2,300 square meters (around 24,757 square feet), including administrative and technical offices, warehouse, restoration room, IT department, security center and lecture hall, etc. The gift shops and an open-air teahouse are also located here. Although the building is not within the Monte Fortress, visitors can reach it from the exhibition hall through a tunnel with escalators.

After visiting the Museum of Macau, visitors may have a walk on walls of Monte Fortress, where one can overlook the whole city. Within the Monte Fortress, there is also an underground vault introducing its history permanently.

How to get to the Museum of Macau
Take bus 8A, 17, 18A, 18B, 18, 19 or 26 to Hospital Kiang Wu.
Entrance Fee
MOP15;
Free for children under 12 years old and seniors over 65 years old;
Free of charge on Tuesday and every 15th day of the month.
Opening Hours

10:00 to 18:00 (ticket selling stops at 17:30)
Closed on Monday except during holidays.

Recommended Nearby Attractions:

Ruins of St. Paul

St. Anthony's Catholic Church

Camoes Garden
(Jardim de Luís de Camões)

St. Dominic's Church
(Igreja de São Domingos)

Senado Square
(Largo do Senado)

Cathedral, Macau

Lou Kau Mansion
(Casa de Lou Kau)

Casino Lisboa

Top 10 Things to Do in Macau
- Last updated on Apr. 08, 2021 -
Questions & Answers on The Museum of Macau
Asked by Wendy from PHILIPPINES | Sep. 24, 2014 21:25

Reply
Is Macau Museum open on public holidays? like December 24, 25?
Answers (1)
Answered by Victoria from UNITED KINGDOM | Sep. 24, 2014 22:01

3

4

Reply
Oh, yes. It opens on public holidays. But it is closed on every Monday. And it is for free every 15th of each month. :)