Top 10 Things to Do in Macau
Macau is one of the four gambling towns in the world, as well as an exotic place in China for the over 400 years' colonial history under Portugal. With the Portuguese architecture, splendid casinos on a par with Las Vegas, and the delicious food, Macau is a sought-after destination for travelers. This article will tell you the most popular things to do in Macau that are widely recognized.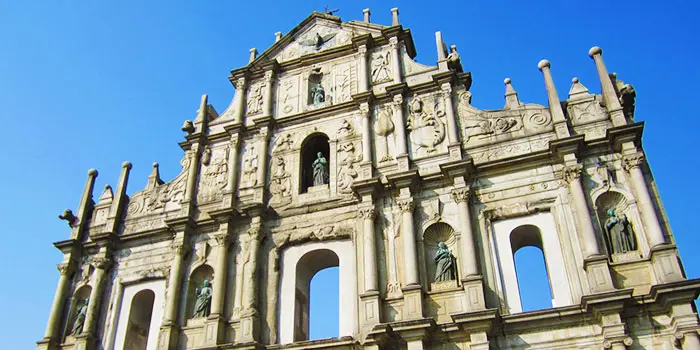 Ruins of St. Paul's is the landmark in Macau. It's definitely a must do in Macau to see this best-known world heritage in the city. It is actually the façade of a church built more than 400 years ago but destroyed by the fires. Combining the Chinese and western architectural styles, it is marvelous with many fine reliefs on. There is an iron ladder on the back side, allowing you to climb up to the top, where you could see the whole
historic center of Macau
.

Recommended Tour:

One-Day Macau Highlight Group Tour from Hong Kong from

$149
Fisherman's Wharf in Macau is like a small themed city in European style. As one of top things to do in Macau, Fisherman's Wharf has a zone full of Chinese traditional buildings used as Chinese restaurants, shops, and exhibition halls. At the "East Meets West" zone, you may feel in a large amusement park with various rides and the stage like Rome Colosseum. The "Legend Wharf" zone is a resort by sea with the buildings in various architecture styles from all over the world. You may find various shops of famous brands in medieval Italian, Gothic, Portuguese... styles.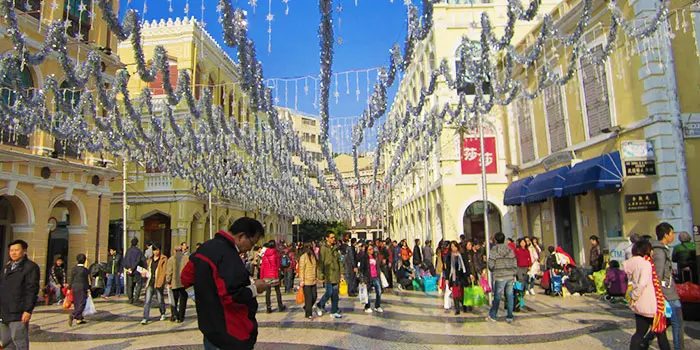 Visiting Senado Square is one of the must dos in Macau. Senado Square is one of the four major squares in Macau, with many old Portuguese buildings in the surroundings, including General Post Office of Macau, Leal Senado Building and
St. Dominic's Church
. The ground is in a wave-like pattern with white and black strips, and the fountain pool in the center make it more like a place in Europe. It's always a busy commercial district, drawing visitors to buy souvenir and gifts, and to try local snacks. On festivals, there would be public performances for citizens. If you go to Macau in June, you may join the lotus festival and see varieties of lotus flowers on Senado Square.

Recommended Tour:

Macau Hiking Tours with Routes and Tips
Macau Tower, the highest building in Macau and one of the top 10 sightseeing towers worldwide, is no doubt one of the best things to do in Macau. Apart from overlooking the city from the observation deck at a height of 223 meters (732 feet), you can also experience the Skywalk in the periphery outside. It's a great site to seek for thrills, to pace on the skywalk without any handrail on 233m (764ft) high place. What's more, Bungy Jump and Sky Jump from the same floor give a different excitement. You can also challenge the tower climbing, which is more thrilling. 360° Café on the top floor revolves a circle every half an hour, where you can see the cityscapes of not only Macau, but also Zhuhai. If the weather is clear,
Lantau Island
in Hong Kong can also be seen.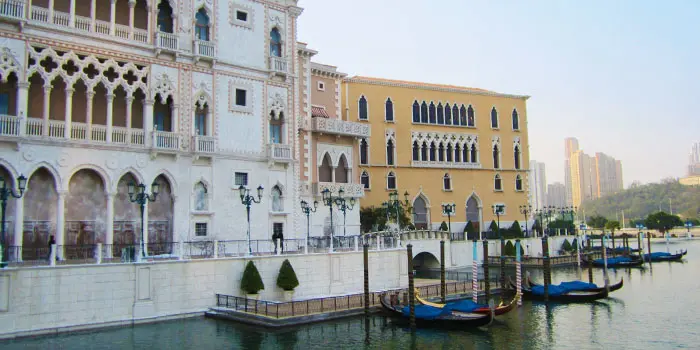 Venetian Macau-Resort-Hotel is like a small Italian town with a large casino, as all things there are decorated in the Venetian royal style. You may feel like travelling through the space and time into the ancient Italian court and visiting the splendid palace. You can enjoy shopping at dazzling Grand Canal Shoppe on the 3rd floor, which is the largest indoor shopping mall in Macau with more than 350 shops and dozens of restaurants and food stores. Taking a boat cruise on the canal, watching the free European performances, and visiting the Casino – the largest casino in Macau, are unmissable things to do in Macau in China. However, don't be addicted to gambles.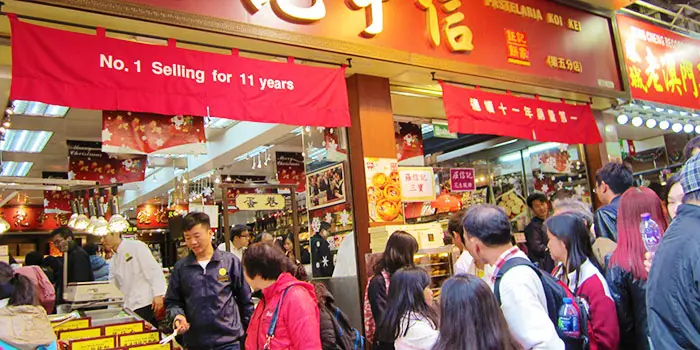 For food lovers, tasting snacks on Rua da Cunda is definitely one of the top 10 things to do in Macau. Rua da Cunda is an old street selling Chinese and western snacks as well as varieties of gifts, highly favored by the locals as well as the tourists. Crab porridges, Portuguese egg tarts, and pork buns are the three most popular foods in Macau, and multiple snack bars sell them on Rua da Cunda. Other foods like durian ice cream, algal jelly, Italian hand-made ice cream, Portuguese cuisine, Thai cuisine, etc. are also available. Large numbers of people come there for those mouthwatering things, and it's believed you would be full up after the visit.
The Museum of Macau, aka Macau Museum, was built right by the site of ancient
Monte Fort
, on the top of a hill. It's an impressive one on Macau to do list, where you can see varieties of paintings, ancient export porcelains, silks, wooden wares, Catholic items, old books, photos, etc. You will learn the local original civilization on the 1st floor, from the Neolithic Period to the middle of the 17th century. On the 2nd floor, you will get to know much about Macau's folk arts, daily life of common people, religious rituals, and so on. At last, on the 3rd floor, the present life of Macau people are on show. You could also see Monte Fort outsides and overlook Macau city on the mountain top.
Rather than the bustling Macau Peninsula, Coloane Island is a comparatively quiet offshore island in Macau, making it a special stuff to do in Macau. You may stroll along the beach to see the seaside sceneries, or walk around the streets to find satisfying café and foods. It is a good place to seek for the peace in your mind, and the most popular sites include Hac Sa Beach with black sands and seaside footpaths, and Cheoc Van Beach where is the best site to see the sunset by sea.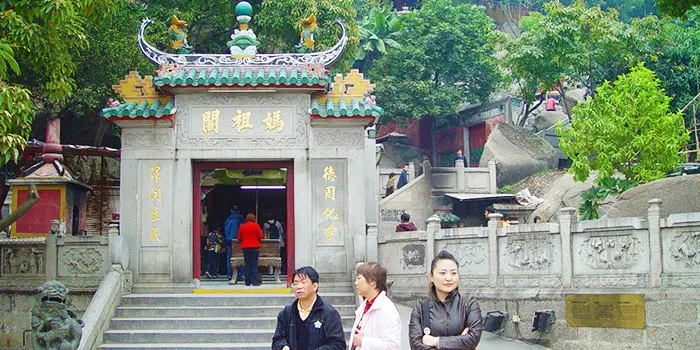 A-Ma Temple is the most famous historical site in Macau. Constructed more than 500 years ago, it is dedicated to Mazu, the protector of fishermen on sea in southern China. Although the temple is not large in scale, it is famed with large streams of pilgrims. It becomes one of the most famous attractions as well as 10 things to do in Macau for the profound culture background. On the Eve of
Chinese New Year
, the 23th day in the 3rd lunar month, the 9th day on the 9th lunar month, and more festivals, a lot of people get there to pray for blessings. Meanwhile, Barra Square before A-Ma Temple is the site where Portuguese landed onto Macau centuries ago, making it the signal place of the beginning of cultural integration between Chinese and Portuguese.
10
Guia Fortress & the Lighthouse
Guia Fortress, together with the lighthouse, occupies the highest position in Macau Peninsula. It's firstly built in 1630s, to prevent from attacks and used as a military observation post. It's always a noted attraction in Macau, and one of the oldest fort barbettes in western style existing in China, hence recommended as one of Macau top things to do. Here, you can witness the lighthouse, watch old houses, and air-raid shelters, etc. On this high place, you can also get a full view of Macau and the estuary of
Pearl River
. The small church there is also an art hall with fine murals in a combined style of Chinese and western.
- Last updated on May. 10, 2023 by Brenda Lian -