Macau Shopping
Thanks to its free port status Macau is a shoppers' paradise and foremost among the popular buys are jewelry (particularly gold), brand label clothes, Chinese antiques, porcelain and pottery as well as wine, cameras, watches, knit-wear together with a host of electric gadgetry all at free duty prices.

Where to Buy

Macau Peninsular
The main shopping centers are scattered around Av. Almeida Ribeiro (New Road), Av. Infante D. Henrique, Rua Pedro Nolasco da Silva and Av. de Horta e Costa.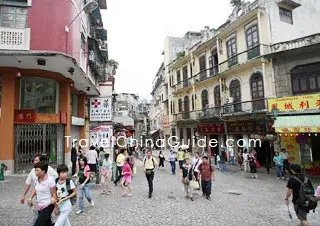 Stores in Macau Street
Senado Square Area
Senado Square is the main bustling area in central downtown on the northern side of Av. Almeida Ribeiro (New Road) where a great number of stores and food stalls line the streets. The best buys here are fashionable clothes.
Running north from Senado Square is the Rua S. Domingos with its abundance of clothes, shoes and cosmetic stores. It is very reminiscent of the Causeway Bay in Hong Kong for this reason. Brand-label clothes stores selling U2/ G2000, STACCATO, NINE WEST and others on this street are very popular with young people. Another feature of this street is the various cosmetic stores such as Body Shop, Sa Sa, Angel, H2O+ and others which are usually packed with young girls and female office workers seeking the latest and best in cosmetics in the summer months. Further east to Rua S. Donmingos is Rua Pedro Nolasco da Silva where a copious display of fashionable clothes, bags and sportswear can be found. The largest shopping center in this area has a wonderful selection of men's and women's clothes, jewelry and fashion accessories on each of its three floors. Take a left turn in a northerly direction just before going onto the Rua Pedro Nolasco da Silva and you will find a short street called Rua da Palha. This street has a number of stores selling glass ware as well as an artwork shop selling all manner of delicate porcelain water lily ornaments. (The water lily is the municipal flower of Macau)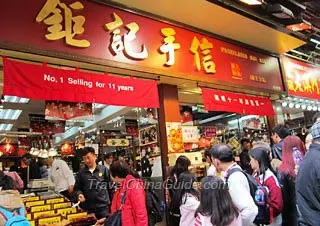 A Shop for Macau Dim Sum
On the other side of the New Road are two rows of traditional Chinese buildings. It was a red light area in old days but is now occupied by pastry and souvenir shops. In the Rua da Felicidade, you can find bakeries and pastry shops that sell many
Macau-style Dim Sum
. Here you can sample many of the goodies on offer before deciding on your purchases and is an ideal place to buy gifts that are a unique memento of the region.
At the end of the New Road, there are snack stalls and pastry shops that are noted for the excellence of their local specialties. You can find the best of these and avoid the less desirable ones by people watching. The longer queues are a sure guide to the good ones - remember the local people always know best!
Getting there: TCM 10, 10A, 11 and 21A or TRANSMAC 3, 3A, 5, 6, 8, 8A, 26A and33 reach the Senado Square Area
Red Market& Av. de Horta e Costa
Red Market is now as a pedestrian street at the intersection of Av. do Almirante Lacerda and Av, de Horta e Costa. The street owes its name to a range of red buildings constructed by the Portuguese in the 20th century. At present, it is a well-known street with all sorts of stalls selling fruits, vegetables, flowers and clothes. The fruits here are best in the city and are inexpensively priced.
Starting from the Red Market to the Flora Garden at Guia Hill, Av. de Horta e Costa is another of the city's main shopping streets with a focus in what is called the Three Lamps District. Streets and lanes radiating from this square accommodate a selection of shops selling jewelry, clothes, shoes, cameras and electronic gadgetry.
Getting there: Buses 1, 1A, 3, 4, 5, 8, 16, 17, 23, 25, 26, 26A, 32, 33 and 34 go to the Red Market
Rua de S.Paulo Area
The most popular piazza is located close to the Ruins of St. Paul's. A dozen or so furniture and antique shops can be found along the Rua de S.Paulo with authentic antique porcelain, ancient coins and rosewood reproductions of traditional Chinese furniture. Most shops offer good delivery services at reasonable prices. Rua de N.Srå do Amparo nearby is a gravel road and here various peddlers set out all kinds of pottery, figurines and Chinese paintings as well as secondhand articles on the ground. This area is also well-known for its variety of pastry shops and dim sum bakeries, among which Koi Kei is the best. Several featured shops sell various souvenirs for visitors. You can bargain for the goods in this area.
Another piazza worth visiting can be found near Hong Kung Temple on the Rua Cinco de Outubro.
Getting there:
Buses nos. 2, 3, 3A, 4, 5, 6, 7, 8A, 10, 10A, 11, 18, 19, 21, 21A, 26, 26A and 33 can take you to the AV. Almeida Ribeiro and then a walk northern ward along the Rua Mercadores can lead you to the area.
New Yaohan& Macau Landmark
New Yaohan, opposite to the reclaimed land of the city's Ferry Terminal is the most popular shopping center in the city with a full range of electronic appliances and cameras varieties from Japanese.
Getting there: TRANSMAC1A, 3, 3A, 5, 8, 28A, 28B, 28BX, 28C, 32, AP1 or TCM 10, 10A, 10B, 12, 23 and AP1 reach New Yaohan.
Macau Landmark, as it is named, is a landmark in the Reclamation Area. This is a new tourist attraction established in the southern part of the Macau Peninsular with fashion shops, dining center and top-rank entertaining facilities catering for tourists.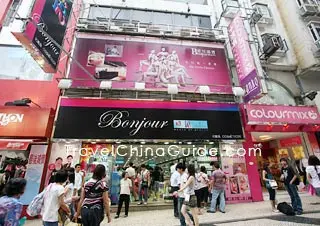 Shopping Mall
PawnshopsThey are ubiquitous in Macau, especially near area around the Lisboa Casino. Good deals can be made on watches, jewelries, and other precious items. However, always be sure that you can recognize the difference between the genuine article and a fake before parting with your money!
Bus 3, 3A, 8, 10, 10A, 10B, 12, 22, 23, 25, 28A, 28BX. 28C and 32 will take you to the Lisboa Casino.

Outlying Islands
Taipa Village
Taipa Village is the old town area of the outlying island of Taipa and now very much a tourist area. The Rua de Cunha flanked with numerous pastry shops and street vendors. It has a great reputation as a dining with several well known places where you can buy local dim sum and snacks.

TCM 11, 21, 21A and 22 or TRANSMAC 28A, 33 and 34 go to this street.

A bazaar is held in the Taipa Village from 11:00 to 20:00 on Sunday. A wide selection of handicrafts, souvenir items, clothes, toys and other interesting things can be found. A convenient car park is available for those who drive to the market.

Bus 11, 22, 28A, 30, 33 and 34 from the Macau Peninsular reach the market and Bus 15 from Cotai can take you there as well.

What to Buy
Antiques& Furniture
A selection of reproduction traditional-style rosewood Chinese furniture, porcelain wares, lacquer, bronze wares, wood carvings and Chinese paintings can be found in Rua de S.Paulo Area.

Tips:
All authentic Chinese antiques will have certificates confirming their provenance. In piazza venues, bargain as much as you like to get the best prices.

Wine
Of course, Macau is a good place to buy aromatic authentic Douru or Alentejo wine imported from Portugal at duty-free prices. Vinho Tinto in Portuguese on wine bottles indicates the red wine and Vinho Branco the white. Macau Wine Museum is the best place to sample different types of wines and get professional advice on how to buy wines. Well-packed wine products are available at all supermarkets.

Jewelry
Gold, pearl and crystal jewelries can be found either in credit standing jewelry shops and souvenir stalls on the antique street near the Ruins of St. Paul's. The credit standing jewelry shops are mainly located near the New Road Area, Av. de Horta e Costa and the region close to Hotel Lisboa.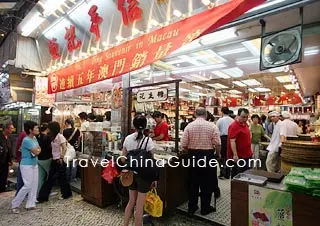 Snack Store
Gifts to Tempt the Taste-buds
The Macau-style Dim Sum is well-known throughout South East Asia. Pastry shops and dim sum bakeries in the Senado Square Area and
Rua de Cunha
offer ideal gifts for families and friends. For details, please see our page on
Macau Snacks
.
Duty-free Products
Numerous world-famous fashion brands have stores and outlets in the city providing all the latest styles and fashions. Top of the range fashion stores can be found around the areas close to the New Road and Av. Infante D. Henrique. The luxury hotels such as Hotel Lisboa, Mandarin Oriental, Sintra and New Century in Taipa have boutiques selling fashion clothes, duty-free perfumes, cosmetics and electronic accessories.

Tips:
It is always best to purchase brand name cameras and electronic appliances in shops of good standing (Certified Shops) and remember to ask for the quality certificates and receipts in event of any after sales problems.

Clothes
In addition to top-ranking fashion shops housed in luxury hotels, there are many clothes and footwear shops that sell both formal and casual wear ranging from men's suits to women's summer accessories. Traditional styles of Chinese clothing are very popular with many tourists. You can find shops that sell Chinese style clothing in the area around Rua Mercadores in the Senado Square Area or the Red Market Area.

Tip: Small shops do not have fitting room facilities for Customers, so it is vital to make sure you choose your correct size because refunds are not given on items of clothing.

*Certified Shops
The Consumer Council of the Macau government has launched a quality initiative program in the city by granting 'Certified Shop' status to those who have a record of no customer complaints since 2001. Customers buy goods in the stores that participate in this program can obtain free arbitral service at the Customer Arbitral Center in the event of any disputes over purchases.



You May Like:
8 Major Cities in China for Enthusiastic Shoppers
- Last updated on Apr. 09, 2023 -
Questions & Answers on Shopping in Macau
Asked by Anthony from HONG KONG | Apr. 05, 2023 16:41

Reply
Bacalhau
Where to buy Bacalhau in Macau?
Answers (1)
Answered by Mary | Apr. 09, 2023 20:25

0

0

Reply
Try your luck in those big supermarkets like "Fusion".
Asked by Christina from MALAYSIA | Dec. 08, 2019 09:41

Reply
Where to buy for nice party dresses in Macau?
Answers (1)
Answered by Tina from SINGAPORE | Dec. 11, 2019 17:41

0

0

Reply
You can have a look at New Yaohan, which is located at Avenida da Praia Grande.
Asked by Nel from PHILIPPINES | Oct. 21, 2019 13:08

Reply
What's the best transport from Macau Airport to IFU Hotel?
Answers (1)
Answered by Kira from CANADA | Oct. 24, 2019 20:21

0

0

Reply
You can take bus MT4 from the airport to Rua das Lorchas station, then walk north around 400m to your hotel.
Asked by Guest from INDIA | Apr. 13, 2019 13:39

Reply
Which is the best season for Macau?
Hey ! When can we get discounts in popular brands I mean in which month Macao has sale
Answers (1)
Answered by Keira from CANADA | Apr. 16, 2019 20:28

0

0

Reply
Generally speaking, the discount seasons are May, June, November and December.
Asked by Marivone from INDIA | Aug. 26, 2018 04:45

Reply
Where can we shop for antique furniture with stones
How is the weather right now in Macau
Answers (1)
Answered by Vivian from NEW ZEALAND | Aug. 28, 2018 19:30

0

0

Reply
You can stroll around the Tai Sam Pa Street area. The temperature is about 26 to 32C and it may rain in recent days. You can wear shirts or short sleeves and remember to prepare a coat and an umbrella. Nice Trip!