Macau Nightlife

Wandering about the City
Macau has earned the title of the Oriental Las Vegas as it is a gamblers' paradise, however, it is also a beautiful city with clear streets, gardens and picturesque hilly landscapes. A wander around the city is a fantastic experience!

The inner city area is ideally suited for exploration on foot and there is much to discover in the many winding streets to be found close to the main square, Largo do Senado in the downtown or along the waterfront avenues in the southern part of the city near Nam Van or Outer Harbor. We can recommend this and feel confident that no one would be disappointed.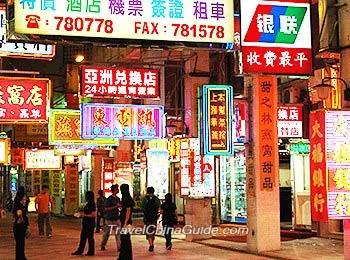 Macau at Night
These streets close to Largo do Senado, are home to numerous restaurants, bars and cafes and clothing shops. You will find elegant Baroque style buildings from the old days and surprising local delicacies. Walking in a southerly direction along Avenida da Praia Grande will bring the visitor to the area near Nam Van. Alternatively by taking a westerly route the area along the waterfront close to Inner Harbor may be found. The many pedicabs and tricycle rickshaws that are available offer a comfortable way to tour each of these locations. A fare of 150 MOP$ is charged for one hour.
On Guia Hill in the eastern part of the Macau Peninsular and the hills of the outlying islands of Taipa and Coloane, there are winding trails with exercise equipment along the roadside for those who like to jog. Hiking among the hills affords panoramic views of the city, harbors and the natural landscape of the surrounding islands. A cable car service is available from 7:30 to 18:30 each day on Guia Hill. The single trip costs three Patacas while a return ticket costs five Patacas for the round trip.
Taipa and Coloane are good choices for those who like cycling. Bicycles can be rented on Taipa, from the garage next to the Civic and Municipal Affairs Bureau building (close to the Tin Hau Temple and bus terminal).
Another unique way to visit the area is to get on the nine-seated replica of a 1920's London bus. This splendid vehicle is chauffeur-driven. It follows a scheduled route around the city and a tour lasts approximately two hours. The fare is MOP$300 per person, however special tours may be arranged when the cost will be doubled.
Golf
Macau has the most beautiful golf course in Asia. The Golf & Country Club is located on the south side of Coloane Island and near the Western Resort Complex. Here the excellent golfing facilities are complimented by fine views of the landscape over the Pearl River and Hac Sá beach.

Karting
As a beforehand racing car of F-1, Karting is favored by the many car racing lovers who are fascinated in the Macau Grand Prix, a well-known international formula 3 game held in the city. It is much easier to drive and participants are not necessarily required for licenses.

At the southern end of the causeway linking Taipa with Coloane is a karting circuit. The track is wide enough for about 30 cars racing at the same time. The complete facilities of a stand with the capacity of 2,500 people, time equipment, living broadcast screens, show halls, restaurants and special racing courts for children are provided. Foreign karting lovers and locals alike come Getting there: Bus 21, 21A or 25 can take you there.

Horse & Greyhound Racings
Horse racing and dog racing are two of the alternatives for those who do not want to go to casinos. The Jockey Club, located in the south-east coastal area of the outlying island of Taipa has a cosmopolitan group of trainers, riders and horses imported from several countries. The racing season is from September to August next year. Public buses to Jockey Club include 11, 15, 22, 28A, 30, 33, 34, 35 & AP1.

Dog racing was introduced here in 1960 and has become a firm rival to the horse races. It has been said that bets totaling over 150,000 MOP$ are placed at any one time. The dog track is at the Canidrome located at Avenida General Castelo Branco. There are around 15 races on every racing night starting from 7:30 p.m. Admission is MOP$10 for the public stand. You can take public buses of 1, 1A, 3, 4, 5, 7, 9, 9A, 23, 25, 26, 26A, 32, 33 and 34 to get there.



Enthralling Nightlife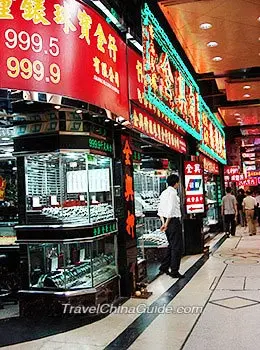 Stores
The city by day gives an impression of a graceful and tranquil city with old Euro-style buildings set against the blue sky, where people wander at leisure along the narrow and winding streets. However, as night falls a new world of enchantment opens up to the sparkling nightlife of the Macanese. The many entertainment venues and restaurants are open until late and welcome all who come to enjoy the festive atmosphere that pervades the night.
Gambling
With casinos to rival both Monte Carlo and Las Vegas, gambling accounts for almost 50% of the government revenue and forms the backbone of the city's tourist economy. Gambling casinos throughout the city are inevitably packed with people from all over the world who come to seek their fortunes.

The numerous Casinos are extravagantly bedecked with dazzling chandeliers, luxurious gaming rooms and first-class hotel facilities add to the glitz of nighttime Macau. Thousands of frenetic gamblers swarm into these venues for 24 hours to seek their fortunes. Most of the best known casinos are housed in top-class hotels in the Macau Peninsular and the island of Taipa. The flagship casinos include Hotel Lisboa Casino, Macau's first Las Vegas-invested casino Sands Macau, Galaxy Waldo Casino and Macau Palace Casino. The tables include roulette, blackjack and poker; of course there are the ever popular slot-machines as well. There are in addition local games such as Chinese fan-tan to give visitors and locals alike sound reasons for visiting in order to experience first hand the height of luxury and excitement.

Hotel Lisboa in a large bird-cage building is the king among these venues. The façade entrance is designed like the big mouth of a tiger and on the lobby dome there is a heart with numerous prickles to symbolize the punishment of gamblers' greed. However, such warnings are formalities and are heeded by many with the same degree of nonchalance as the SMOKING KILLS warning on a packet of cigarettes!

The showy 'Crazy Paris Dancing' performed by charming hostesses in Hotel Lisboa and presented at 20:00 and 21:30 from Monday to Friday is the best choice for those who enjoy watching dancing.

Public buses of 3, 3A, 8, 10, 10A, 10B, 12, 22, 23, 25, 28A, 28BX, 28C, 32 reach the casino.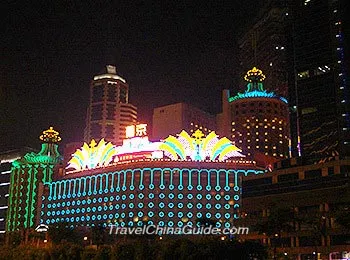 Casino & Hotel Lisboa
All casinos are accessible without charge but smart dress is required. There is a minimum age requirement of 18 for visitors and 21 for locals in all casinos.The casinos accept only Hong Kong dollars and Macau Patacas and guests can exchange money either at casino counters or the nearby banks.

Casinos in Macau Peninsular
Lisboa Casino
Address: Avenida de Lisboa, No. 2-4, Hotel Lisboa
Galaxy Waldo Casino
Address: Avenida de Amizade, Waldo Hotel
Sands Macau
Address: Avenida de Amizade
Macau Palace Casino
Address: Avenida de Amizade
Mandarin Oriental Casino
Address: Avenida de Amizade, No. 956-1110, Mandarin Oriental Macau
Pharaoh's Palace Casino
Address: Avenida de Amizade, No. 555, 3 andar, The Landmark
Diamond Casino
Address: Rua de Pequim, No. 82-86, Hotel Holiday Inn Macau
Jai Alai Casino
Address: Est. da Pelota Basca
Kam Pek Casino
Address: Rua de Foshan, Centro Comercial San Kin Yip, 1 andar

Casinos in Taipa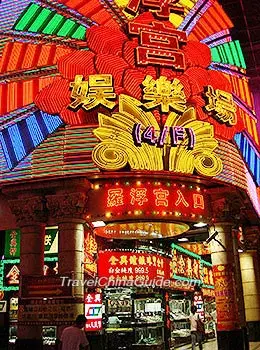 Casino
Macau Jockey Club Casino
Address: Estrada Governador Albano de Oliveira, No. 142, Grandview Hotel, Taipa
Mandarin Oriental Casino
Avenida de Amizade, No. 956-1110, Mandarin Oriental Macau
Marina Casino
Address: Aterro COTAI, Marina de Taipa Sul, Pousada Marina Infante, Taipa

Night Walking
For those who are seeking a money-saving choice of nightly entertainment, a stroll around those parts of the city that are very busy by day can leave you with unique impressions. The popular destinations include the main square, Largo do Senado, Ruins of St. Paul's, Clube Militar de Macau and Macau Houses Museum.



Bars& Discos
Apart from the gambling venues, all sorts of gracefully decorated lounge bars and hotel bars and arrays of sidewalk cafes and bars featuring grazioso Latin and African style music provide more choices for locals. The two famous bar and dining streets in the city are located close to the main square, Largo do Senado in the heart of the city and along Avenida Dr. Sun Yat-sen near the Kun Iam Statue in the south reclaimed-land of Outer Harbor.

Bar Street near Avenida Dr. Sun Yat-sen
At the end of Dr.Carlos D'Assumpcao Park in the southern reclaimed-land of Outer Harbor is an avenue called Avenida Dr. Sun Yat-sen. Thanks in part for the waterfront position, this area has become a bustling nighttime entertaining center. Crowds of people go there both for a drink and live performances as well as the charming night scene of outlying islands. All sorts of bars and pubs, cafes, restaurants and food shops line the street sidewalk and music bands and dance groups present live performances for guests.
Getting there: Bus 1A, 8, 12, 17 and 23

Fishman's Wharf
A prime amusement attraction in Macau is called Fishman's Wharf. This was initiated by the Macau amusement magnate, Macao Tourism and Amusement Company. It is undergoing its final construction phase and will open to the public in December this year. With an area of over one million square feet, this entertainment complex boasts that it will be a new experience with buildings in a variety of exotic western and oriental architectural styles. It combines entertainment, shopping, restaurants, hotels, docks and convention facilities in one place with driveways and parking for both bus and taxi.

The wharf entertainment area is planned to be built in the waterfront reclaimed area between Sands Macau and Macau Palace, two famous casinos in the city along Avenida de Amizade in the New Reclaimed Area. Buses 1A, 3, 3A, 10, 10A, 10B, 12, 17, 23, 28A, 28B, 28Bx, 28C, 32 and API can take you to Immigration Office of Macau, which opposites the Macau Palace casino.

Bar Street in Downtown
Rua S. Domingos is a street located north to the main square, Largo do Senado in the central downtown. This is the busiest area and is packed with restaurants, local snack shops, clothes shops to name but a few. Various bars and cafes along these streets provide delicious local snacks and a pleasant environment.

Disco parlors with popular Chinese, Cantonese and Thai music and songs can be found easily in the city. People usually spend the evening at these parlors with friends until late into the night. The reasonably-priced Kara-ok entertainment is very popular with young people.



Cinemas & Theaters
Macau is also a venue for both Western and Oriental arts and culture. Cinemas and theaters in the city provide films, operas, musical performances and other entertainments. For those who want to get to know the city in depth, D.Pedro V Theatre located a little southwest of the busiest downtown AV. Almeida Ribeiro and the theatre in Macau Tower Convention& Entertainment Center in the reclaimed area at the very tip of the Macau Peninsular are two good places. Buses 23 and 32 can take you to the tower.
- Last updated on Jun. 27, 2022 -
Questions & Answers on Nightlife in Macau
Asked by Alan from SINGAPORE | Mar. 15, 2018 07:01

Reply
How to go to metropark hotel from Macao airport
Answers (1)
Answered by Donna from USA | Mar. 15, 2018 20:32

1

0

Reply
Take bus MT1 to Hotel Presidente and then walk northeast for 5 minutes to your hotel.
Asked by Sonu from INDIA | Nov. 23, 2016 07:04

Reply
Hello I am planning to visit to Macau in January. I have low budget.
Please suggest me the budget accommodation for 3 nights.
Answers (2)
Answered by Vivian from USA | Nov. 24, 2016 00:36

0

0

Reply
You may stay at Sanva Hotel at No. 65-67, Rua de Felicidade. It costs about MOP 160 per night. The email address is info

sanvahotel.com. The telephone number is 852 82100193. Have a try! :)
Answered by Sonu from INDIA | Nov. 24, 2016 03:57

0

1

Reply
Thanks Vivian
It will very helpful
Regards Sonu
Asked by steve from AUSTRALIA | Oct. 01, 2016 06:00

Reply
Hi, do the casinos in Macau have keno machines? thanks
Answers (1)
Answered by Bob from BRAZIL | Oct. 08, 2016 21:21

1

0

Reply
As I know, the casinos have keno machines. Have fun! :)
Asked by Nate from UNITED STATES | Sep. 09, 2016 12:28

Reply
Gambling age for foreingers in Macau
Is the age to gamble as a foreigner still 18 or has it been raised to 21?
Answers (1)
Answered by Percy from UNITED KINGDOM | Sep. 10, 2016 02:32

2

0

Reply
It has been raised to 21.