Macau Weather
Having distinctive dry and wet seasons, Macau's weather is generally warm and foggy in spring, hot and rainy in summer, cool and clear in autumn, and cold but sunny in winter. The average annual temperature is about 20°C (72°F) and there are about 100 days with high temperatures over 30°C (86°F). Less than 30 days have an average temperature about 10°C (50°F) in a year.



Best Time to Visit Macau
Macau climate from April to October is rainy. May is the rainiest and July to September is the typhoon season. Autumn and winter, especially mid-October to December, are recommended as the best visit times.
7-Day Macau Weather Forecast
Macau Weather by Month
Averages for Macau Weather
High/Low Temperatures of Macau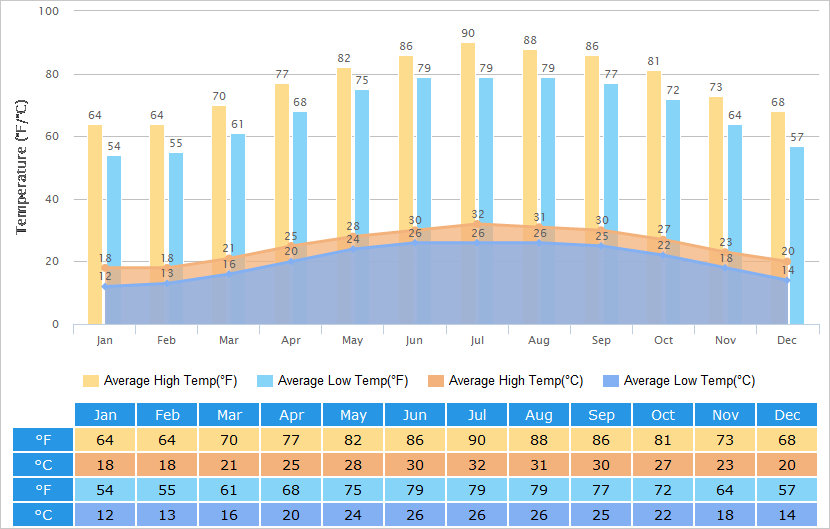 Average Temperatures of Macau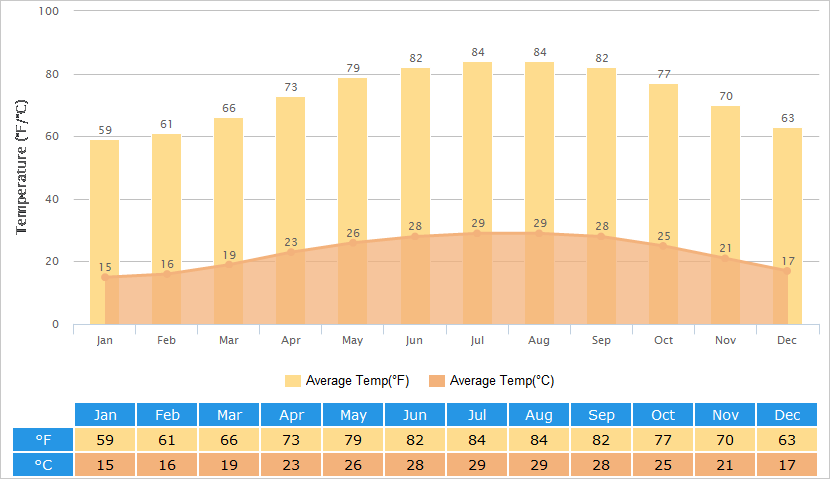 Average Rainfall of Macau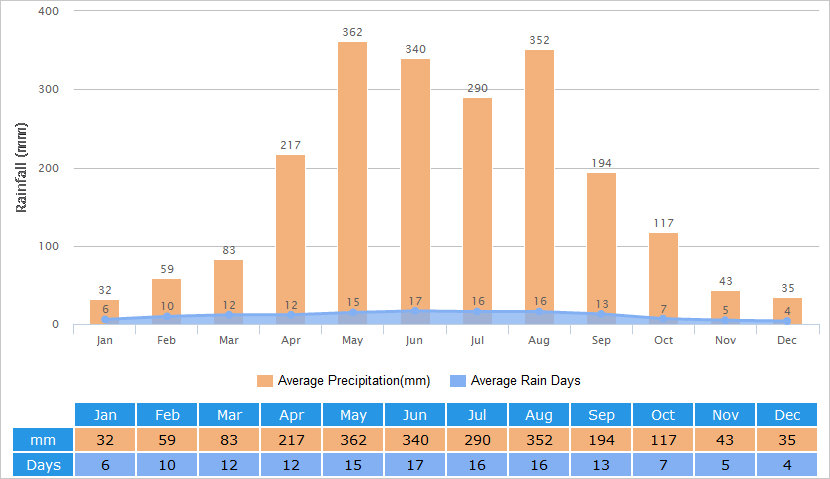 Macau Climate - Seasons & Travel Advice
Located to the west of the Pearl River (Zhujiang) estuary, between mainland China and the South China Sea, Macau's weather is influenced alternately by the cold northeast monsoon from China's mainland and the southeast and southwest monsoons from the ocean and therefore its climate has the features of both continent and ocean climates.
Spring
Macau's spring is from March to April when the southeast winds bring warmth and humidity. Other than the occasional foggy and rainy weather, the days are filled with pleasant sunshine, accompanied by mild nighttime temperatures. Travelers should pack sweatshirts, light jackets and an umbrella.
Summer
Beginning in May, summer season here usually lasts till the end of September. The extreme high temperatures and heavy humidity brings many rainstorms, thunderstorms and even disastrous waterspouts. However, it is a good time for swimming at the beach, like Hac Sa Beach and Cheoc Van Beach. The months from July to September might be filled with frequent cyclones. Travelers should try to avoid the typhoon season and stay at home when storms and cyclones come. T-shirt and shorts are suitable for the hot and humid weather and raingear is an additional must.
Autumn
After the hard summer, the intense southwest winds disappear and the winds from the northern continent bring this region a mild autumn with cool days from October to December. This, typically, is the most comfortable time of year for traveling. For this period, sweaters and jackets are a good idea for heading out after hours.
Winter
Starting from mid to late December, temperatures gradually drop, as the winter in Macau begins. January to February is the coldest period when the cold air from Siberia arrives at the peninsular. Sometimes the temperature plummets to 10

C (50

F). Woolen clothes and overcoats are necessary to keep warm for travelers wanting to spend this period in the city.
- Last modified on Apr. 27, 2019 -
Questions & Answers on Macau Weather
Asked by girlgegirl from MALAYSIA | Apr. 25, 2019 21:10

Reply
im planning to visit macao,it is going to be a rainy day during early april?
Answers (1)
Answered by Jane from AUSTRALIA | Apr. 27, 2019 19:30

0

0

Reply
Hi, it is hard to say and you need to pay attention to the weather forecast before departing.
Asked by Zaky from MALAYSIA | Apr. 08, 2019 03:07

Reply
I'm planning to visit macao on 11 sept this year.What is the weather going to be ? any advise
Answers (1)
Answered by Lisa from SINGAPORE | Apr. 08, 2019 22:59

0

0

Reply
The temperature may range from 20C to 30C. You can wear T-shirt and jeans.
Asked by Kareen from PHILIPPINES | Mar. 22, 2019 00:19

Reply
We'll be visiting Macau in may 23-24. What is the best thing to wear during this month?
Answers (1)
Answered by Lucas from AUSTRALIA | Mar. 27, 2019 01:43

0

0

Reply
Based on the previous weather statistics, the temperature may range from 25C to 35C during that period of time. It will be hot. You can just prepare the summer clothes. :)
Asked by trish from PHILIPPINES | Mar. 08, 2018 20:01

Reply
We'll travel to macau in 23 to 25th of march this year. is it okay to bring light coat? and jacket?
thank you
Answers (1)
Answered by Brain from USA | Mar. 09, 2018 02:45

0

0

Reply
It may get warm during your visit and frequent rainy days will happen. As the average temperature can be 20C or so, light coat can be enough. Jacket is also suggested to take in case the temp goes up a lot in the early afternoon.