Ruins of St. Paul's & Monte Fort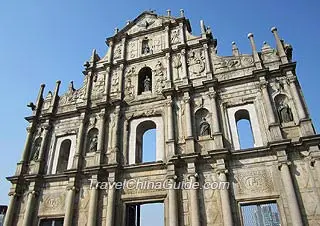 The Ruin of the Church Facade
The Ruins of St. Paul's (also known as Sam Ba Sing Tzik) stands adjacent to the famous Mount Fortress and Macau Museum. The front façade and the grand stone stairs are the only remains of the greatest church.
First constructed in 1580, St. Paul's Church caught fires in 1595 and 1601. However, reconstruction started in 1602 soon after the church was burnt down. Completed in 1637, the church became the biggest Catholic Church in East Asia at that time. Unfortunately, a violent typhoon hit Macau in 1835 and the church caught fire for the third time leaving its glory a history. According to historical materials, St Paul's Church, built with white stones, had a grand vaulted roof. It had three magnificently decorated halls.
Built with granites, Ruins of St. Paul's has a baroque facade rich in ornamentation but with classic oriental characteristics. From the bottom up, the structure has five tiers. The first tier is comprised of ten Ionic columns with three entrances. The entrance in the middle has 'MATER DEI' carved into it. The two entrances on each side are decorated with bas-reliefs in the pattern of 'HIS'. The second tier features ten Corinthian columns with three windows. A Catholic saint is enshrined in each of four tabernacles between columns. The two tiers as a whole is said to represent the Society of Jesus and the activities of missionaries.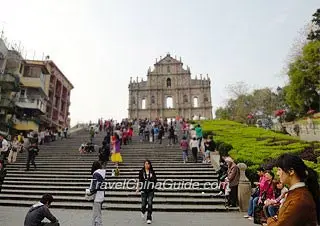 Ruins of St. Paul's
The remaining three tiers are the most decorated. The statue of Madonna stands in the middle of the third tier, while the statue of Jesus stands on the fourth. The walls are covered with bas-reliefs in various patterns like devils, angels, symbols of crucifixion, a Portuguese sailing ship, etc. The triangular combination of the upper three tiers reflects the Holy Trinity (the Father, the Son and the Holy Spirit) as well as the Blessed Virgin Mary. A cross stands at the coping of the wall.

It is worth mentioning that the stone lions at the sides of the third and fourth tiers in Ruins of St. Paul's are distinctively Chinese. There are also bas-reliefs in designs of chrysanthemum and cherry, as well as Chinese inscriptions. The surviving façade has long been acknowledged as a perfect fusion of western and eastern cultures.

The Ruins of St. Paul's has been restored during 1990 and 1995. The Museum of Sacred Art and Crypt was also built at that time. It has exhibitions of religions artworks including paintings, sculptures and statues.

How to get to Ruins of St. Paul's
Take bus 8A, 18A, 18B, 18, 19 or 26 to Camoes Square.
| | |
| --- | --- |
| Entrance Fee | Free |
| Opening Hours | 9:00 - 18:00 |
Of all the forts in Macau, the Monte Fort is the oldest, lying to the east of the Ruins of St. Paul's. Built in 1616, it originally belonged to St. Paul's Church and was used to defend the church from the pirates. It later became solely a military fort.

The Monte Fort is quadrilateral with bastions at each corner and about 100 meters (328 feet) in circumference. Barracks, cisterns and storehouses were the main buildings of Monte Fort. An ancient tower situated here was one of the sites of the Society of Jesus. With cannons on the four sides, the fort was strongly fortified. Though the cannons have lost their military function, they still remain.

In 1838, a fire destroyed the fort buildings as well as the Jesuit College and St. Paul's Church. Only see the fore wall of the church now remains and is known as the Ruins of St. Paul's.

In 1965, a single-storey barrack in South European style was transformed into the Macau Meteorological Bureau. To its right hangs an ancient bell made by an expert in casting cannons. In 1998, the Macau Museum was established here, detailing the development and the customs of Macau.

The landscape surrounding Monte Fort is quite charming. Standing on the platform, visitors have an excellent view across Macau, making the Monte Fort a very popular attraction for both tourists and natives alike.

How to get to Monte Fort
Take bus 8A, 17, 18A, 18B, 18, 19, or 26 to Hospital Kiang Wu.
| | |
| --- | --- |
| Entrance Fee | Free |
| Opening Hours of the Monte Fort | 7:00 - 19:00 |
| Opening Hours of Macau Museum | 10:00-18:00, closed on Mondays except during holidays. |

Recommended Nearby Attractions:

The Museum of Macau

Lou Kau Mansion

St. Anthony's Catholic Church

Camoes Garden
(Jardim de Luís de Camões)

St. Dominic's Church

Senado Square

Cathedral, Macau

Casino Lisboa

Top 10 Things to Do in Macau
- Last updated on Feb. 02, 2021 -
Questions & Answers on Ruins of St. Paul\s & Monte Fort
Asked by Ermz from PHILIPPINES | Nov. 17, 2019 05:19

Reply
How to get back to Ole London Hotel from Ruins of st.paul by bus?
What bus to take ti reach Ole Hotel?
Answers (1)
Answered by Elva from THAILAND | Nov. 19, 2019 19:11

0

0

Reply
You can take bus No.2/11/10 to Sidakou station, then walk east around 100m to your destination. It takes 20 minutes with MOP6.
Asked by jhai from PHILIPPINES | Aug. 28, 2018 08:59

Reply
from ruins of st. paul,how can we go back to macau ferry terminal?
Answers (1)
Answered by Windy from AUSTRALIA | Aug. 29, 2018 01:03

0

0

Reply
Do you mean Macau Maritime Ferry Terminal? You can walk to south about 8 minutes to take Bus Line 3A to there.
Asked by jhai from PHILIPPINES | Aug. 26, 2018 15:20

Reply
how to go back to outer harbor terminal from ruins of st. paul? and how long it takes to get there?
Answers (2)
Answered by Joe from NEW ZEALAND | Aug. 27, 2018 01:46

0

0

Reply
Take Bus 3A or 10A to the harbour directly and it takes about 20 minutes.
Answered by jhai from PHILIPPINES | Aug. 28, 2018 09:04

0

0

Reply
thanks for the reply.. but how much is the fare? and how long it will it take to walk to the bus station from ruins of st. paul?
Asked by LIVI from INDONESIA | Jan. 03, 2017 02:43

Reply
How to go to Ruins of St.Pauls from Holiday Inn Cotai Macau?
Answers (1)
Answered by Justin from NEW ZEALAND | Jan. 06, 2017 01:13

0

0

Reply
You can take bus 21A or 28A from the hotel to Almeida Ribeiro/Weng Heng Station. Walk eastwards to find the spot.