Casino Lisboa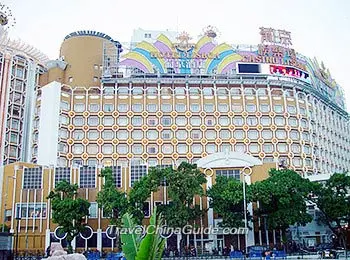 Macau Casino Lisboa
Located on the Avenida Doutor Mario Soares, Casino Lisboa is one of the landmarks of Macau. The casino is famous for its variety of gambling games, unique design, exquisite decorations, and sound facilities. It attracts a great number of gamblers and visitors from all over the world. Moreover, it is known as Oriental Las Vegas or Monte Carlo of the East.
Casino
Casino Lisboa is a three-storey round building in the charge of He Hongshen, the Macau casino tycoon. The main building looks like a bird cage. Seen from afar, it also looks like a giant boat. The main gate is located at the junction of Avenida do Infante D. Henrique and Avenida da Amizade. It looks like a big mouth of a tiger. Tourists and gamblers will feel threatened when seeing it, so they prefer to enter the casino through the side left door. On the ceiling of the lobby is painted a Portuguese-style boat confronting a strong storm. Casino Lisboa is luxuriously furnished with valuable treasures and curiosities, which fascinates tourists a lot.
Gambling Facilities
Dozens of desks are distributed around the lobby and slot machines are put at four corners in Casino Lisboa. Many kinds of Chinese and western gambling games can be found here. The lobby is very crowded, but pretty orderly. Tourists who come here for the first time will be amazed. In addition, there are 26 VIP halls especially for rich people from all over the world to play. You can play different gambling games here, like the roulette and the Blackjack. Try your fortune and have fun!
At the same time, there are sound entertainment facilities, including fitness centers, shopping malls, hair salons, sauna and massage rooms, and restaurants. Also, free drinks and snacks are served for gamblers in the casino. After playing gambling games, people can have a lot of fun and get relaxed here. Next to the Casino Lisboa is the Hotel Lisboa where you can have a good rest.
Grand Lisboa
Located to the opposite of Casino Lisboa, the 47-storey Grand Lisboa was opened in 2007. It is one of the tallest buildings in Macau, with a height of 261 meters (856 feet). It consists of a casino, a hotel, and various restaurants. There are a great number of tables and slot machines, too.
Tips
1. Visitors under the age of 18 are not allowed in;
2. Tourists must accept security check at the entrance;
3. Tourists are not allowed to bring cameras and other video devices since taking photos is forbidden in the casino;
4. Ladies can wear skirts, but gentlemen are not allowed to wear slippers or shorts. Tourists are advised to wear coats or shirts because it is a little bit cold inside;
5. Luggage can be deposited at the luggage counters for free.
How to get to Casino Lisboa
By Free Shuttle Bus:
Free shuttle bus is provided by the casino. The schedule of the bus is listed below.
| Depart From | Time | Frequency |
| --- | --- | --- |
| Macau Border Gate | 10:00- 23:00 | 4 to 30 minutes |
| Macau Outer Harbor Ferry Terminal | 10:00- 23:00 | 6 to 30 minutes |
| Taipa Temporary Ferry Terminal | 10:00- 18:30 | 40 minutes |
By Bus:
1. 1. Take bus 17, 28B, or 28C to Lisboa.
2. Take bus 9A or 9 to Lisboa Road.
3. Take bus 3A, 5X, 6B, 7, 8, 10A, 10B, 10, 12, 22, 23, 25B, 25, 28A, 29, 30X, 32, H1, N1B or N2 to Lisboa Hotel.
| | |
| --- | --- |
| Opening Hours | All day long |
| Ticket Price | Free of charge |
- Last modified on Jun. 27, 2018 -
Questions & Answers on Casino Lisboa