Top 6 Travel Destinations in May in China
In May the weather in China becomes warmer but not hot yet, leading to a pleasant time for traveling. Tourists can make a comfortable trip all over China in May. But the top travel destinations are Guilin for beautiful mountains and rivers, Xi'an and Beijing for historic relics, Chengdu for cute pandas and delicious food…

It's best to avoid the May Day holiday when there are a lot of people traveling.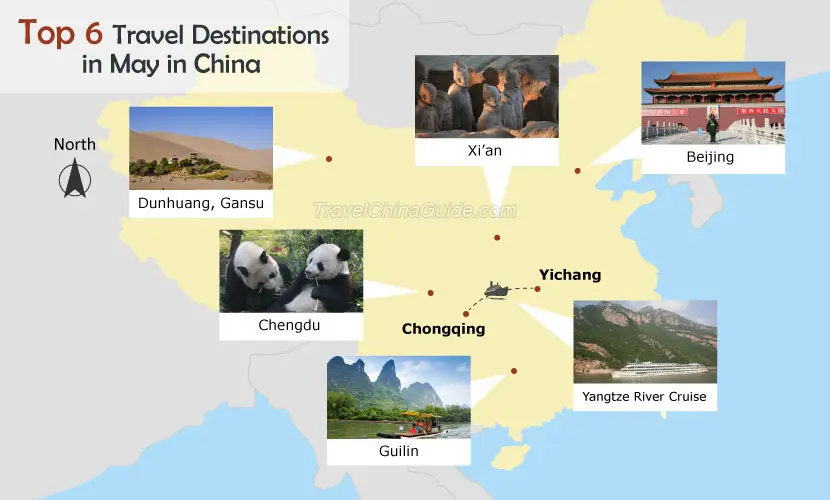 1
Guilin: Picturesque Mountains and Rivers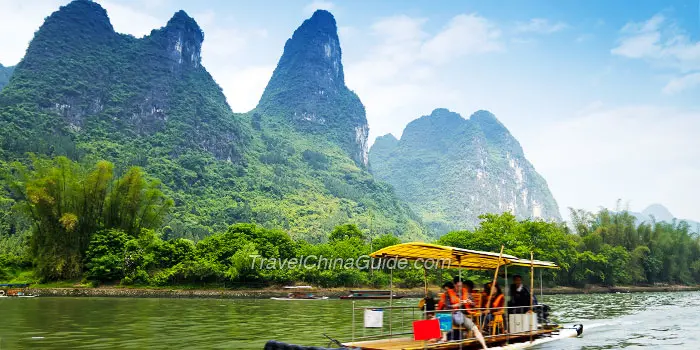 Location: Guangxi Zhuang Autonomous Region, South China
Guilin Temperature in May
: 20°C ~ 27°C (68°F ~ 81°F)
Weather: mild with occasional rain, generally comfortable for outdoor activities
Highlights:
Li River cruise
,
Elephant Trunk Hill
,
Xianggong Mountain
, Yangshuo tourist village
Things to Do:
Guilin is the top place to visit and take photos in China in May. The strange peaks and beautiful rivers in Guilin have been long famous, attracting lots of domestic and foreign tourists. You can take photos at Elephant Trunk Hill, Seven-Star Park, and Reed Flute Cave; enjoy the Li River by cruise ship or view it from Xianggong Mountain. In nearby Yangshuo, you can drift on a bamboo raft on the Yulong River; ride along the Ten-Mile Gallery to appreciate the rural scenery; or spend a leisurely afternoon in one of the bars on West Street.

Recommended Tour:

Guilin 3 Days Tour with Li River from

$389
Location: North China
Beijing Temperature in May
: 14°C ~ 26°C (57°F ~ 79°F)
Weather: Warm, clear and sunny most of time
Features:
Great Wall
,
Forbidden City
,
Tiananmen Square
,
Temple of Heaven
,
Summer Palace
,
Fragrant Hills Park
,
Jingshan Park
,
Beijing Zoo
,
Roast Duck
Things to Do:
Beijing is one of China's top places to travel in May. In addition to the Forbidden City, Tiananmen Square, Temple of Heaven and some other famous attractions, Fragrant Hills Park, Jingshan Park, and the Beijing Zoo are also worth visiting in Beijing in May. Here, you can appreciate the perfect combination of blooming flowers and ancient architecture, which will make you fall in love with Beijing. In this mild and vibrant spring month, cycling through the traditional Hutongs is highly recommended. Moreover, eating Beijing Roast Duck is a great choice if you want to to know more about authentic Chinese cuisine.

Recommended Tour:

2 Days Beijing Mini Group Tour: No Shopping
3
Xi'an: Capital of 13 Ancient Dynasties
Location: Shaanxi Province, Central China
Xi'an Temperature in May
: 14°C ~ 26°C (57°F ~ 79°F)
Weather: Temperature rises rapidly but not hot yet, bright and sunny mostly
Must-sees:
Giant Wild Goose Pagoda
,
Terracotta Army
,
City Wall
,
Huaqing Pool
,
Tang Paradise
,
Muslim Quarter
,
Bell Tower
,
Drum Tower
Things to Do:
Xi'an features many historic spots such as the Giant Wild Goose Pagoda and Terracotta Army. Tang Paradise and Huaqing Pool are the great places to appreciate ancient buildings, garden landscapes and ancient trees and learn more about historic fairy tales and stories. After sightseeing, tourists can go to the Muslim Quarter or Yong Xing Fang to taste Xi'an cuisine, such as Crumbled Flatbread in Mutton Stew, Rou Jia Mo and Liangpi and Ice Peak.

Recommended Tour:

Xi'an 3 Days Tour Itinerary from

$339
4
Chengdu: Hometown of Giant Pandas & a Foodie's Paradise
Location: Sichuan Province, Southwest China
Chengdu Temperature in May
: 17°C ~ 26°C (63°F ~ 79°F)
Weather: warm and mild with a few light rainy days
Features:
Giant pandas
,
Dujiangyan Irrigation System
, Hotpot
Things to Do:
Chengdu is one of the top places to visit in China in May. You can see the giant pandas which are China's national treasure and observe them closely. Chengdu is also a foodie's paradise and you can taste many kinds of food here with its wll known spicy flavor.

Recommended Tour:

Chengdu One Day Tour Package with Giant Panda Base
Location: Between
Chongqing
and
Yichang
in Central China
Temperature in May: 19°C ~ 27°C (66°F ~ 81°F)
Weather: Warm, high humidity
Highlights:
Yangtze River Three Gorges
,
Three Gorges Dam
,
Shennong Stream
Things to Do:
The Yangtze River is the longest river in China, flowing down from Tibetan Plateau all the way east to the Pacific Ocean. Cruise ships shuttle back and forth between Yichang and Chongqing. The most amazing part is the Three Gorges. Along the way, you can see many striking peaks standing on both sides of the Yangtze River and also see the world's largest hydro-power project, the Three Gorges Dam. You will also disembark to visit some cultural and scenic sites, either related to Yangtze River stories or blessed with heavenly scenery.

Recommended Tour:

4 Days Luxury Yangtze Cruise from Chongqing to Yichang from

$599
Location: Gansu Province, West China
Dunhuang Temperature in May
: 12°C ~ 28°C (54°F ~ 82°F)
Weather: Warm, dry
Must-sees:
Mogao Caves
,
Echoing-sand Mountain
,
Crescent Lake
,
Yangguan Pass
,
Yumenguan Pass
Things to Do:
Dunhuang is a hub on the Silk Road, and it is famous for Mogao Caves, which combine cave architecture, painted sculpture and murals. Tourists can ride camels to visit Echoing-sand Mountain, listen to the camel bells and imagine the busy and prosperous years of the Silk Road. It is said that the mountain can echo the sound of sand when someone slides down its slopes. In addition, tourists can visit Yangguan Pass and Yumenguan Pass, which were important gateways to the central plains in ancient China.

Recommended Tour:

3 Days Dunhuang Tour from

$639
- Last updated on Mar. 10, 2021 -