Beijing Weather in May
Beijing's May is filled with bright reds and vivid greens everywhere. Normally, the temperature remains around 10-25
C (50-77
F), very warm and even hot. There are usually less windy days and few sandstorms during this month. There may be some drizzle but clear and sunny days are in the majority. Flying dust may occur occasionally.
Due to the pleasant May weather in Beijing, it is a good time for outings. It also marks the arrival of the tourist season of the city. Restaurants, hotels, tourist attractions and related industries are ready to adjust their prices.
Data of Beijing Weather in May
Average Temperature: 20

C / 68

F
Average High Temperature: 26

C / 79

F
Average Low Temperature: 14

C / 57

F
Average Humidity: 53%
Average Rainfall: 34 mm
Average Rainy Days: 6 days
Time of Sunrise: 04:48 ~ 05:15
Time of Sunset: 19:09 ~ 19:37
Air Quality in May
Average AQI:92


Clothing Advice: Long-sleeved T-shirt or shirt plus long jeans are generally enough to cope with the morning and evening coolness, and dress and shorts will do for a sunny afternoon. Prepare a light coat for any bad weather as well.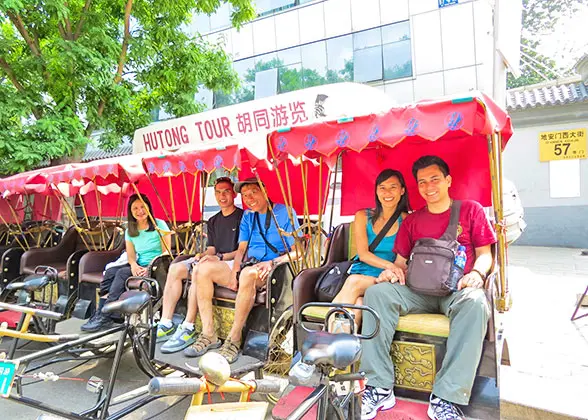 Traveling to Hutongs of Beijing in May

Travel Advice:
Spring outings are the most popular activity in this month. Thus, the parks, gardens, suburban mountains are all good destinations. Making a trip to the
Mutianyu Great Wall
winding among lush vegetation is also a good choice. In May, there are often international-standard performances, such as the annual Heineken International Jazz Festival. At the same time, Daxing Watermelon Festival is held annually on May 28 annually.

Other Tips:
Willow catkins are fluttering in the air in early May in Beijing, so wear a mask if you are allergic to pollen. It is still relatively dry, so drink plenty of water and use lotions or oils to moisten the skin. Bring suntan lotion with you if you travel to Beijing in late May. Lastly, try to avoid the crowds that throng the streets during the Labor Day Holiday from the 1st to 3rd May.
Beijing Weather in May Based on Historical Data

Date
Average
Temperature
High
Temperature
Low
Temperature
Humidity
(%)
Sunrise / Sunset
1
21.8°C / 71.2°F
27.3°C / 81.1°F
15.1°C / 59.2°F
18
05:15 / 19:09
2
20.9°C / 69.6°F
27°C / 80.6°F
10.4°C / 50.7°F
19
05:14 / 19:10
3
21°C / 69.8°F
25°C / 77°F
14.5°C / 58.1°F
14
05:13 / 19:11
4
16.3°C / 61.3°F
21°C / 69.8°F
14.7°C / 58.5°F
53
05:11 / 19:12
5
17.6°C / 63.7°F
24°C / 75.2°F
13°C / 55.4°F
45
05:10 / 19:13
6
20.1°C / 68.2°F
26.4°C / 79.5°F
9.7°C / 49.5°F
24
05:09 / 19:14
7
20.8°C / 69.4°F
27.3°C / 81.1°F
14.3°C / 57.7°F
29
05:08 / 19:15
8
15.6°C / 60.1°F
22.6°C / 72.7°F
12.4°C / 54.3°F
64
05:07 / 19:16
9
18.7°C / 65.7°F
25.6°C / 78.1°F
11.9°C / 53.4°F
56
05:06 / 19:17
10
20.5°C / 68.9°F
25.4°C / 77.7°F
14.4°C / 57.9°F
46
05:05 / 19:18
11
20.8°C / 69.4°F
27.5°C / 81.5°F
13°C / 55.4°F
49
05:03 / 19:19
12
20.1°C / 68.2°F
24.2°C / 75.6°F
16°C / 60.8°F
13
05:02 / 19:20
13
22.9°C / 73.2°F
26.9°C / 80.4°F
17.7°C / 63.9°F
13
05:01 / 19:21
14
24°C / 75.2°F
29.9°C / 85.8°F
16.8°C / 62.2°F
16
05:01 / 19:22
15
22.7°C / 72.9°F
27.4°C / 81.3°F
16°C / 60.8°F
21
05:00 / 19:23
16
20.9°C / 69.6°F
28.7°C / 83.7°F
11.1°C / 52°F
29
04:59 / 19:24
17
22.1°C / 71.8°F
26.6°C / 80°F
16.2°C / 61.2°F
48
04:58 / 19:25
18
23.4°C / 74.1°F
28.4°C / 83.1°F
18.1°C / 64.6°F
53
04:57 / 19:26
19
21°C / 69.8°F
25.1°C / 77.2°F
16.7°C / 62.1°F
31
04:56 / 19:27
20
18.3°C / 64.9°F
20.8°C / 69.4°F
16.8°C / 62.2°F
27
04:55 / 19:28
21
19.6°C / 67.3°F
26.1°C / 79°F
11.5°C / 52.7°F
21
04:54 / 19:28
22
22.1°C / 71.8°F
30.2°C / 86.4°F
12.6°C / 54.7°F
29
04:54 / 19:29
23
21.3°C / 70.3°F
28.1°C /82.6°F
14°C / 57.2°F
42
04:53 / 19:30
24
22.1°C / 71.8°F
27.1°C / 80.8°F
16.9°C / 62.4°F
45
04:52 / 19:31
25
23.2°C / 73.8°F
28°C / 82.4°F
17.6°C / 63.7°F
43
04:52 / 19:32
26
21.1°C / 70°F
28°C / 82.4°F
17.6°C / 63.7°F
51
04:51 / 19:33
27
21.7°C / 71.1°F
28.6°C / 83.5°F
14.6°C / 58.3°F
63
04:50 / 19:33
28
25.8°C / 78.4°F
32°C / 89.6°F
19.2°C / 66.6°F
55
04:50 / 19:34
29
25.2°C / 77.4°F
28.8°C / 83.8°F
21.8°C / 71.2°F
61
04:49 / 19:35
30
24.2°C / 75.6°F
30.3°C / 86.5°F
20.1°C / 68.2°F
55
04:49 / 19:36
31
25.1°C / 77.2°F
29.3°C / 84.7°F
22.4°C / 72.3°F
23
04:48 / 19:37
AQI(Air Quality Index) Graph for Beijing, China (May 2016)