798 Art District
Named after the 798 factory which was built in 1950s, the 798 Art District is located in the northeast corner of Beijing. It is also called the Dashanzi Art District (DAD) as it sits in Dashanzi zone. 798 Art District covers an area of 148 acres (60 hectares), with Jiuxianqiao Road to its west, Beijing-Baotou railway to its east, Jiangtai Road to its south and Jiuxianqiao Road North to its north. Characterized by modern art, it has become the exhibition center of Chinese culture and art, and also the world-famous cultural and creative industries centralized area.
Beijing

798 Art District

Map of 798 Art District (Click to enlarge)
History
The area occupied by the art zone was once the place for North China Wireless Joint Equipment Factory. Afterwards, the corporation moved out of the Dashanzi District and leased those plants (798 factory being one of them). The architectural style, featuring simple design and varied composition, follows the Bauhaus way. Attracted by ordered design, convenient traffic, unique style of Bauhaus architecture, many art organizations and artists came to rent the vacant plants and transformed them. Gradually there formed a district gathering galleries, art studios, cultural companies, fashion shops etc. As the area where the early art organizations and artists moved in was located in the original area of the 798 plant, this place was named 798 Art District.

Today
Now the 798 Art Zone has attracted a great deal of attention from the media at home and abroad; and it also has become the new regional mark of the city. Galleries, design studios, art exhibition spaces, artists' studios, fashionable shops, restaurants, bars etc. now assemble here. By January 2008, over 400 cultural organizations, coming from France, Italy, Britain, the Netherlands, Belgium, Germany, Japan, Australia, South Korea, Mainland China, Taiwan, Hong Kong and other countries and regions, have settled down in the zone.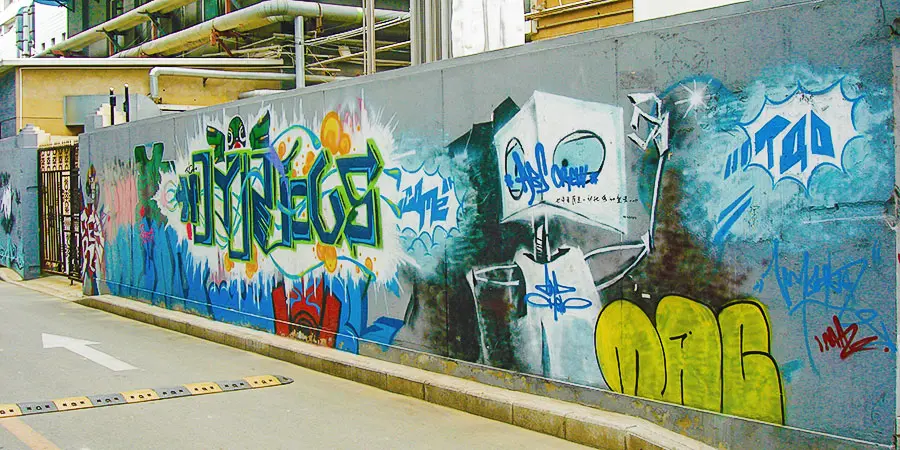 Graffiti on the wall in 798

Nowadays, it frequently holds important international art exhibitions and art activities as well as fashion shows. In order to expand the reputation and influence of the art zone and to promote the development of modern art, the zone has held the 798 Art Festival (from the end of April to the end of May) every year since 2006. Another festival is the 798 Creative Art Festival (from the end of September to the end of October). The two festivals focus on exhibition and communication of culture and art.

Many worldwide political figures, movie stars, and social celebrities have not been able to resist the art zone's attraction and have come to pay a visit. Since 2004, Prime Ministers from Sweden, Switzerland, and Austria, ex-Prime Minister from German (Schroeder), the President of European Union (Barroso), the Princess of Belgium's Prime Minister, President of the IOC Rogge, and the Belgium Crown Prince all have come here.

Interesting Places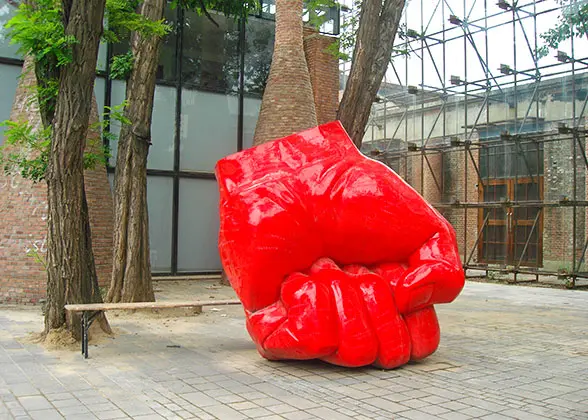 Dashanzi Art District (798 Art District)

798 Photo Gallery
Most of the photos are developed by the owner Chen Guangjun himself. Photos exhibited here are hard to see at other places.



798 Space
It mainly provides venues for press conferences, fashion shows and other activities. One thing that must be mentioned here is that since the buildings of 798 Space follow the Bauhaus style, the roofs of the buildings are curved serrated, which is even rare to see in Germany.



Lord of Salt
This restaurant is known for its authentic Sichuan dishes. The chef comes from a little place in Sichuan Province, and his cuisine has an authentic Sichuan flavor. Spiced chicken with a wonderful taste is his specialty.



AT CAFÉ
Italian coffee is featured at this café. The owner Huang Rui believes that his coffee is much better than Starbucks'. Pizza and sandwiches are also good choices.



Long March Cultural Communication Ce ntre
The owner is Lu Jie, a famous contemporary artist. In this centre, you can see the record of one of his early events in which he led a group of artists following the Long March route and communicating with the local artists. Folk art exhibitions here will also arouse your interest. Paper cuts done by Gao Fenglian, an old folk artist, cover all the walls.



VINCENT CAFÉ (French)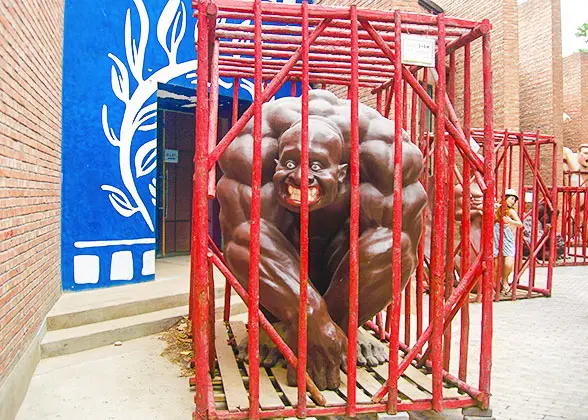 Statue on the street in 798
It is the best little family-style restaurant here. The French owner Vincent, who started to learn cooking and management at the age of fifteen in France, used to be the chief manager in a famous French restaurant in the city. He is good at making sweet and savory pancakes. You can choose meat and vegetable filling or ice cream and fruit filling. SHOOTER (three different alcoholic drinks mix in a small cup) is also his spectacular creation.

Many other interesting places are awaiting you, and the great charm of it only can be felt when you wander here.

Travel Tips

It will take more than twenty minutes to walk around the Art Zone. You can buy a map at galleries or bars, or just wander.


You can either take a taxi or bus to here. However, taxis are not allowed to drive into the zone.


When night falls, the zone is poorly lit.


The art zone provides guide service. During the art festival, there are also volunteers to be your travel guides.

How to get to 798 Art District

By Subway:
Take Subway Line 14 and get off at Gaojiayuan Station, then walk along Jiuxianqiao Road to find the gate.

By Bus:
1. Take bus 403, 418, 593, 851 or 854 to Dashanzi Lukou Dong Station, walk eastward to find the north gate.
2. Take bus 401, 405, 418, 445, 988 or 991 to Wangyefen, walk northward along Jiuxianqiao Rd. to find the gate.
Beijing Bus / Subway Search
| | |
| --- | --- |
| Admission Fee | 798 Art district is open for free, but some galleries and exhibition halls sell admission tickets. |
| Opening Hours | The art district is open all day long. Most shops and galleries inside are open from 10:00 to 18:00 and some may close on Monday. |

Further Reading:
Top 10 Cool Things to Do in Beijing for Youngsters
12 Free Things to Do in Beijing
Print
- Last updated on Dec. 04, 2023 by Kate Liu -
Questions & Answers on 798 Art District
Asked by Anna from AUSTRALIA | Sep. 05, 2023 23:08

Reply
Public transport to 798 district
Hi, do you get to 798 district via Gaojiayuan Station? I have read that it is under construction. If it isn't open, is there an alternative station close to 798 district? Thanks
Answers (1)
Answered by Andrew | Sep. 07, 2023 18:21

0

0

Reply
Gaojiayuan Station is expected to open in the end of 2023.

At present, the nearest metro station from 798 is Wangjingnan station (Line 14). The distance is around 1.3km. Get out of the Exit B1 and walk east to reach it.
Asked by Phillip from AUSTRALIA | Sep. 14, 2019 17:31

Reply
Can I walk from the metro to the Beijing 798 art district?
Is it easy enough , how far or how long does it take?
Answers (1)
Answered by Dyer from NEW ZEALAND | Sep. 17, 2019 02:20

0

0

Reply
The nearest metro station from 798 is Wangjingnan station (line 14). The distance is around 1.2km. Get out of the subway station and go east so you can get to it.
Asked by Jerry from AMERICA | Jun. 07, 2019 20:10

Reply
How much is it to enter Beijing 798 Art Zone?
Answers (1)
Answered by Grace from USA | Jun. 10, 2019 20:54

0

0

Reply
Actually, entering the 798 art zone does't need ticket.
Asked by Hannah from UNITED KINGDOM | Mar. 12, 2018 18:19

Reply
How far is 789 Arts district from ' 19 East Huixin Street (Huixin Dong Jie)(19)'?
Also what days or times is it opening traveling over this weekend for 10 days
Answers (1)
Answered by Alisa from FRANCE | Mar. 12, 2018 21:09

0

0

Reply
It's about 9km and you can take bus 696 to the zone.
The art zone opens all day.
Asked by Lindsey from ENGLAND | Mar. 10, 2018 08:17

Reply
How much should I expect to pay for a taxi from Jiangtai subway station to 789 Art District?
Where best to catch a taxi?
Answers (1)
Answered by John from SINGAPORE | Mar. 12, 2018 03:49

1

0

Reply
You are suggested to leave from exit A, where it is easier to take a taxi. The cost can be CNY13.