Houhai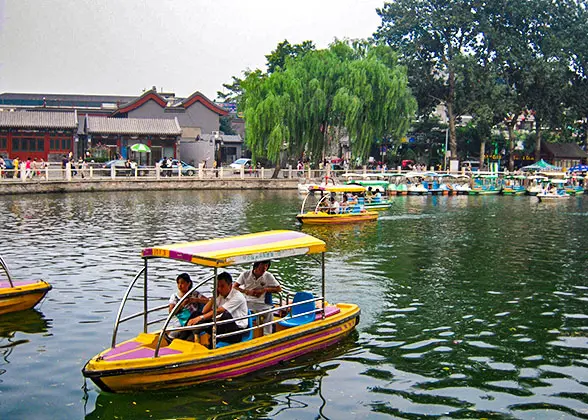 Clear Houhai Lake
Houhai, which literally means "Back Sea", is a large artificial lake in northern downtown Beijing. Together with Qianhai (Front Sea) and Xihai (West Sea), it comprises
Shichahai
. The lake covers a total area of 87 acres (34 hectares). It was exclusively for royal family in the
Yuan Dynasty
(1271-1368), and the surrounding area has been a prosperous commercial area since then. There were many wine shops, workshops, and opera stages in ancient times. Nowadays, it is open to all. People can go boating on the lake in summer; while in winter it is possibile to ski on the frozen lake. The area is dotted with bars, cafes, teahouses and restaurants, and is quite popular among foreign visitors and local young people. In addition, the neighboring
Hutongs
and
courtyards
of former court officials and celebrities are worth a visit.
Abundant Hutongs and Courtyards- a glimpse of old Beijing
The time-honored Houhai area is characterized by traditional buildings, especially Hutongs and courtyards. You can wander in the old and narrow Hutongs, such as
Skewed Tobacco Pouch Street
,
Nanluoguxiang
(South Gong and Drum Lane), and Ya'er Hutong; pay a visit to the former residences of celebrities, such as
Prince Gong's Mansion
, Prince Chun Mansion,
Former Residence of Guo Moruo
, the great poet, and
Former Residence of Soong Ching-ling
, the wife of the eminent revolutionary Dr. Sun Yat-sen. Wandering around these old buildings, you will inevitably think of the old lifestyle, and the life experience of these people. Notably, you can ride a bike or take a rickshaw to tour the old Hutongs.
Famous Bar Street - a paradise for night life in Beijing
Other than the traditional Hutongs and old style residences, you can find some modern elements around Houhai - bars. These bars are not very large, but have distinctive features. Here are some popular ones:

Zoom: It is a Britain-style football bar. On the walls hang the jerseys of great teams. The beer is quite cheap at around CNY 10 to 15 per bottle. The bar is brimmed with an exciting ambience. It will be great to watch Premier League at the bar with a lot of fans.

Houhai No. 5: It is open around the clock. It integrates western-style designs into traditional Chinese buildings. During daytime, you can enjoy Chinese zither performance. At night, you can enjoy the performances of different bands. There are many kinds of cocktails at reasonable prices.
| | |
| --- | --- |
| Skewed Tobacco Pouch Street | A Bar in Houhai |
Various Restaurants - great places to taste local food
After touring around Houhai and having fun at the bars, you must get hungry. You can enjoy a meal at the time-honored restaurants. The Kao Rou Ji restaurant provides very delicious roast mutton, duck, chicken etc. The Bao Du Zhang restaurant features exquisitely cooked tripe. The Kong Yiji Restaurant sells authentic cuisines of South China. Additionally, there are many kinds of delicious snacks in the Hutongs waiting for you, such as Wan Dou Huang (Pea Flour Cake), Lv Da Gun (Rice Cake), and Huo Shao (Sesame Seed Cake).
How to get to Houhai

Take
Subway Line 8
to Shichahai Station and leave from Exit A2. Walk west along Wannian Hutong for about two minutes and turn right. Then walk northwest along Qianhai Dongyan for about three minutes to the lake.

Take bus 55 to Jiangyangfang Station. Walk northward along the road for 300 meters (328 yards), then turn right and walk for another 300 meters to find the south gate.
Beijing Bus/ Subway Search
| | |
| --- | --- |
| Admission Fee | Free of charge |
| Opening Hours | All day |
- Last updated on Jul. 18, 2023 by Gabby Li -