South Gong and Drum Lane (Nanluogu Xiang)
The South Gong and Drum Lane is an old hutong in Beijing, renowned for its long history, Hutong culture, specialty stores, and distinctive foods. It is 768 meters (2,519 feet) long and 8 meters (26 feet) wide. Its north end joins Gulou Dong Dajie, and the south end is connected to Di'anmen Dong Dajie. There are eight parallel hutongs on each side of the old alley. These sixteen and the main lane were put on the first list of 25 historic and culturally protected areas in November 1990, by the local Municipal Government. Situated in the downtown area, it is convenient to reach.
The South Gong and Drum Lane was built in the same period that the capital of the Yuan Dynasty (1271-1368), Dadu, was built, so it is about 800 years old. The sixteen side hutongs were built in the Yuan Dynasty too. Because of its layout, people also call it the Centipede Lane. It was once named Humpback Lane (Luoguo Xiang) in the Ming Dynasty (1368–1644) and renamed to Gong and Drum Lane (Luogu Xiang) in the Qing Dynasty (1644-1911). The alley remains more complete than other historical heritage sites in Beijing, witnessing the vicissitudes of many dynasties.
It
is like an old man who is telling an ancient legend about his past. Here, you can experience the special
Hutong culture of Beijing
.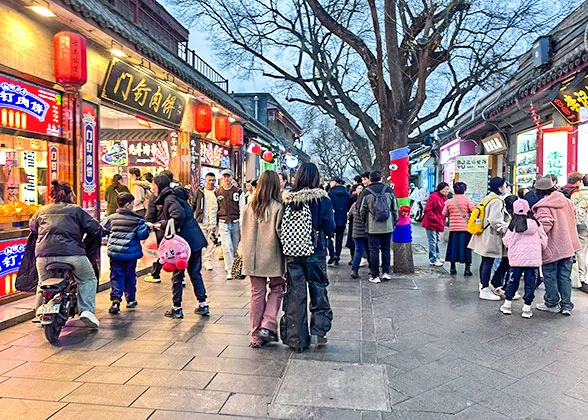 Tourists from home and abroad
If you want to see an authentic courtyard, you'd better come to the South Gong and Drum Lane because this alley remains the most complete lane of traditional courtyard dwellings in Beijing. When you come here, you can see the red lanterns hanging under the eaves. You may find a trace of ancient prosperous Beijing here. You can see the totally different styles of architecture. Compared with the grand red wall and golden colored roof of the Forbidden City, it has gray walls and roofs that represent the folk culture. As it is close to the Forbidden City, many royal families and officials lived here. For example, the former residence of China's last empress, Wan Rong, is in the Mao'er Hutong. In fact, a number of historical celebrities lived in the alleys before, such as Qi Baishi, a great artist, who is famous for his traditional Chinese painting. He lived in Yu'er Hutong for some time.
Although a historic place, the culture here is full of innovation. The South Gong and Drum Lane welcomes its guests with both an old appearance and a new combined culture of China and the West. Small, specialty boutiques welcome you. Le Tian Tao She at No.23 in it is a pottery store where you can enjoy a coffee while admiring the potters at their craft. You
may even have a try and make your own piece of pottery. Many people come here for its creative culture and artistic environment. Several art studios have been established, and many movies and TV drama programs have been filmed here too.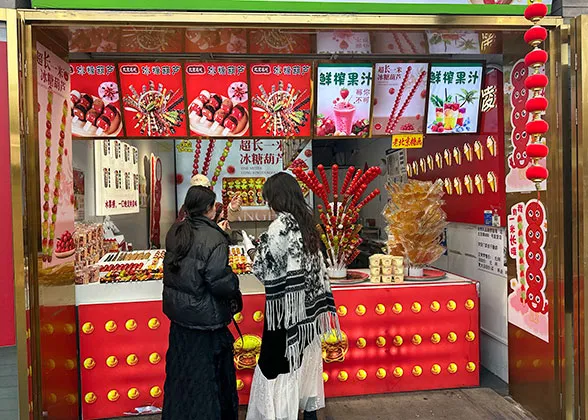 Smoking set in a shop
Now, there are 115 different shops. Most of the owners and managers are well educated and some of the shop assistants speak English fluently.
Meals and snacks in the South Gong and Drum Lane are something else that will appeal to its visitors. The well–known dining hall at No. 108 in it is famous for its tasty pizza and Nepal-style drinks. Wenyu Nai Lao is a time-honored specialty yoghurt shop located at No.49 in it. The shop makes many different types of the best yoghurts. At No.114, the western restaurant Yu Shi Ju Jin provides delicacies of Russian, Italian and Indian styles. Apart from these restaurants, there are many distinctive bars that are worth a visit, such as Plastered 8 and Guo Ke (meaning Passerby) that are very popular among travelers.
Walking on the tree-lined road along, experiencing the diverse culture, you will receive more than you expect. It is a feast for your eyes, stomach, and mind at the same time.
Tips:
1 You'd better wear flat shoes (you can buy a pair in the nearby shop and take them as a souvenir).
2 There is no parking in it. The best way to visit here is on foot or by bicycle. You can rent bicycles at
Houhai
or Shichahai. A tandem bicycle costs CNY20 per hour and a regular bicycle is CNY10 per hour. A CNY500 deposit for each bicycle is required.
| | |
| --- | --- |
| Qingzhuyuan Hotel | Mirch Masala, an Indian restaurant |
How to get to South Gong and Drum Lane
By Subway
Take
Subway Line 6
/
Line 8
directly to Nanluogu Xiang.
By Bus
1. Take Bus 3, 13, 42, 60, 118, or 612 to Tongluoxiang.
2. Take Bus 701, and get off at Di'anmen Dong.
3. Take Bus 104, 108, 113, or 612 to Bei Bingmasi.
Beijing Bus / Subway Search

Recommended Itineraries:
Old Beijing Cycling
: one day of Huangchenggen Relics Park - South Gong and Drum Lane - Confucius Temple - Lama Temple…
More
Beijing Tours
Print