Top 10 Famous Hutongs in Beijing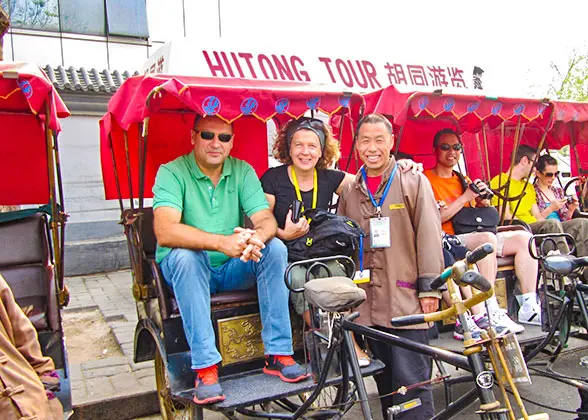 Tour by Rickshaw
Crisscrossing hutongs and old courtyards form the living places of the natives in Beijing. Many folk activities still remain there.

In central Beijing, there are two main areas for the ancient small alleys - one is the Shichahai and Bell / Drum Towers Area not far to the north of the Forbidden City, and the other is the Qianmen and Dashilar Area to the south of the Tiananmen Square.

This old lane is renowned for its long history, culture, specialty stores, and distinctive foods. It is 2,582 feet (787 meters) long and 26 feet (8 meters) wide, with its north end joining East Drum Tower Street, and the south end connecting East Di'anmen Street. This alley is also called Centipede Street because of the eight alleys symmetrically arranged on the two sides of the major lane.
Qing Dynasty
(1644 – 1911). So people called this street Skewed Tobacco Pouch. Today, many different kinds of bars, tea houses, coffee rooms and souvenir shops have mushroomed on the street.
Dongcheng District
, stretching 1,919 feet (585 meters) from South Gong and Drum Lane to Di'anmen Outer Street. A lot of celebrities have lived there, such as Wan Rong - the last empress, Feng Guozhang - a leader of the Northern Warlords (1912-1926), and Hong Chengchou - a general in the
Ming Dynasty
(1368 –1644). Many of their former residences remain there.
Yonghe Temple
, with its east end joining Yonghe Lamasery Street while the west end adjoins Andingmen Inner Street. The street is 2,195 feet (669 meters) in length and 36 feet (11 meters) in width. It is the only old alley in Beijing that still has traditional arches. Guozijian Street is renowned for its old-time Beijing layout and architectures, authentic native lifestyle,
Temple of Confucius
and
Imperial Academy
(Guozijian).

Beijing Day Tours
- Last updated on May. 17, 2022 -
Questions & Answers on Top 10 Famous Hutongs in Beijing
Asked by Guillermo from MEXICO | Mar. 22, 2019 14:15

Reply
What is the name of the Beijing hutong around the forbidden city with a lake ?
Answers (1)
Answered by Keira from CANADA | Mar. 27, 2019 00:42

0

0

Reply
Mao'er Hutong is nearby Houhai Park and Forbidden City. It is a good choice for you. Hope helpful!
Asked by Stephen Mills from SPAIN | Jan. 11, 2019 05:01

Reply
Hi what hutong is near Beijing wang Fu Jing. Prefer walking please.
Answers (1)
Answered by Mason from CANADA | Jan. 14, 2019 23:53

0

0

Reply
Shijia Hutong is the best choice for you. :)
Asked by Wendy from SINGAPORE | Nov. 03, 2018 01:18

Reply
Best walking distance Beijing Hutong from Tiananmen Square
Hi, I'm visiting Tiananmen Square on 7Dec2018 and wondering if there is any best walking distance Hutong from Tiananmen Square. Can you let me know? Thanks.
Answers (1)
Answered by Ellene from USA | Nov. 05, 2018 18:59

0

0

Reply
You ca stroll around the Lingjing Hutong, whose overall is about 664 meters and which is the widest one in Beijing.
Asked by Michael from AUSTRALIA | Jul. 11, 2018 03:32

Reply
Best hutong near Chaoyang in Beijing?
Looking for a great Hutong restaurant on the way to the airport
Answers (1)
Answered by Bowen from HUNGARY | Jul. 11, 2018 19:37

0

0

Reply
There is a Meifu family banquet Hutong restaurant which is very delicious and it is located in No. 24 Da Xiang Feng Hu Tong, Xicheng District and the open time is 11:00-14:00;17:00-21:00.
Asked by Philipp from GERMANY | Mar. 03, 2018 03:51

Reply
Nearest Hutong to Dongzhimen station
Hi,
I have a 10 hours stopover in Beijing and was thinking in going to Dongzhimen station from the airport, to discover some things by foot from there.
Which would be a hutong close to this area that you can recommend to visit?
Thanks!
Philipp
Answers (1)
Answered by Amenda from UK | Mar. 04, 2018 21:29

0

1

Reply
I was told there is a Dongshoupa Hutong nearby, and walk west for 5mins after leaving the station, you will reach there.
Or you can take subway line 2 to Qianmen Station within 20misn, near which are many famous hutongs.