Mao'er Hutong
Mao'er Hutong is among the ten great hutongs in Beijing. It is in the northwest of Dongcheng District, stretching from Nanluoguxiang (South Gong and Drum Lane) to the Di'anmen Wai Street. This alley is 585 meters (1,919 feet) in length and 7 meters (23 feet) wide, and is famous for its old Beijing features and traditional local food. A lot of celebrities have lived here, such as Wan Rong, the last empress; Feng Guozhang, the Northern Warlord, and Hong Chengchou, a general in the Ming Dynasty (1368 –1644 AD), and many of their former residences are still remain.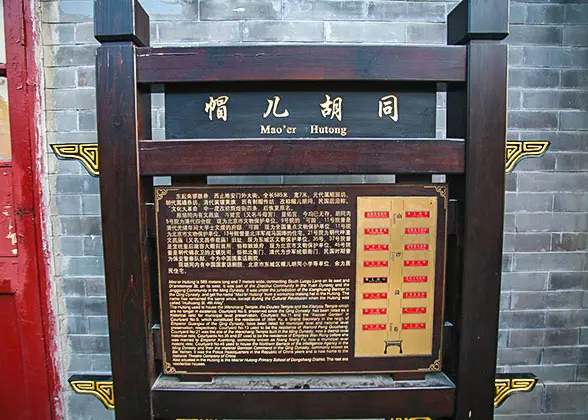 Mao'er Hutong

If you want to taste the flavor of old Beijing, Mao'er Hutong would be a good choice. Going through hundreds of years, it still preserves the original style. The construction, people's activities and food are just like the old days. There are numerous courtyards, shops and former residences on both sides of the road. They are all brickworks with red lanterns and couplets. The plants in the alley have been there for a long time, and the branches stretch out giving people a place to rest in shade. Life in the Hutong looks contented and simple. In summer time, seniors sit under the trees waving their fans chatting with each other; children play games at the gate; people gather around the chess board, outwitting each other and laughing. In this atmosphere, you will feel really relaxed. It is also a place to enjoy the traditional local cuisine. The pie with donkey meat, Lvrou Huoshao in Chinese, sweetbread soup, Zasui Tang in Chinese, and other Beijing snacks can be tasted. They all look very mouth-watering. The flavor is absolutely authentic, and the price is not expensive. It would be a feast for your eyes and stomach.
Wan Rong's Former Mansion (No. 35 and No. 37)
Wan Rong was the last empress in Chinese history. She was raised here until her marriage into the royal family. Courtyard No. 35 is also known as Wan Rong Garden. There are three yards in this courtyard. Once you enter the gate, you will see a moon gate, with a bamboo forest behind it. Going through the forest, there is a backyard with the elegant rockeries and pools. Walking in the garden is like walking in a traditional Suzhou garden. The exquisite layout and beautiful scenery will give you a very comfortable feeling.
Wan Rong lived at No. 37 in Mao'er Hutong. The courtyard has four yards. There are seven rooms in the first yard along with a corridor. The second yard has an old floral-pendant gate. The red paint of it has faded and can't be recognized. The third yard is where Wan Rong lived. Flowers and plants are growing in the yard making it very quiet.
Keyuan Garden was built in 1861. With the length of 97 meters (318 feet) from north to south and the width of 26 meters (85 feet) from west to east, it covers an area of 2,667 square meters (28,704 square feet). It is the private garden of Wen Yu, a scholar in the
Qing Dynasty
(1644 – 1911 AD). Keyuan Garden is divided into two yards, the forecourt and the backyard, connected by a gallery in the east. In the west side, there is a small hall corresponding to the gallery. There is a main hall standing in the center of both forecourt and backyard.
The constructions in the Keyuan Garden all used grey imbrex to construct the roof. The brick walls are without plaster, they are of the natural color of the brick, which creates a kind of simple and unadorned style. The beams are decorated with Suzhou-style patterns. The layout of this garden follows the central axis. There are various rockeries, pools and plants in the garden. The whole garden is representative of Beijing private gardens in late Qing Dynasty.
How to get to Mao'er Hutong
By subway
Take
Subway Line 8
, get off at Shichahai Station. Get out from Exit C, and you will find the destination on the east side of the road.
By bus
1. Take bus 60, 82, 107, or 124, get off at Di'anmen Wai Station.
2. Take bus 3, 13, 42, 60, 118, 612, or 701, get off at Di'anmen East Station.
3. Take bus 5, 60, 82, 107, 124, or 635, get off at Drum Tower Station.
Beijing Bus / Subway Search
- Last updated on Apr. 08, 2021 -
Questions & Answers on Mao\er Hutong
Asked by M Tang from SINGAPORE | May. 06, 2017 03:12

Reply
Please suggest transport from Beijing Capital Airport to Mao er courtyard and the rates.
Answers (1)
Answered by Leo from SINGAPORE | May. 08, 2017 02:51

1

0

Reply
You can take bus no.359 at the Capital Airport Bus Stop to Sanyuanqiao Bus Stop. Then you may walk 200 meters backwards to Sanyuanqiao Metro Station and take metro line 10 to Beitucheng Station. Afterwards, you can transfer metro line 8 to Shichahai Station, Exit C. Please walk southwards for 200 meters to find the hutong. The whole trip will take around CNY9/person.