Beijing Hutong Tour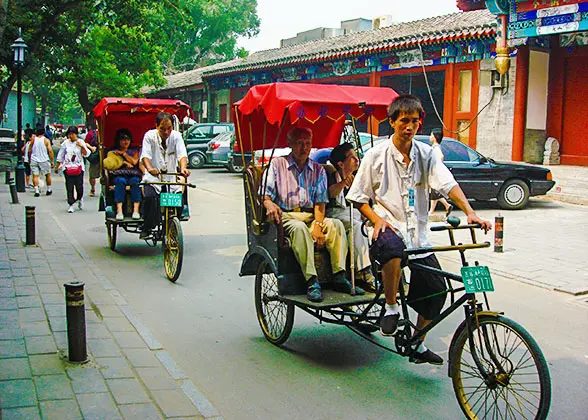 When you come to Beijing, are you curious about how and where Chinese people lived in the past? Join our tour: the pedicab will take you around the intricate winding hutongs to admire the old courtyards. They are maze-like and deep and exactly as they were a long time ago. Even today, there are many residents reluctant to move from their beloved hutongs. You are invited to visit a local family's house to experience authentic Beijing life.
There are two high-recommended itineraries. One is "
Drum Tower
–
Shichahai
– Silver Ingot Bridge (Yinding Bridge) – hutong – the back gate of
Beihai Park
'. The other is 'Qianhai – Silver Ingot Bridge –
Houhai
– hutong –
Prince Gong's Residence Garden
. For the first itinerary, you can start your by pedicab from the Drum Tower with about 700 years' history, and then get off at Shachahai to go to many famous ones around and have a good view of the beautiful scenery of the three lakes, namely Qianhai, Xihai and Houhai. After that, you can go to the Beihai Park. As for the second itinerary, its starting point is Qianhai. You may have a boating on Qianhai Lake, and then get across the Silver Ingot Bridge, which connects Qianhai and Houhai. Many can be found after reaching Houhai. Finally, you may go to Gongwangfu Garden to take a break, have a cup of tea and listen to music played by Erhu, a Chinese musical instrument.
During your visiting, you can take some photos, in which you will find many carvings, gate piers and some characteristic patterns. Additionally, the residents there and their daily life are also interesting to be taken as photos. For instance, you may see the children playing games, the old men playing cards or the vendors selling Bingtang-Hulu (crystalline candied haw). Taking these pictures of the locals' life will leave you a memorable experience.
Additionally, as a tourist, you should know the approximate charge of a pedicab tour. According to many visitors' experience, the pedicab owners usually charge you more than CNY50. Actually, the tour sometimes only costs CNY20 to 30. Fortunately, now Beijing has unified the charge standard of pedicabs. Therefore, few owners dare to claim a lot of money. These pedicabs owners live on their strength and hard work, so please respect them while you enjoy their friendly service.