Beijing Hutong Tour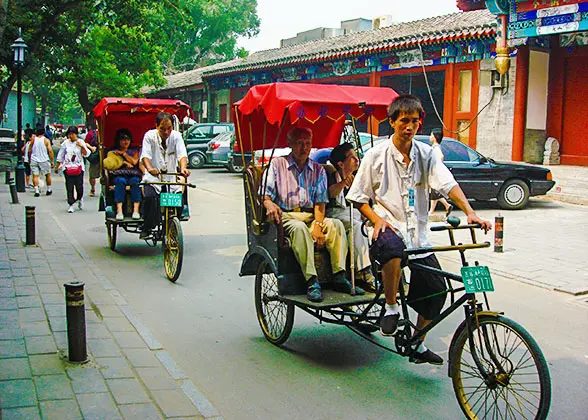 When you come to Beijing, a Hutong tour will definitely provide you with a chance to mingle with local residents and get a unique travel experience in the intricate winding Hutongs. They are maze-like, deep and exactly as they were a long time ago, recording the history of the city. Even today, there are many residents reluctant to move from their beloved Hutongs. You can visit a local family's house to experience authentic Beijing life and stop every now and then to take pictures.
Two Highly-recommended Beijing Hutong Tour Itineraries

Route 1: Drum Tower → Yandaixie Street → Silver Ingot Bridge (Yinding Bridge) → Shichahai → Hutongs → the north gate of Beihai Park

You can start your half-day Hutong tour Beijing from the Drum Tower with about 700 years' history. After the visit, walk south to the Yandaixie Street. At the end of the street is the Silver Ingot Bridge. The nearby Shichahai gathers many famous Hutongs and boasts a good view of the beautiful scenery of the three lakes, namely Qianhai, Xihai and Houhai. After that, you can go to the Beihai Park.



Route 2: Qianhai → Silver Ingot Bridge → Houhai → Hutongs → Prince Gong's Mansion

You may have a boating on Qianhai Lake, and then get across the Silver Ingot Bridge, which connects Qianhai and Houhai. Many Hutongs can be found after reaching Houhai. Finally, you may go to Prince Gong's Mansion to take a break, have a cup of tea and listen to music played by Erhu, a Chinese musical instrument.

Three Ways to Explore Hutongs: Walking, Bicycling, Taking Rickshaw

Walk: A Beijing Hutong walk is usually slow-paced and relaxing. You should spare at least half a day for Hutongs.



Bicycling: It's convenient to ride a bike in narrow Hutongs and travelers can make a flexible travel plan. Bikes can be rented at: 1) Qianhai Lake in Shichahai Area; 2) Banchang Hutong, opposite to Lvsongyuan Hotel; and 3) Qianmen Street, opposite to Quanjude Roast Duck Restaurant.



Taking Rickshaw: It's the most popular way to take a Beijing Hutong tour. You can hire a rickshaw near the Drum Tower or Nanluoguxiang (South Gong and Drum Lane).
Hutong Travel Tips
Photographing:
During your visiting, you can take some photos, in which you will find many carvings, gate piers and some characteristic patterns. Additionally, the residents there and their daily life are also interesting to be taken as photos. For instance, you may see the children playing games, the old men playing cards or the vendors selling Bingtang-Hulu (crystalline candied haw). Taking these pictures of the locals' life will leave you a memorable experience.

Hutong tour Beijing rickshaw:
You should have an idea about the approximate cost of a rickshaw ride in Beijing. The Hutong rickshaw price ranges from CNY 100 to 200, depending on the length of the travel. These pedicabs owners live on their strength and hard work, so please respect them while you enjoy their friendly service. At the same time, be cautious not to be ripped off as they may claim extra charge. It's necessary to make sure the cost before getting on a rickshaw.
- Last modified on Jul. 23, 2019 -