Beijing Bell and Drum Towers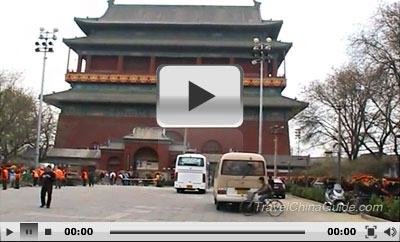 Bell and Drum Towers Pictures
Lying on the north-south axis line of Beijing City, Bell and Drum Towers are visibly prominent constructions and represent the symbol of this old city. They were built in 1272 and rebuilt twice after two fires. At one period in history they were the time-telling center of the capital city during the Yuan, Ming and Qing Dynasties (1271-1911).

The bell and the drum were originally used as musical instruments in China. Afterward, however, they were used for telling time. As early as in the Han Dynasty (206 BC-220), there was 'a morning bell and a dusk drum'. Telling the time by them played an important role in helping people live and work regularly when there was no other means to keep track of the time. As a result, the towers holding the bell and the drum became public architectures, and were widely constructed in almost every city throughout the country since the Han Dynasty. In the history of their construction, they are the largest and highest. Their layout is unique, in that they were placed fore-and-aft, not as the traditional sense of standing right-and-left horizontally.

Bell Tower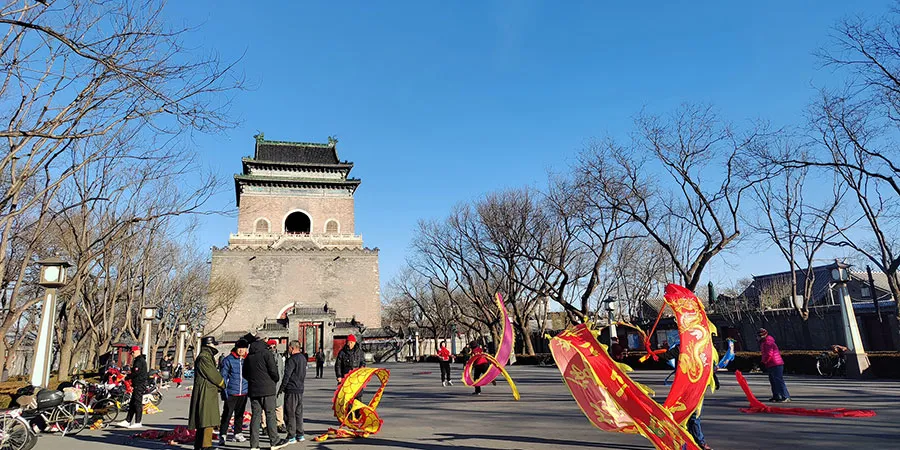 Bell Tower
This brick and stone made building has two floors: there is an arched door on all four sides on the first floor, and you can go up to the second floor through stone stairs. The same exists on the first floor. An arched door was also built on the four sides of the second floor. Additionally, there is a stone window on each side of the four doors. Hanging on an eight-square wooden frame of the second floor, the bell in it is the largest and heaviest in China. It is 23 feet (7.02 meters) high including the pendants, with a weight of 63 tons. It was made of copper, and you can hear its round and clear sound from far away. The two 2-yard-long (2 meters) wooden logs hanging sideward are used to ring it.
Located 110 yards (91 meters) south to the Bell Tower, it was placed on a 13-feet-high (4 meters) stone and brick base. It is 153 feet (46.7 meters) high, a little bit lower than the Bell Tower that is 157 feet (47.9 meters) high. It is also a two-storey building; the first floor contains the China Committee for the Promotion of the Minority Art. The second floor contains the exhibition area. Originally, there was one big drum and 24 smaller ones, but only the big remains. The method of beating it is to beat it quickly for 18 times and then slowly for 18 times. Altogether there are three rounds and 108 tollings. People knock the bell and the drum 108 times, because 108 times represent one year in ancient times.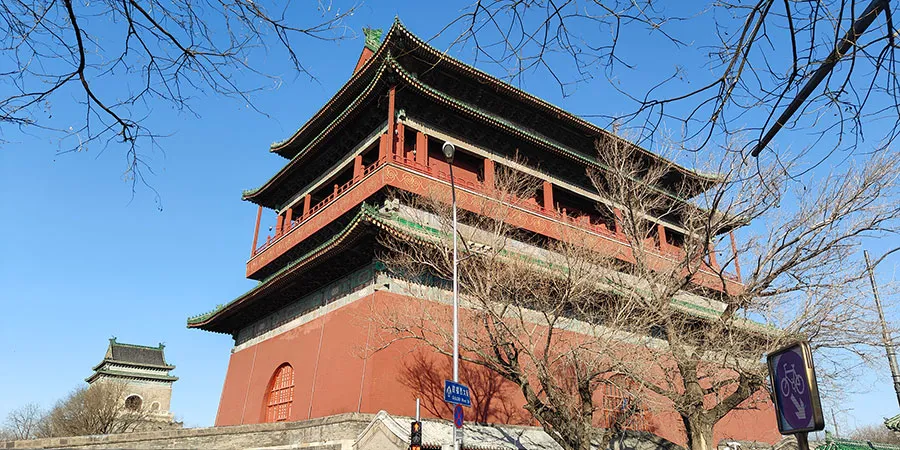 Drum Tower
Telling time by them was abolished after Pu Yi, the last emperor of China, left the
Forbidden City
. Since the New Year's Eve of 1990, the sweet sound of the bell that had disappeared for a long time began to ring out in the city. Being drowsy for nearly a century, the drum was also beaten again on the New Year's Eve of 2001. It has been beaten four times a day, for 15 minutes at a time since January 1st in 2002. From then on, every New Year Eve, they are beaten together 108 times to send a blessing to the people.
Their location has been flourishing since the
Yuan Dynasty
(1271-1368), when they were just standing behind the imperial palace. It was the busy downtown district there then, full of storefronts and businesses. Thanks to the further developing of the businesses, the street in front of the Drum Tower became the busiest shopping street in the
Ming
(1368-1644) and
Qing
(1644-1911) Dynasties. During the Republican Period of China (1911-1949), many have-nots (impoverished people), along with merchants selling handcrafted items (handicraftsmen) and vendors selling snacks and local food items (snack stands) swarmed the place between them, which attracted people from all walks of life at that time.Today, when visiting, you can climb onto them to have a birds-eye view to admire the entire city, and even take part in the activity of knocking them, appreciating all kinds of folk-customs, such as the dragon and lion dance, and other folk-custom exhibitions.
How to get to Bell & Drum Towers

By Subway:
1. Take
Subway Line 8
and get off at Shichahai Station. Get out from Exit A2 and walk northwards straightly for about five minutes to the Drum Tower.
2. Take
Subway Line 2
and get off at Guloudajie Station. Get out from Exit G and walk south for about 10 minutes to the Bell Tower.

By Bus:
1. Take bus 5, 60, 82, 107, 124, or 635 and get off at Gulou (Drum Tower) Station.
2. Take Sightseeing Bus 3 and get off at Gulou (Houhai) Station.
Beijing Bus / Subway Search
Admission Fee:
Bell Tower: CNY 15; Drum Tower: CNY 20
Combo ticket: CNY 30
Opening Hours:
09:00 to 17:00
Drum Performances at the Drum Tower: 09:30, 10:00, 11:30, 13:30, 14:30, 15:30, 16:45
Note: an extra performance is at 17:15 in peak season.

Further Reading:
Xi'an Bell Tower
Xi'an Drum Tower
Zhangye Bell and Drum Tower
10 Fun Things to Do in Beijing with Family

Recommended Nearby Attractions

Dianmen
Print
- Last updated on Apr. 14, 2020 -
Questions & Answers on Beijing Bell and Drum Towers
Asked by BILL from USA | Jan. 28, 2017 01:54

Reply
I please need directions from Beijing RJ Brown Hotel to the Drum and Bell Towers.
Answers (1)
Answered by William from UNITED KINGDOM | Jan. 30, 2017 02:29

0

0

Reply
For your convenience, you can just take a taxi from the hotel to the Drum Tower directly.
The cab fare is around CNY 30 in the day time. After touring around, walk north around 400 yards to get to the Bell Tower.
Asked by Noreen from MALAYSIA | Nov. 09, 2016 20:26

Reply
How long it will take to walk from Beijing Drum Tower to the Bell Tower? How far?
Answers (1)
Answered by Danny from USA | Nov. 10, 2016 02:06

1

0

Reply
The distance is about 300 yards. You can walk there within 5 minutes. :)
Asked by Hakimi from MALAYSIA | Oct. 02, 2016 12:39

Reply
Hi, I know we can buy combo ticket for both Beijing Drum & Bell tower to get some discount?
Can we use it on two different days?
My schedule force me to visit both sites on 2 different days.
Answers (1)
Answered by Clay from AUSTRALIA | Oct. 09, 2016 01:49

0

0

Reply
Yes, you can.
If you purchase the combo ticket, you can enjoy CNY 10 discount. You can just need to pay CNY 30 for the entrance tickets of Bell Tower and Drum Tower. However, I heard that the ticket is only valid on date of issue.