Bell & Drum Tower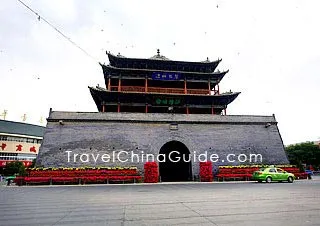 Zhangye Bell & Drum Tower

As in many cities or towns in China, there is a bell and drum tower in Zhangye to mark the center of this city. Also known as the Zhenyuan Tower or Jingyuan Tower, it is located at a crossroad of four main streets - East Street, South Street, West Street, and North Street - which stretch to four different directions respectively.

The bell and drum tower in Zhangye, the biggest drum tower in the Hexi Corridor of the silk road district, was built in 1507 during the Ming Dynasty. In 1648 during the Qing Dynasty, it was destroyed by war. In 1668, Zhang Yong, the superintendent of Gansu, rebuilt the bell and drum tower.

The tower consists of the foundation and a three-storey pavilion. The hathpace is 32 meters (105 feet) wide and 9 meters (30 feet) high, and it is 21 meters (69 feet) from the bottom of the hathpace to the top of the pavilion. Some say that the tower is so high that it stretches into the clouds.

There is a decussate hole inside the foundation which points east, west, south and north and links with the four main streets. On each side of the pavilion, there is a stele which describes different nature scenes in Zhangye and its vicinity. Presently, the construction houses a massive bronze bell on the southeast corner of the tower, which is 1.3 meters (4.2 feet) high with a diameter of 1.15 meters (3.77 feet). The bell weighs 600 kilograms and is delicately decorated with patterns, such as apsaras flying, dragons and tigers. In ancient China, the bell was usually used to give the correct time or give an alarm of fire.

The bell and drum tower is one of the smaller highlights for a visit to the city. It has been considered a symbolic construction of the Zhangye old city and is a nice way to fill out a day of sight-seeing.


| | |
| --- | --- |
| Admission Fee: | CNY 10 |
| Recommended Time for a Visit: | Half an Hour |
Tips: 1. Accommodation: Around the Zhenyuan Tower, many hotels or hostels can be found. Most of them are equipped very well. The accommodation cost for one day is around CNY60 to CNY80.
2. Dining: To the northeast of the Zhenyuan Tower, there is a night market of local snacks. Various cooked wheaten food are sold. Also you can try roast meat there.
3. The
Giant Buddha Temple
is near the Zhenyuan Tower.

Related Links:
Beijing Bell and Drum Towers
Xi'an Bell Tower
Xi'an Drum Tower
- Last updated on May. 14, 2019 -