Stories Behind Hutongs
The Beijing Hutong has a long history. These neighbourhoods have witnessed the development of the city as well as the changing way of life of local people.
Lianziku (The Curtain Storehouse) Hutong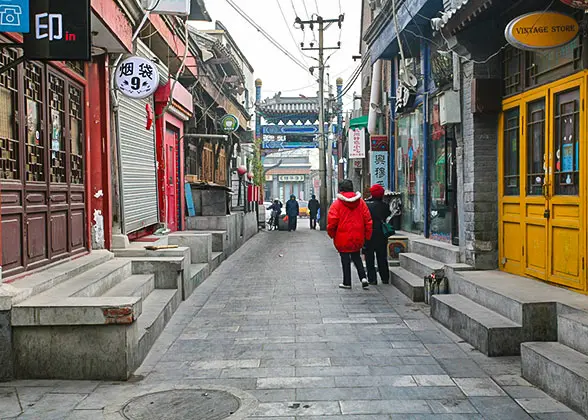 Many are puzzled when first hearing the name 'Curtain Storehouse Hutong' and wonder whether it was built only for the purpose of storing curtains! However, it takes its name from an old custom of
Empress Cixi
. During the Qing Dynasty (1644 - 1911), when summer came, every room in the Palace was hung with bamboo curtains to prevent sunstroke and flies. During Cixi's rule, she thirsted for attending state affairs but at that time it was improper for a woman to sit in the golden throne. Cixi decided to hold court from behind a curtain on the grounds that Emperor Tong Zhi was too young to handle state affairs. The curtains she used were kept in a special place when they were worn out instead of being sold to the ordinary people. Therefore, this is the place where these curtains were stored is called Lianziku (The Curtain Storehouse) Hutong.
Yan Song and Hutong
Yan Song was a notoriously treacherous court official from the Ming Dynasty (1368 - 1644). Legend has it that he was reduced to begging on the street with a silver bowl when he lost power in court. Of course, this once proud official felt very ashamed to have to ask for food from the very people he used to oppress. He was strolling dispiritedly around hutongs when one day a heap of sweet potato skin was thrown out from a door near him. Making sure that no one was around; he immediately stuffed some pieces into mouth. Unfortunately for him, an office runner passed by and recognized him at once. Yan Song was scared and slipped away quickly. Thus the lane earned its name: "Slipping Away Hutong".
From then on, Yan Song dared not venture onto the street to beg. Contemplative monks were generally kind-hearted and he took to begging in temples. The old monk recognized Yan Song and gave him a bowl of rice. Yan Song swallowed the rice by nodding thanks to him. At this moment, the monk asked him, "Do you know where it is from?" "No" Yan Song shook his head innocently. "It is just the rice you once wasted!" The monk scolded sharply to him and drove him out of the temple. From then on, Yan Song couldn't even beg in the temples. He went back to and begged from door to door. No one offered him food as they all remembered too well the wrongs he had done to them. He could not keep up efforts and fell to the ground one day. The silver bowl was pitched out far away, and so the place got its name "Sliver Bowl Hutong".
- Last updated on Mar. 27, 2019 -