Shichahai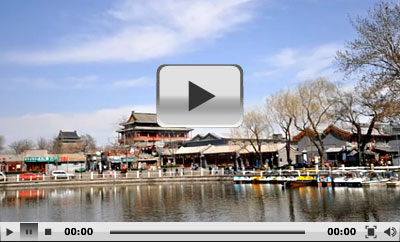 Shichahai Pictures
Shichahai is a famous scenic area in the northwest part of Beijing, which includes three lakes (Qianhai, meaning Front Sea; Houhai, meaning Back Sea, and Xihai, meaning West Sea), surrounding places of historic interest and scenic beauty, and remnants of old-style local residences, Hutong and Courtyard.
Its history can be traced to as far back as the
Jin Dynasty
(1115 - 1234). During the
Yuan Dynasty
(1271 - 1368), Shichahai was the terminal point of the Great Canal, which was a main reason for its prosperity. In the period of the
Ming Dynasty
(1368 - 1644), when the channels ceased to be as smooth as they used to be, it changed from a bustling hub to a place of leisure where people could stroll around to admire the vast scenery or enjoy the cool shade under willow trees.
Shichahai is always a good place for local residents' recreational life, and in the last 200 years, many governmental officers, celebrities, monks and nuns chose to build mansions, temples and nunneries in it. Thus, the attraction of Shichahai lies not only in its natural beauty, but also in the historical value of its architecture. The most famous ones among these historical buildings are
Prince Gong's Mansion
(Gong Wang Fu), Price Chun's Mansion (Chun Wang Fu), the
Former Residence of Song Qing Ling
, Guang Hua Temple and the Former Residence of Mei Lan Fang, a well-known
Beijing Opera
master. Need to mention that the famous Shichahai Bar Street is actually Houhai Bar Street, which is in the area.
The greatest point of interest in Shichahai today is its residences,
Hutong
and
Courtyard
. Visiting Hutongs by pedicab has become a popular activity for visitors from China and abroad. The most famous is Jin Si Tao, which actually includes 18 hutongs and keeps the original layout. Another one is
Skewed Tobacco Pouch Street
(Yandai Xiejie), meaning an oblique street which looks like a long-stemmed pipe. This street used to be a famous street selling long-stemmed pipes. In the east area,
Nanluoguxiang
(South Gong and Drum Lane) is an interesting hutong renowned for its long history, culture, specialty stores and distinctive foods.
| | |
| --- | --- |
| Beautiful Lake | Old Street |
Some snack streets also lie in Shichahai, and people can find two Old Brands here. One is Kao Rou Ji, a restaurant selling roast meat, which has a history of over 150 years. The other is Bao Du Zhang, which has sold cooked tripe of sheep for four generations.
By visiting Shichahai, visitors will get an authentic taste of the style and features of Old Beijing.
How to get to Shichahai:
1. Take
Subway Line 8
directly to Shichahai.
2. As it is close to the
Bell and Drum Towers
and the north gate of
Beihai Park
, visitors can take buses reaching either of them and then visit Shichahai:
Take
Subway Line 6
and get off at Beihai North Station. Get out of the station from Exit B and walk along Di'anmen Xi Dajie to the east till you see the gate of
Lotus Market
(Hehua Market).
Take Bus 3, 4, 13, 42, 107, 111, 118, 612, Sightseeing Line 3, Night Line 3, Night Line 10, or Night Line 21, and get off at Beihai Beimen (north gate of Beihai Park) or 5, 60, 82, 107, 124, 135, Sightseeing Line 3, or Night Line 2 at Gu Lou (Drum Tower). Beihai Beimen Station is close to Lianhua Market where there are many pubs and the rickshaw tour starts. Gu Lou Station is close to Yandai Xiejie.
Beijing Bus / Subway Search

Suggested Itineraries:
Shichahai and Houhai Hutongs
: One day trip to savor the traditional lifestyle of Beijing
More
Beijing Tours

Further Reading:
12 Popular Beijing Activities to Beat the Summer Heat
Top 10 Things to Do in Beijing in Winter
8 Interesting Places in Beijing You May Not Know
10 Fun Things to Do in Beijing with Family
12 Free Things to Do in Beijing
Travel to Beijing with Kids - 11 Things to Do
Print
- Last updated on May. 11, 2023 by Brenda Lian -
Questions & Answers on Shichahai
Asked by Nathania Lee from MALAYSIA | Mar. 27, 2019 19:33

Reply
hi, may i know how to go from Beijing shichahai to lama temple?
Answers (1)
Answered by Mandy from SINGAPORE | Mar. 27, 2019 20:28

0

0

Reply
Hi, you can take a taxi directly. It only takes about 20 minutes and the fare is around CNY15.
Asked by Ife Ogunyinka from UNITED STATES OF AMERICA | Feb. 11, 2018 11:55

Reply
What days of the week and hours are available for visiting the Shichahai area?
Is there an entrance fee for the area? I am also in a group of 21 people. What is the best way to transport all those people to Shichahai from Four Points by Sheraton Beijing, 25 Yuanda Rd, Haidian Qu?
Answers (1)
Answered by Lisa from SINGAPORE | Feb. 11, 2018 20:25

0

0

Reply
It's free of charge. You can take bus Yuntong 101 and switch to bus 5 at Madianqiao Dong. Get off at Deshengmen Nan and walk south west for 5mins to reach the area. Enjoy your time!
Asked by Selena from THAILAND | Nov. 13, 2016 07:58

Reply
Hi. Is Shichaihai Lake will open for skating during mid Dec.?
Answers (1)
Answered by Ash from GERMANY | Nov. 14, 2016 02:17

0

0

Reply
It is usually open for skating in late December or early January. Let's look forward to the latest news!
Asked by Lim Kien Ann from MALAYSIA | Nov. 07, 2016 09:59

Reply
I plan to visit Shichahai area end of December 2016. Is Houhai Bar District in this area?
Where is the best place to stay if I plan to take subway to this place?
Answers (1)
Answered by Jacob from USA | Nov. 08, 2016 03:04

1

2

Reply
Yes, the Houhai Bar Street is inside the area. You may stay near the bar street. For instance, the Xinyuan Inn is recommended to you. It is located at No. 21, Yandaixie Street, Xicheng District. A standard room costs about CNY 250. The reservation hotline is 86-010-64014753.
Asked by Jessica from SPAIN | Jun. 11, 2014 04:14

Reply
How do I go to shichahai from the temple of heaven in Beijing?
Answers (1)
Answered by Blake from USA | Jun. 12, 2014 02:22

3

1

Reply
There are two methods for your reference.
The first one is to use the local public bus directly. You can get out of the park from the East Gate and then walk along the Tiantan Road to look for the Fa Hua Si (Fahua Temple) Station where you can find the bus line 60. So take this line to Gu Lou (Drum Tower) Station and then walk to this area.

The second method is to use the subway. You can walk to the Tiantan East Gate Station to take the subway line 5 to Dongsi Station and then change to line 6 to Nanluoguxiang Station. Then change to line 8 to Shichahai Station easily.