Beijing Weather in April
Spring and mild weather come to Beijing in April, and it is much warmer and more pleasant than March. Various flowers are in full bloom, and trees are gradually turning green. The temperature rises continuously day by day and may climbs up to 20°C (68°F) during a warm afternoon. There are large differences between day and night temperatures. Beijing climate in April is still dry and windy, with occasional sandstorms. There may be light rain, which won't last long. The temperature won't drop much because of the rain.
After seeing the cold winter off, the tourist season is just around the corner. Hotels, restaurants, and tourist attractions are in readiness for the coming crowds.
Averages for Beijing Weather in April
Temperature: 14°C / 57°F
High Temperature: 20°C / 68°F
Low Temperature: 8°C / 46°F
Humidity: 46%
Rainfall: 21 mm
Rainy Days: 4 days
Sunrise: 05:16 ~ 05:59
Sunset: 18:38 ~ 19:08
Air Quality in April
Average AQI:104

What to Wear
During the day, a long-sleeved T-shirt or shirt and a light overcoat or windproof jacket will be more than enough. Add a waistcoat in between the shirt and the coat or change to a thick jacket in the evening.


Where to Go
April in Beijing is a good time to enjoy the various flowers, including the cherry blossoms in Yuyuantan Park, peach blossoms and tulips in the Botanical Garden, peonies in Jingshan Park and magnolias in
Dajue Temple
.
Top 10 Places to Visit in Beijing
Other Tips
Some people may be allergic to pollen, so prepare some medicine in advance. Also, drink enough water and eat more fruit to avoid any respiratory diseases.
What is the temperature in Beijing in April?
High/Low Temperatures of Beijing in April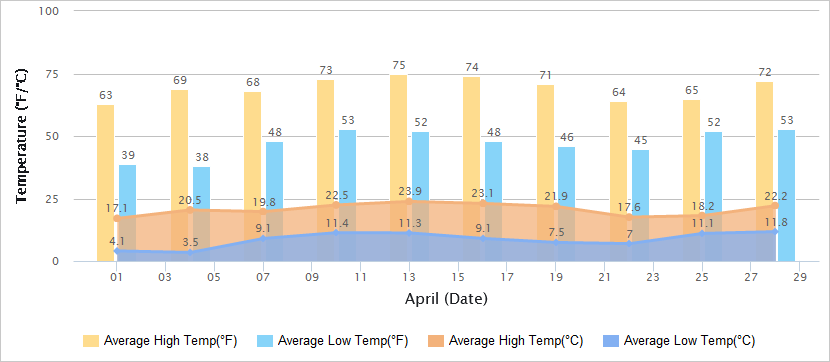 Air Quality of Beijing in April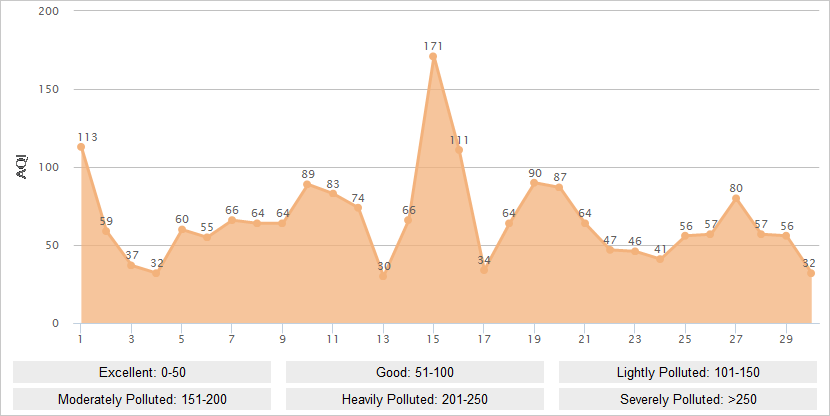 Historical Beijing Weather in April
Apr
Temperature
Sunrise / Sunset
Humi-
dity
(%)
High
Low
1
17.1°C / 62.8°F
4.1°C / 39.4°F
05:59 / 18:38
40
2
13.8°C / 56.8°F
3.4°C / 38.1°F
05:57 / 18:40
56
3
18.9°C / 66°F
1.8°C / 35.2°F
05:56 / 18:41
36
4
20.5°C / 68.9°F
3.5°C / 38.3°F
05:54 / 18:42
28
5
18.1°C / 64.6°F
6.7°C / 44.1°F
05:52 / 18:43
28
6
17.4°C / 63.3°F
10.8°C / 51.4°F
05:51 / 18:44
42
7
19.8°C / 67.6°F
9.1°C / 48.4°F
05:49 / 18:45
25
8
19.6°C / 67.3°F
3.7°C / 38.7°F
05:48 / 18:46
18
9
25.8°C / 78.4°F
8.4°C / 47.1°F
05:46 / 18:47
22
10
22.5°C / 72.5F
11.4°C / 52.5°F
05:45 / 18:48
14
11
21°C / 69.8°F
7.4°C / 45.3°F
05:43 / 18:49
9
12
25.1°C / 77.2°F
8.2°C / 46.8°F
05:42 / 18:50
24
13
23.9°C / 75°F
11.3°C / 52.3°F
05:40 / 18:51
43
14
30.3°C / 86.5°F
11.2°C / 52.2°F
05:39 / 18:52
32
15
24.6°C / 76.3°F
16.2°C / 61.2°F
05:37 / 18:53
18
16
23.1°C / 73.6°F
9.1°C / 48.4°F
05:36 / 18:54
28
17
20.6°C / 69.1°F
15.6°C / 60.1°F
05:34 / 18:55
22
18
20.8°C / 69.4°F
11.6°C / 52.9°F
05:33 / 18:56
12
19
21.9°C / 71.4°F
7.5°C / 45.5°F
05:31 / 18:57
28
20
23.2°C / 73.8°F
10°C / 50°F
05:30 / 18:58
41
21
20.6°C / 69.1°F
10.9°C / 51.6°F
05:28 / 18:59
63
22
17.6°C / 63.7°F
7°C / 44.6°F
05:27 / 19:00
70
23
18.6°C / 65.5°F
8.7°C / 47.7°F
05:26 / 19:01
44
24
21.6°C / 70.9°F
7.4°C / 45.3°F
05:24 / 19:02
26
25
18.2°C / 64.8°F
11.1°C / 52°F
05:23 / 19:03
52
26
21.2°C / 70.2°F
9.8°C / 49.6°F
05:21 / 19:04
45
27
21°C / 69.8°F
7°C / 44.6°F
05:20 / 19:05
37
28
22.2°C / 72°F
11.8°C / 53.2°F
05:19 / 19:06
40
29
20.4°C / 68.7°F
13°C / 55.4°F
05:18 / 19:07
67
30
21°C / 69.8°F
12.9°C / 55.2°F
05:16 / 19:08
57
- Last modified on Sep. 19, 2018 -