Jingshan Park
Situated in the center of Beijing, Jingshan Park is a beautiful royal landscape garden. Covering an area of 57 acres (about 230,000 square meters), the park stands on the central point of the south-north axis of the city and faces the north gate of the
Forbidden City
. It is found on Jingshan Hill, which was originally named Wansui Hill (Long Live Hill), Zhen Hill or Meishan Hill (Coal Hill). The mid summit of the hill is the highest point in Beijing. Looking from the peak, the visitor is able to get a full and clear view of the Forbidden City.
| | |
| --- | --- |
| | A Full View of Forbidden City from the Park |
During the Yuan (1271-1368), Ming (1368-1644) and Qing (1644-1911) dynasties, Jingshan Park served as an imperial garden and was properly laid out under the Ming Dynasty when numerous fruit trees were planted as well as many palaces and pavilions built for the emperor to make sacrifices to his ancestors. As a result, the royal families always enjoyed amusements here, like hunting in the hills. Then, in 1928, it was opened to the public. Later, after 1949, the park was fully rebuilt, with the paths in it paved and most of the buildings renovated. Now, the present is one of the 'AAAA' Scenery Spots in China and a 'must' for visitors to Beijing.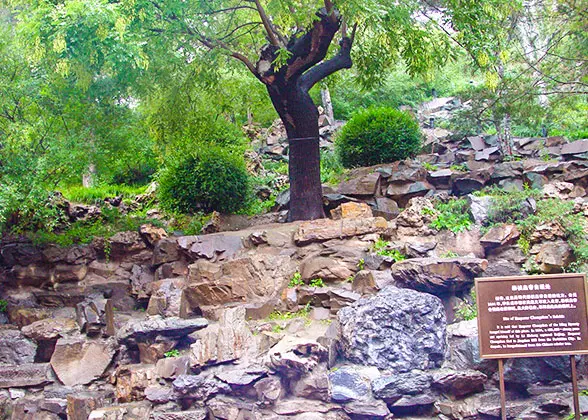 The site where Emperor
Chongzhen hanged himslef
Upon entering the front gate of the park, visitors can see the Qiwang Pavilion, embraced by the vigorous green cypresses. This was originally the place for emperors to worship the memorial tablet of Confucius. Surrounded by white marble balustrades, the two-storied pavilion with its golden-glazed roof appears quite dignified.
The hill inside Jingshan Park has five summits, and on each summit there is a pavilion, built in 1751. In every pavilion, there was originally placed a copper Buddha statue which represented one of the five tastes-sour, bitter, sweet, acrid and salt. It is a pity that they were all lost during the warfare of 1900. Among the five pavilions, the Wanchun Pavilion (Ten Thousand Spring Pavilion), on the middle of the five summits, sits at the hill's central point of the city. It is a perfect place to appreciate the full view of the city. From this pavilion, visitors are able to see the resplendent and magnificent Forbidden City in the south, the dignified
Bell and Drum Towers
in the north, as well as
Beihai Park
and
Miaoying Temple
in the west.
In the north side of the Jingshan hill is found the Shouhuang Hall (Hall of Imperial Longevity), originally the place for the emperors in the Qing dynasty to pay their respects to their ancestors. Some of the emperors' portraits were worshiped in it. To the east of the Shouhuang Hall, stands the Yongsi Hall (Missing Hall), the place for resting the dead bodies of the past emperors and queens.
| | |
| --- | --- |
| Model Show in the Park | Potted plants |
Jingshan Park also boasts some charming natural scenery with a planted area of about 1,300 square yards (about 1,100 square meters). This park is the biggest peony rose garden in Beijing and during May each year, with the 20,000 peony roses of some 200 varieties in full bloom the park displays a wonderful and colorful scene. Visitors who are interested in flowers will find some rare and famous varieties to please them. We hope you enjoy your visit to it.
How to Get to Jingshan Park:

By Bus:

West Gate: Take bus 5 or 58 and get off at Xibanqiao Station.

North Gate: Take bus 5 or 58 and get off at Jingshan Houjie Station.

East Gate: Take bus 58, 111, 124 or Sightseeing Bus 3 and get off at Jingshan Dongmen (the east gate of Jingshan Park) Station.

South Gate: Take bus 58, 101, 103, 109, 124, 128 or Sightseeing Bus 1, 2, or 3 and get off at Gugong (Forbidden City) Station.

By Subway:
Take
Subway Line 8
to Shichahai Station. Get out from Exit C and then walk south for about 914m (1,000 yards) to the north gate of the park. From Shichahai Subway Station, visitors can also take bus 5, 60, 82, 107, 124, or Sightseeing Bus 3 to the park.
Bus / Subway Search
Entrance Fee

CNY 2 (Fee of exhibitions is not included)

April to October: 06:00 - 21:00, ticket sale ends at 20:30
November to March: 06:30 - 20:00, ticket sale ends at 19:30

Recommended Itineraries:
Beijing One Day Tour
: Tiananmen Square - Forbidden City - Jingshan Park - Beihai Park
More
Beijing Tours

Beijing Night Tours – Top 8 Night Activities
Print

- Last modified on Apr. 15, 2019 -
Questions & Answers on Jingshan Park
Asked by Masum from BANGLADESH | Apr. 11, 2019 21:16

Reply
Are the tulip flowers in Beijing Jingshan Park are blown up now?
Answers (1)
Answered by Hannah from NEW ZEALAND | Apr. 15, 2019 20:38

0

0

Reply
Yes, as I know, you can see the tulip flowers in this park now. Have fun!
Asked by Sarah Meredith from AUSTRALIA | Apr. 02, 2019 05:08

Reply
What is the name of the tea house inside the Beijing Jingshan park?
Answers (1)
Answered by Anna from FINLAND | Apr. 02, 2019 23:26

0

0

Reply
As I know, there is no tea house inside the park. The nearest one is called Qingxiu Tea House, which is located at Southeast Corner of Beihai Park, No.1, Wenjin Street.
Asked by Mark from USA | Mar. 29, 2019 15:05

Reply
Can I bring my guitar into the Beijing Jingshan park and play?
Answers (2)
Answered by Scarlett from AUSTRALIA | Apr. 02, 2019 23:24

0

0

Reply
Don't worry. It will be ok for you to bring the guitar and play.
Answered by Mark from USA | Apr. 03, 2019 08:21

0

0

Reply
Thank you hopefully the cherry blossoms will be in bloom when I get back in another week or so
Asked by b from AUSTRALIA | Mar. 08, 2019 02:26

Reply
when finishing touring jingshan park how do i get to the subway (any subway)?
thank you
Answers (1)
Answered by Muhammad from FINLAND | Mar. 11, 2019 22:59

0

0

Reply
The nearest one is Nanluoguxiang Station on metro line 6 and line 8. Walk northeast around 1km then you can see the metro station.
Asked by Cindy2562 from MALAYSIA | Dec. 18, 2017 17:44

Reply
jingshan park to nanluogu xiang
May i know nanluoguxiang operate time from what time to what time?which is the best time to go?day?night?
If from the park want go to nanluogu xiang,how can i go?how long distance?
Answers (1)
Answered by Selina from DENMARK | Dec. 18, 2017 19:07

1

0

Reply
Nanluogu Xiang is a hutong, so it opens all day.
From the park, actually, you can walk to the hutong. Walk north for about 500 meters from the North Gate, and then turn east to walk for 500 more meters, you will get there.