Best Time to Visit Beijing
What's the best time to visit Beijing? Many people have this question when they go to the ancient capital city for the first time. Although you can enjoy different scenery in each season, but the best time to visit Beijing is surely in the autumn from September to October and early summer from May to June.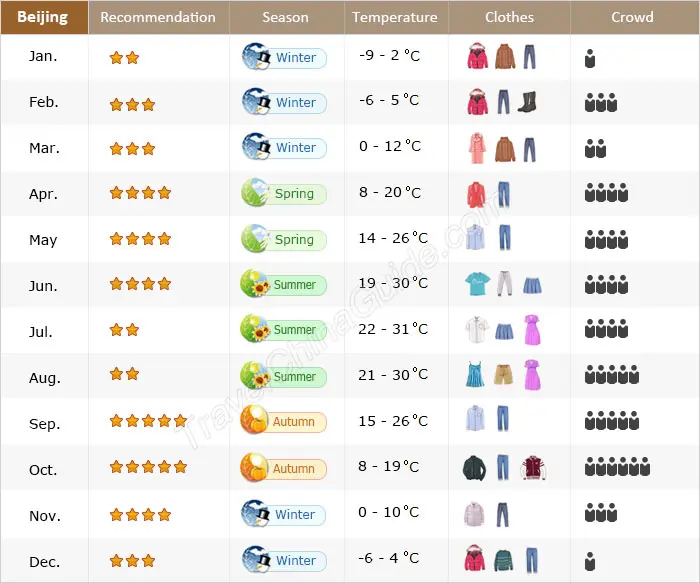 Peak season: April to October
The peak season starts from April and ends in October. In this period, the mild temperature and climate is very suitable for travel. As a result, the city is filled with lots of travelers and is unavoidably crowded at some popular sights. The travel cost will also be a little higher since many scenic spots have peak season prices. Nevertheless, while this is the peak season it is still the best time to visit Beijing for the most beautiful scenery.
Slack season: November to March
The slack season for Beijing is from November to March when the weather is becoming colder and colder and there are fewer tourists. Accordingly, the airfare, hotels and scenic area tickets cost less. Beijing in January and February is cold with the temperature as low as -10 C, so it's very important for tourists to keep warm from winter chills. Nevertheless, you may enjoy the snowy landscape of the city and have a good time since it will be less crowded in most of the tourist spots.
Times to Avoid Travel
Try to avoid the two busiest travel peaks of the year – the Chinese New Year in January or February and the Chinese National Day Holiday from October 1 to 7. During these two 7-day holidays, there will be large crowds at tourist attractions and you can't really enjoy yourself. The airfare and hotels might cost three times more than usual, and it is extremely hard to buy a train ticket during the Chinese New Year. It is also better to avoid some 3-day public holidays like the Qingming Festival in early April and the Dragon Boat Festival in June. If possible, try to avoid the summer vacation from July to August, where there will be a boom of student and family trips.



See More about Public Holidays in China
Travel to Beijing in the Four Seasons
Spring: April to May
The spring weather is generally mild but windy, and there will be sharp temperature difference between day and night.
Average temperature: 14 – 20

C (57 – 68

F)
Clothes: Hoodies, thin sweaters , T-shirts

Recommended tour destinations: Hiking on the Great Wall and boating on the Kunming Lake are good choices. Beihai Park is also a nice destination for visitors to boat and appreciate some old buildings. In addition, you can take a short trip to the Beijing Arboretum, which holds some natural displays including China's largest Rose Garden.



See also Where to Go in Beijing in Spring - Top 10 Destinations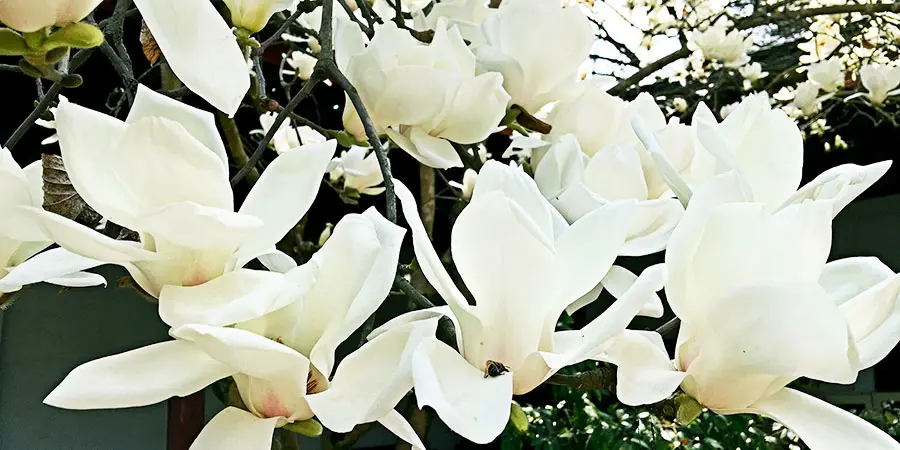 Summer: June to August
Beijing's summer is sultry and rainy, and the temperature can reach 40

C.
Average temperature: 24 – 28

C (75 – 82

F)
Clothes: Shirts, short sleeves

Recommended tour destinations: In the summer you can visit some cool places like the Summer Palace and the Mountain Resort of Chengde, which were the resorts of royal families in the Qing Dynasty (1644 - 1911), where you can enjoy the exquisite landscape design and the splendor buildings. Also, the lotus flowers in the Mountain Resort of Chengde bloom from July to September and are very beautiful.



See also 12 Popular Beijing Activities to Beat the Summer Heat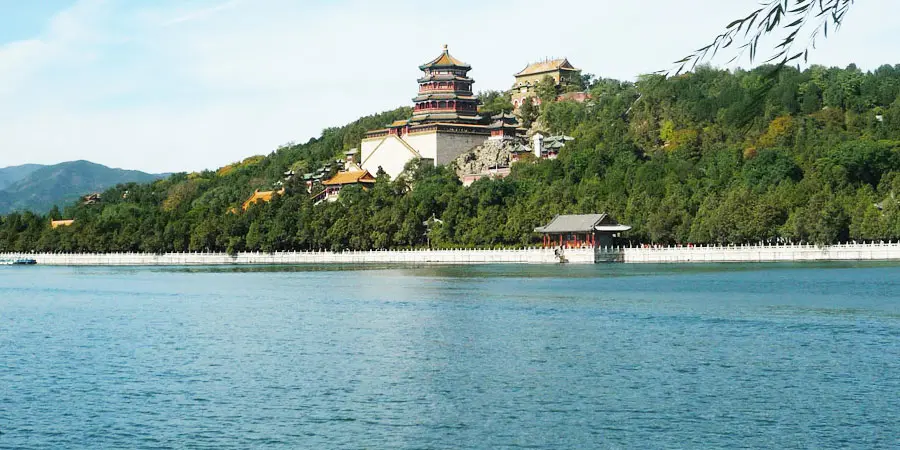 Autumn: September to October – BEST Season to Visit Beijing
In autumn, it is less rainy or windy in Beijing and the leaves are changing colors.
Average temperature: 13 – 20

C (55 – 68

F)
Clothes: T-shirts, wind-breakers, jackets

Recommended tour destinations: October undoubtedly is the best month to visit Beijing. The most attractive scenic spots in autumn include the Badaling Great Wall, Fragrant Hills Park and Wuling Mountain (Frog Mountain) in the suburb of Beijing. Don't miss the Fragrant Hills Park, where the red maple leaves are like fire. The best time to enjoy the maple leaves is from mid October to November.



See also 8 Most Beautiful Places in Beijing in Autumn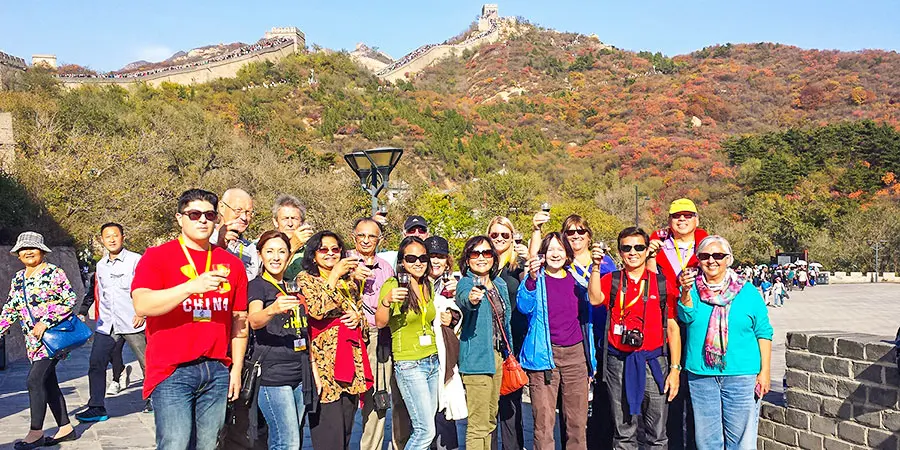 Beijing's winter lasts for 4 to 5 months and the climate is very dry. Be sure you come prepared to keep warm and moisturize your skin if you visit the city in winter. It is not the best time to travel to Beijing, but you can enjoy different activities and the cheaper prices of the slack season.
Average temperature: -4 – 5

C (25 – 41

F)
Clothes: Down jackets, thick sweaters, overcoats, scarves

Recommended tour destinations: Badaling Ski Resort, Yuyang International Ski Resort and Jundushan Ski Resort are recommended for the skiers. For people who are not interested in skating or skiing, viewing the snow on the Western Hills and the Forbidden City can be very enjoyable. In addition, don't miss the temple fairs if you are here during the Chinese New Year.



See also Top 10 Things to Do in Beijing in Winter; 15 Wonderful Places to See Snow in Beijing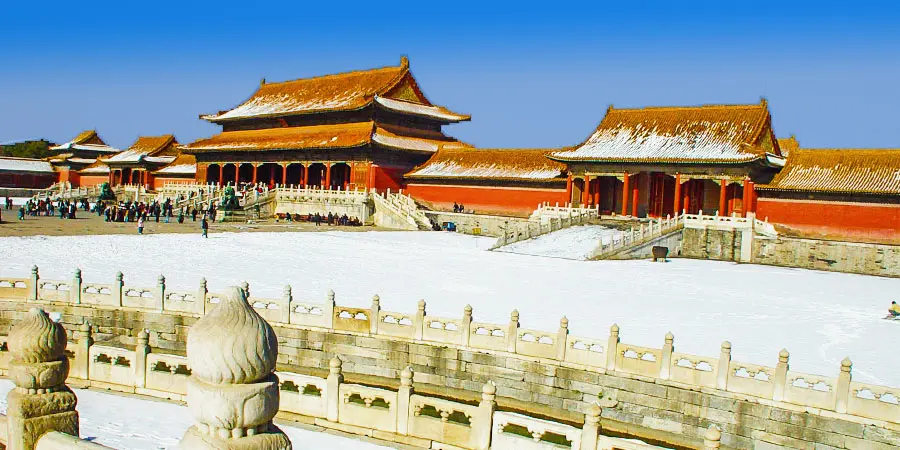 Beijing Weather by Month:
- Last updated on Apr. 07, 2021 -
Questions & Answers on Best Time to Visit Beijing
Asked by Linda from INDONESIA | May. 22, 2019 22:40

Reply
Could u please inform when the yellow dust/storm happen in Beijing?
We are planning to there this summer (end of June or early July). Is it safe time ?
Answers (1)
Answered by Jonas from USA | May. 23, 2019 19:46

0

0

Reply
Generally, the dust storm come in January, March, April and December. It would be pretty safe in summer.
Asked by Sue from AUSTRALIA | Oct. 13, 2018 19:10

Reply
What would the weather be like at End March in Beijing, is there much rain?
Answers (1)
Answered by Sansaui from USA | Oct. 16, 2018 03:35

0

0

Reply
It may be cold in the morning and at night. At noon, it may be sunny and warm. There is less rainfall but more wind. You are advised to prepare jackets, thin sweaters, jeans and sneakers.
Asked by Ambrina from PAKISTAN | Dec. 12, 2017 00:58

Reply
Would you please guide me about day care or kindergarder near CAS?
I am coming for a year at Beijing with two toddlers. Would you please guide me about day care or kindergarten near Chinese academy of science?
Answers (2)
Answered by Amenda from UK | Dec. 12, 2017 21:30

3

0

Reply
You are suggested to take them to Beihai Kindergarten in 22 West Dianmen Street, which is about 8km to Chinese academy of science. You can take Bus 13 to Beihai Biemen, and then you will see the kindergarten.
Answered by Ambrina from PAKISTAN | Dec. 13, 2017 01:34

2

0

Reply
ok thank you so much for your kindness.
Asked by yasmine from MALAYSIA | Oct. 04, 2017 21:12

Reply
we are travelling to beijing with infants on end of november. what to expect?
how cold it will be? is it safe to bring baby below 6 months old during winter season?
Answers (3)
Answered by Sara from SWITZERLAND | Oct. 11, 2017 02:20

2

0

Reply
According to former data, it may be 10C below zero to 5C with haze, so you are not suggested to bring baby outdoors in such weather. By the way, you need to take your sweaters, heavy coat, gloves and mask.
Answered by Yasmine from MALAYSIA | Oct. 11, 2017 03:43

2

0

Reply
Thank you Sara. We already booked the tickets so its impossible to back off. This is my first travelling to four season country so i have no clue! Other than jacket, wool socks etc, what else do i need to prepare? For infants, especially
Answered by Sara from SWITZERLAND | Oct. 11, 2017 03:51

1

0

Reply
Well, you need to bring the sweaters, down coat and a heavy scarf. Have a nice trip!