Beijing Weather in March
Beijing's weather in March is very changeable, as the transitional period from the cold winter to the warm spring. The temperature rises and falls frequently and sharply, with a big difference between day time and night time. The climate is still dry and windy this month, so there is a big possibility of sandstorms. Cold air sometimes attacks the city especially in early and mid March.
Heating is usually turned off everywhere on March 15th. Thereafter, people may have to bear one or two weeks' coldness until the end of the month when the weather warms up rapidly.
Averages for Beijing Weather in March
Temperature: 6°C / 43°F
High Temperature: 12°C / 54°F
Low Temperature: 0°C / 32°F
Humidity: 46%
Rainfall: 8 mm
Rainy Days: 3 days
Sunrise: 06:00 ~ 06:48
Sunset: 18:06 ~ 18:37
Air Quality in March
Average AQI:92

What to Wear
The unstable weather may leave people more susceptible to illness, so it's advisable to wear appropriate clothing. Always take spare clothes when going out in case the weather changes. Generally, a sweater and a thick jacket are enough in early March, but take an extra outer layer, gloves and hat as well in case you encounter any unexpected strong winds and a sharp fall in temperature. If coming in late March, a thin sweater plus a light windproof jacket will be adequate.


Things to Do
Flowers begin to bloom and trees start to bud, so March is a wonderful time for mountain climbing and enjoying the local plants and trees. Wuling Mountain National Forest Park and Baihua Mountain Natural Reserve are are splendid destinations for mountain climbing. The wild plum outside of the Great Wall usually bloom in middle or late March. Besides, there are also plum blossoming in the Botanical Garden and
Fragrant Hills Park
.
Other Tips
Drink plenty of water and eat more fruits and vegetables to maintain your good health. Prepare a mask and a veil or a pair of protective glasses to prevent being hurt by sandstorms.
What is the temperature in Beijing in March?
High/Low Temperatures of Beijing in March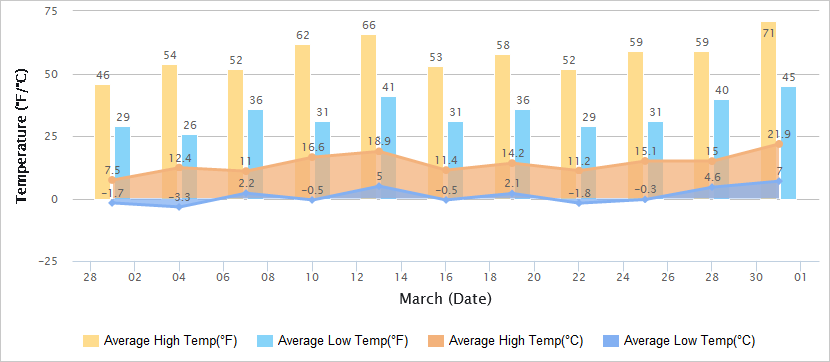 Air Quality of Beijing in March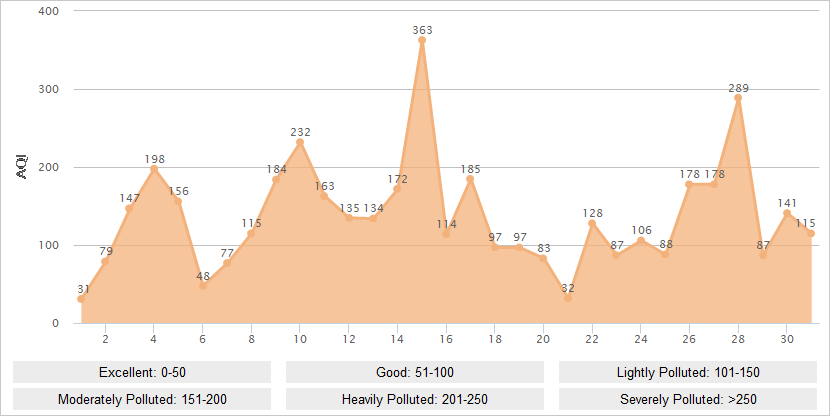 Historical Beijing Weather in March
Mar
Temperature
Sunrise / Sunset
Humi-
dity
(%)
High
Low
1
7.5°C / 45.5°F
-1.7°C / 28.9°F
06:48 / 18:06
29
2
7.2°C / 45°F
-3.8°C / 25.2°F
06:46 / 18:07
29
3
9.8°C / 49.6°F
-0.7°C / 30.7°F
06:45 / 18:08
22
4
12.4°C / 54.3°F
-3.3°C / 26.1°F
06:43 / 18:10
34
5
13.2°C / 55.8°F
2.3°C / 36.1°F
06:42 / 18:11
39
6
11.3°C / 52.3°F
5.8°C / 42.4°F
06:40 / 18:12
18
7
11°C / 51.8°F
2.2°C / 36°F
06:39 / 18:13
19
8
11.1°C / 52°F
3.1°C / 37.6°F
06:37 / 18:14
17
9
12.6°C / 54.7°F
-1.3°C / 29.7°F
06:35 / 18:15
18
10
16.6°C / 61.9°F
-0.5°C / 31.1°F
06:34 / 18:16
21
11
13.8°C / 56.8°F
1.9°C / 35.4°F
06:32 / 18:17
27
12
17.3°C / 63.1°F
3.5°C / 38.3°F
06:31 / 18:18
42
13
18.9°C / 66°F
5°C / 41°F
06:29 / 18:19
38
14
10.5°C / 50.9°F
5°C / 41°F
06:27 / 18:20
16
15
10.3°C / 50.5°F
1.1°C / 34°F
06:26 / 18:21
15
16
11.4°C / 52.5°F
-0.5°C / 31.1°F
06:24 / 18:22
20
17
17.3°C / 63.1°F
-0.1°C / 31.8°F
06:23 / 18:23
33
18
15.1°C / 59.2°F
5.3°C / 41.5°F
06:21 / 18:24
24
19
14.2°C / 57.6°F
2.1°C / 35.8°F
06:19 / 18:25
23
20
12°C / 53.6°F
4.7°C / 40.5°F
06:18 / 18:26
40
21
9.3°C / 48.7°F
1.8°C / 35.2°F
06:16 / 18:27
23
22
11.2°C / 52.2°F
-1.8°C / 28.8°F
06:15 / 18:28
12
23
12.6°C / 54.7°F
0.5°C / 32.9°F
06:13 / 18:29
18
24
12.4°C / 54.3°F
3.3°C / 37.9°F
06:11 / 18:30
12
25
15.1°C / 59.2°F
-0.3°C / 31.5°F
06:10 / 18:31
16
26
15.1°C / 59.2°F
2.3°C / 36.1°F
06:08 / 18:32
26
27
18.8°C / 65.8°F
3.5°C / 38.3°F
06:07 / 18:33
14
28
15°C / 59°F
4.6°C / 40.3°F
06:05 / 18:34
29
29
21.2°C / 70.2°F
1.7°C / 35.1°F
06:03 / 18:35
33
30
22.6°C / 72.7°F
4.8°C / 40.6°F
06:02 / 18:36
22
31
21.9°C / 71.4°F
7°C / 44.6°F
06:00 / 18:37
39