Beijing Winter Travel
Beijing is a wonderful place to go during winter when the city assumes different landscapes for visitors to admire. Winter usually lasts from November until March in Beijing, and it is cold indeed. However, the season is endowed with unique qualities, and you will have a great time, too. Here are some reasons why you should be tempted to go to Beijing in winter, and some advice on what to do.
Why to Travel to Beijing in Winter?

There are many interesting activities that can only be enjoyed in winter, such as skiing, skating, and appreciating ice lanterns and snow.



Many traditional festivals are celebrated in winter, like the Laba Festival, Chinese New Year, and Lantern Festival; during the celebration periods, visitors can taste delicious festival food and experience traditional folk customs.



Travel expenses are greatly reduced in winter apart from during public holidays. There are savings to be made on such things as flights, hotels, admission fees, and charges for using facilities at scenic spots.

Scenic spots will be less crowded in winter. So, visitors will certainly have a much better experience.
| | |
| --- | --- |
| Skating over Frozen Shichahai | Festival decorations during Chinese New Year |
What to Do?
Here are some suggestions on what to do when you travel to Beijing in winter.

Appreciating Snow
As a typical northern city in China, Beijing is endowed with snow in winter. Sometimes, it snows to everyone's surprise and the city presents a unique landscape. Everything is so peaceful and charming. Come out and enjoy the snow scenes; it will leave you with a deep impression. A visit to the
Forbidden City
and the
Great Wall
at this time will be a wonderful once in a life time experience.

Skiing
Skiing is not only very exciting, but also good for ones' health. Skiing is a great way to exercise, breathe fresh air, and have a lot of fun. There are many
ski resorts in Beijing
, including
Wanlong Ski Resort
, the
Huaibei Ski Resort
, the Jundushan Ski, the
Nanshan Ski Resort
, the Shijinglong Ski Resort, the Yuyang Ski, the Qiaobo Ice and Snow World, the Yunfoshan Ski Resort, the Badaling Ski Resort, and
Snow World Ski Resort
. Choose one and delight yourself in the white wonderland.

Skating
Apart from skiing, skating is also a popular and healthy sport. It can improve one's sense of balance, coordination, and enhance flexibility. While exercising their hearts and lungs, skaters have lots of fun in sliding and gyrating on the pure ice. There are indoor and outdoor skating rinks in the city. The most popular indoor rinks are the New World Skating Rink, the Le Cool Skating Rink, and the Rink at the Olympic Sports Center. Outdoor rinks include the rink at Shichahai, the Rink at the Taoranting Park, the Houhe Skating Rink, the Rink at the Yuyuantan Park, the Rink at the Zizhuyuan Park, the Ice Rink at the Old Summer Palace (Yuanmingyuan), and the Rink on the Weiming Lake in the Beijing University. Skating is very popular with people of all ages on cold days. Tourists can experience the real life of local people by joining them in the exciting activity.



Hot Spring Bathing
It is a unique and beneficial experience to bathe in a hot spring in the bitter winter cold. Hot springs are abundant with minerals and essential microelements. It can help to ease metabolic diseases, joint and respiratory disorders. Furthermore, they can make one's skin smooth and delicate. There are many hot spring resorts in and around Beijing, including the Longmai Hot Spring Village in Xiaotangshan, the Nangong Hot Spring Resort, the Hot Spring Resort at the Yingda Biological Garden, and the Chunhuiyuan Hot Spring Resort.
Tips on Hot Spring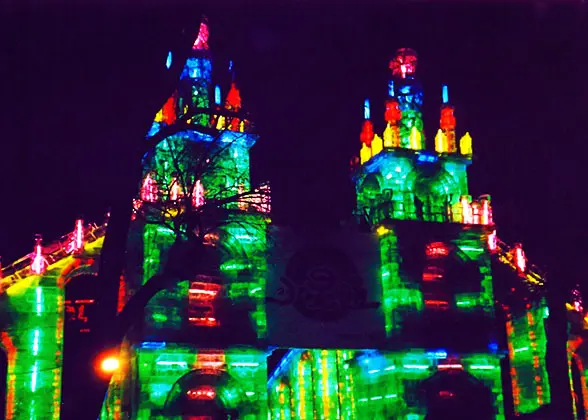 Colorful Ice Lanterns

Enjoying Ice Lanterns
Ice lanterns are a beautiful winter decoration. They fall into two types in accordance with their method of creation: freezing and ice-carving. To make ice lanterns by freezing means filling moulds with water, freezing them outdoors, taking out the ice, and lighting a candle in it. The other method is to carve different figures from a block of ice. These may be ice dragons, lions, towers, horses, or peacocks. The result is a beautiful ice lantern when lighting a candle in it or installing a lamp. After being lit, the lanterns will present different colors. That is very fascinating! Enjoying ice lanterns is a traditional custom during Chinese New Year and the Lantern Festival. The most popular destinations to appreciate ice lamps include the Longqing Gorge in Yanqing, the Workers' Stadium, and the Olympic Park.



Attending Temple Fairs
Various temples fairs are held during the Chinese New Year, including the Red Mansions Fair at the Grand View Garden, the Imperial Temple Fair at the Yuanmingyuan (Old Summer Palace), the Fair at the Ming Tombs, the Temple Fair at the Longtan Park, the Fair at the Temple of Earth, and the Fair at the Lianhuachi Park. Tourists can enjoy wonderful folk performances, such as the Oral Stunts, the Beijing Opera, and the Diabolo Performance. They can also appreciate other aspects of cultural heritages, including the paper-cut, pottery, and shadow puppetry.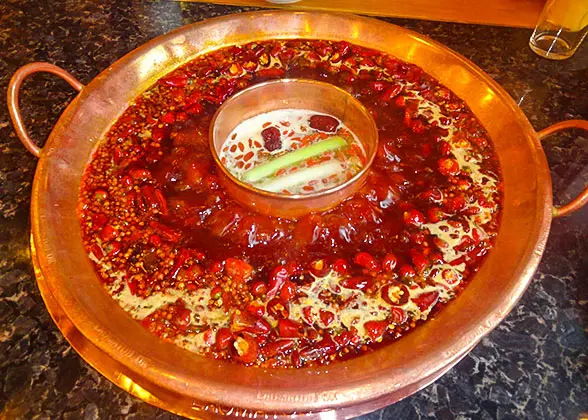 Mouth-watering Hot Pot

Eating Hot Pot
After having a lot of fun, you may be cold and hungry, and wonder what to eat. The favorite has to be hot pot. You and your friends can sit around a simmering pot at a table, place your favorite ingredients into it, and then you can help yourselves. Typical hot pot dishes include the thinly sliced beef and mutton, meat balls, seafood, dumplings, wontons, noodles, mushrooms, seaweed, sweet corn, tofu skin, lettuce, and other green vegetables. The cooked food is usually eaten with a dipping sauce, like sesame paste, chili sauce, and pickled tofu. It is all so delicious, and you will soon get warm.

Tips

It can be very cold outside, so you are advised to put on thick jackets, hats, masks, and scarves before going out.

Wear a pair of antiskid shoes after snow because the road will be slippery .

Wear an anti-haze mask to protect yourselves from haze when necessary.

Remember also that it is quite dry in this season. So you should drink plenty of water, eat fresh vegetables and fruit, and apply some moisturizer to your exposed skin.

Wear a pair of sunglasses to protect your eyes when skating and enjoying snow outside.

Book transportation tickets well in advance during the Chinese New Year to avoid disappointment.
- Last modified on Oct. 11, 2019 -
Questions & Answers on Beijing Winter Travel
Asked by Kumar from MALAYSIA | Apr. 25, 2019 02:21

Reply
hi, i will be visiting Beijing on 15th to 23 rd December 2019.
Any chances to feel the snow or near by places.
Please advise... thanks
Answers (1)
Answered by Amy from USA | Apr. 26, 2019 02:23

0

0

Reply
Hi, it is hard to say and you are suggested to pay attention to the weather forecast.
Asked by Asifa Saeed from CANADA | Oct. 06, 2017 10:57

Reply
I will be visiting Beijing china on December 4 to 14 what kind of weather and what clothes I need?
Answers (3)
Answered by David from RUSSIA | Oct. 10, 2017 04:27

0

0

Reply
According to former data, it may range from 5C below zero to 10C with some cloudy and hazy days. You are suggested to take your sweaters, heavy coats, and gloves.
Answered by Ily from MALAYSIA | Aug. 27, 2018 18:54

0

0

Reply
I will be at Beijing from 22nd to 27th December. My first time experience cold. So I don't know much. I hope someone can share
Answered by Helen from CANADA | Aug. 28, 2018 00:26

0

0

Reply
As you said, it's very cold. During the period, the temperature can down to 0C below zero. It's sunny in most of times, but you still need to keep warm. Your woolen sweaters, down coat and winter pants are necessary. Oh, don't forget your mask!
Asked by Hidayah from MALAYSIA | Sep. 24, 2017 06:24

Reply
I plan to visit Beijing at the end of January 2018..
What is the estimated temperature on that date? I will visiting with my family along with my 1 year old baby.
Answers (1)
Answered by Kristin from DENMARK | Sep. 24, 2017 20:52

0

0

Reply
According to former data, the temperature may range from 10C below zero to 5C, and there may be some cloudy days. So you need to take sweaters, heavy coats and gloves. Thermal clothing are suggested to prepare for your little baby.

A notice is that haze may happen, but it is not quite sure. So you'd better prepare mask as well; also check the weather forecast right before your trip.
Asked by Mae from PHILIPPINES | Jan. 17, 2017 06:04

Reply
Hi, I will be visiting Beijing on 20Feb~24Feb 2017 for a Business Trip.
What is the estimated temperature at that time? And can you recommend good places to visit for a first-time comer?probably just a one day adventure during last day of trip.
Thank you.
Answers (1)
Answered by Kurt from FRANCE | Jan. 18, 2017 00:58

0

0

Reply
Mae, the temperature may range from 25~45F in a day in February.
As a first-time comer, you should not miss the chance to visit Tiananmen Square, Forbidden City, Shichahai, and Great Wall sections in Beijing. If you only have one day, you can cover the first three sights. Have fun!