Beijing Travel Tips
Beijing's Neighboring Areas: Tianjin Municipality and Hebei Province
Resident Population: 19.612 million
Area: 16,410 square kilometers (6336 square miles)
Area Code: 010
Tourist Complaint: (010) 65275315 (010) 65130828

Visa & Embassy

144-hour visa-free transit
Since December 28th, 2017, the 144-hour visa-free transit has been implemented in Beijing, Tianjin and Hebei as well for passengers from the 53 countries and regions.
Visitors from other countries still have to obtain a visa before entering the city. You can apply for the visa in the Consulate of P. R. China in your country. Alternatively, you can obtain the visa through a travel agency. Special fast applications can be generally completed with 24 hours.

Foreign Embassies and Consulates in Beijing
There are about 140 countries and regions having their embassies set in Beijing. The embassies are mainly distributed at the Sanlilun Area and Jianguomen Area to the east of the city center. If you have encounter problems on visa, passport or some other emergencies during your stay in the city, you can find your embassy for help.

More about China Embassies Abroad
Money & Bank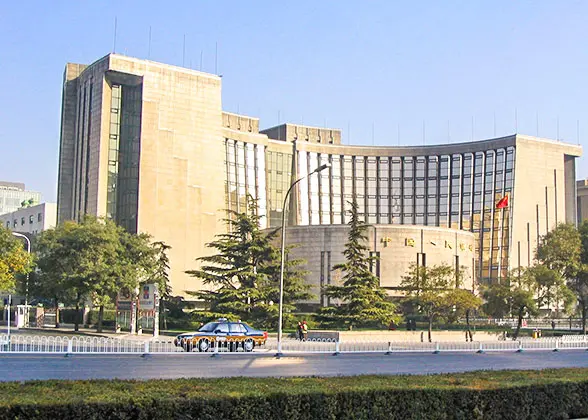 Bank of China

Bank of China
Wangfujing Branch: 1, Chang' an Street, Dongcheng District
Qianmen Branch: 17, Xijiaominxiang, Xicheng District
Xidan Branch: 130, Xidan North Street, Xicheng District
Dongzhimen Branch: 35, Wangfujing Street, Dongcheng District
Xindongan Mall Branch: 130, Wangfujing Street, Dongcheng District



Foreign Exchange
Great Britain Pound, Euro, U.S. Dollar, Swiss Franc, Singapore Dollar, Swedish Crown, Danish Crown, Norwegian Crown, Japanese Yen, Canadian Dollar, Australian Dollar, Philippine Peso, Thai Baht are all exchangeable. Foreign currency and checks with the face value of Eurodollar and Spanish Peseta are also exchangeable at the Bank of China, other authorized banks offer foreign exchange service, some hotels, restaurants and shops will also accept foreign exchange business in order to provide convenience for foreign tourists.

Credit Card
It is very convenient for tourists to use credit cards in star hotels and the large emporiums. At present main credit cards accepted in China, are Master card, Visa, American Express, JCB and Diners.
Communication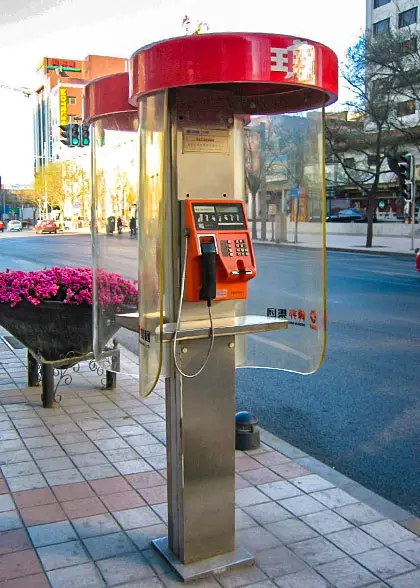 Telephone Booth on the Street

Telephone:
Phone booths can be easily found along the roads. The fees of such public phones are as follow:
IC card phones: local call - 0.5 Yuan for the first 3 minutes and then 0.2 Yuan per minute. The charge for DDD is 0.8 Yuan per minute and the charge for IDD is 8.2 Yuan per minute.

Useful Phone Numbers

Post Office:
Letters posted within the city need a stamp of CNY 0.6 and letters posted within the country need to stick a stamp of CNY 0.8. According to the different region and weight every international airmail letter costs more than CNY 5.4. Letters posted to Hong Kong or Taiwan needs about CNY 2.5. The International Post Office located on the east side of Jianguomen North Street, operates a receiving and posting international and domestic letters, parcels and express mails, making out invoice, cash draft and telegram drafts, domestic and international telegram etc.

Yong' an Road Post Office: 173, Yongan Road, Xicheng District
Fangzhuang Post Office: 22, Pufang Road, Fengtai District
Huashi Post Office: 67, Huashi Street, Dongcheng District


Area Code & Zip Code

Internet:
Surfing the internet is not an adventure any more, for internet cafes' can be easily found on the streets. If you come to the city by yourself and want to do business via the internet, chat with family or friends, there are plenty of venues to choose from.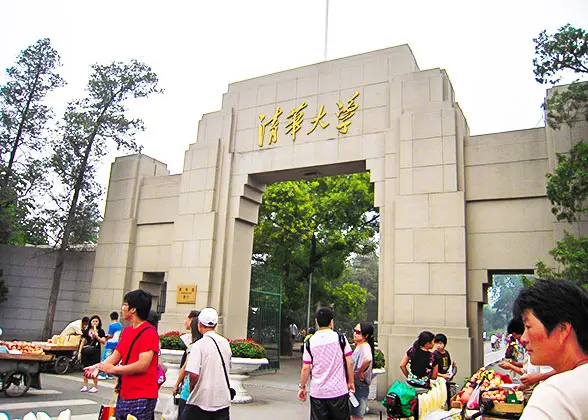 Tsinghua University

Universities & Institutes
Beijing boasts the classic and most education resource in the country. There are over 100 universities and institutes, including many famous ones like Peking University and Tsinghua University. The campuses are mainly located in Haidian District and Xicheng District.



International Schools
The city has a foreign population of over 200,000. More and more international schools are set to meet the demand of the foreigners and also enrich the education of the local students.



Libraries & Book Bars
Big public libraries like the National Library and the Capital Library with abundant foreign books are introduced for you to find materials in different languages. There are also some featured book bars in the city for you to find leisure readings or just kill time.



Bookstores
Xidan Books Building: C17, West Chang'an Street
Wangfujing Xinhua Book Store: 235, Wangfujing Street, Dongcheng District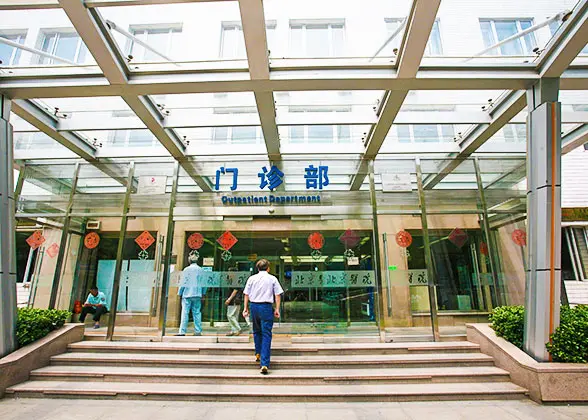 Hospital in Beijing

Hospitals & Clinics
Peking Union Medical College Hospital: 1, Shuaifu Yuan, Wangfujing, Dongcheng District(east section); 41, Damu Cang, Xidan, Xicheng District (west section)
Friendship Hospital: 95, Yong'an Road, Tianqiao, Xicheng District
International SOS Clinic: Suite 105, Wing 1, Kunsha Building
16 Xinyuanli, Chaoyang District (08:00 - 20:00 all year round; Tel: +86 10 6462 9100)
China-Japan Friendship Hospital: Yinghuayuan East Street, Chaoyang District



Drugstores:
Tongrentang: 120, Xidan North Street, Xicheng District; 248, Zhushikou West Street, Xicheng District
Yongantang Drug Store: 2, Huangsi Street, Dongcheng District
Chaoyang Drug Store: 8, Chaoyang Xinjie Dayuan, Chaoyang District
Jinanjian Medicine Selling Center: 53, Majiabu Xili, Fengtai District
South Cathedral – Xuanwumen Catholic Church: 141, Qianmen West Street, Xicheng District
Zhushikou Church: 129, Qianmen Street, Xicheng District
East Church – Wangfujing Catholic Church: 74, Wangfujing Street, Dongcheng District
St. Michael's Church - Dongjiao Minxiang Church: 13, Dongjiao Minxiang, Dongcheng District
It is a worldwide sports event held in the middle of October every year. It takes participants passing by many of the landmarks of the city, such as Tiananmen Square, Diaoyutao State Guest Hotel, Olympic Forest Park, and Olympic Park.



Toilet Facilities
It is easy for tourists to find public toilets in the subway stations, railway stations, airport, bus stations or sightseeing spots and most toilets in the downtown area are free except for some mobile ones.



Temple Fairs
- Last modified on Dec. 17, 2018 -
Questions & Answers on Beijing Travel Tips
Asked by J.D. LACHAPELLE from CANADA | Dec. 16, 2018 20:37

Reply
Transiting through Beijing, China
Arriving by train from Mongolia July 18th. Flying out of China on July 20th. Do I qualify for the 72 hour Visa exception or must I need a Visa?
Answers (1)
Answered by Damian from RUSSIA | Dec. 17, 2018 23:18

0

0

Reply
No, you need to fly into and fly out China. Otherwise, you don't quality for the 72 hour visa exception.
Asked by ayse from TURKEY | Dec. 13, 2018 09:45

Reply
I am a Turkish passport holder living in Switzerland.
I d like to fly to Japan over China and I have a lay over at Beijing which is less than 24 hours. Should I apply for a transit visa? Thanks in advance.
Answers (1)
Answered by Richard from UNITED KINGDOM | Dec. 13, 2018 18:42

0

0

Reply
No, you don't need. You are eligible for 24-hour free visa in capital airport.
Asked by Rima Ellen Laibow from UNITED STATES | Dec. 12, 2018 20:07

Reply
Nearest China Postal Service office to Beijing Holiday Inn Temple of Heaven?
I need to send a package from BJ to the US. I understand that China Postal Service is the best way to do that. Where is the nearest office to this Hotel?
Answers (1)
Answered by Terra from USA | Dec. 13, 2018 18:44

0

0

Reply
The nearest one is Licun China Post, located at No.15 Yangjiayuan Road, Dongcheng District.
Asked by Dinesh Pandey from AUSTRALIA | Nov. 19, 2018 00:58

Reply
Hi I am visiting Beijing with my family .We all have Australian passport and also Australian citizen
We are reaching at PEK on 7th Jan at 5.00 AM from Melbourne and leaving PEK on 9th Jan 6.35 pm for Mumbai.We already booked the hotel in PEK for stay during this period.
We are visiting as tourist .
Do we get transit visa at Beijing Airport? If yes, How much that cost and what document required for Transit Visa at Beijing Airport
Answers (1)
Answered by Quinn from USA | Nov. 21, 2018 19:02

0

0

Reply
You are eligible for 144-hour free visa. How to apply for it? Make sure the documents and your passport are valid for at least three months. Visa (if applicable) and onward ticket to the third country or region should be prepared. Then you can follow the steps in the chart. Inform the carrier when boarding
- Fill an Arrival/Departure Card - Apply for the 144-hour visa-free stay permit upon arrival - Claim the luggage - Go through the customs - Leave the airport. By the way, it is free and won't charge.
Asked by maria from AUSTRIA | Oct. 29, 2018 04:19

Reply
We are EU Citizens. Travelling Vienna to Australia via China
We stop over in Beijing and Shanghai for around 17 hours. Do we need a visa if we leave the airport to do a short sightseeing visit?
Answers (1)
Answered by Jassica from USA | Oct. 30, 2018 21:08

0

0

Reply
You don't need a visa because you can enjoy the 24 hours visa free policy.
But shall apply to the entry-exit frontier inspection authorities for temporary entry permits if you want to leave the airport.