Top Beijing Attractions
More Things to Do
Top 10 City Tours
Code: BJ68
Beijing Skiing Tours
Best Time for Beijing Skiing Tours
The skiing season in Beijing usually starts in late November or early December and lasts till late February or early March, so you'd better come during this time period for a Beijing ski tour.
Top Skiing Resorts in Beijing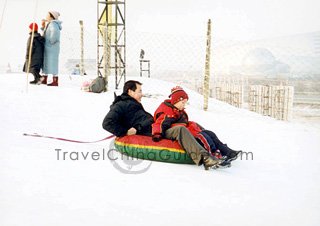 1. Shijinglong Ski Resort
Located about 80 kilometers (50 miles) to the northwest of downtown Beijing, it boasts superb skiing facilities and environment. It is equipped with two chairlifts and five ski lifts, helping to transfer sliders up. Also it has various entertainment activities for tourists, such as snow biking, snow motor race, sledding and sledging. Besides, you are advised to try the healthcare services such as snow sauna and hot spring bathing, which help you to relieve from fatigue after skiing.

Address: Zhongyangfang Villlage, Zhangshanying Town, Yanqing County

How to Get There: You may take bus No. 919 Express at Deshengmen and get off at the South Gate of Chuanbei Xiaoqu, and then connect bus No. Y40 to Jiuxiaolu West. The ski resort is just on your right hand.
It is located in Miyun County, Beijing, about 80 kilometers (50 miles) away from downtown area. For beginners, intermediate and advanced skiers, the resort outfits around 25 ski runs for teaching as well as entertaining, including China's first Mogul Slope, waved slope and Nanshan Mellow Snowboarding Park. There are many experienced ski instructors. There are also about 6,000 imported ski gears for your service.

Address: Shengshuitou Village, Henanzhai Town, Miyun County

How to Get There: In snow season, there are direct buses going to Nanshan Ski Resort. You can take the bus near three subway stations: Sanyuanqiao, Wudaokou and Shaoyaoju. The bus leaves at 08:00 and returns at 17:30, and the bus fare for a round-trip costs CNY55 per person. You are suggested to reserve the seat one day before your Beijing ski tour. The number of reservation is 010-8909-1909.
Located in the
Ming Tombs Scenic Area
, it is one of the nearest skiing fields from the city center. In addition to well-designed ski trails, it offers snowmobile, interesting sleigh-skiing drawn by dogs or horses, and vivid ice and snow sculptures. The resort also opens in the evening, providing fabulous firework shows. Cafés, bars, Chinese and Western-style restaurants are all available here.

Address: Xiaogongmen, Shisanling Town, Changping District

How to Get There: You may take subway Changping Line to Xishankou Station, then change to bus no. Chang 53 to Xianguo Leyuan, then walk southward for about 10 minutes to reach the destination.
4. Jundushan Ski Resort
Located at the foot of Jundu Mountain 35 kilometers (22 miles) from downtown, it houses the most challenging skiing trails in China as well as skiing areas for beginners, elementary and intermediate skiers respectively. This resort can receive 6,000 to 10,000 skiers per day and the rental facilities are well organized here. Skiing at night can also be achieved here, which may leave you a romantic and exciting experience.

Address: No.588, Zhenshun village, Cuicun Town, Changping District

How to Get There: Take bus no. 345 Express, or 886 at Deshengmen West Station, and get off at Changping Dongguan Station, where you can take bus no. Suburb 80 to Cuicunzhen West. And then follow the signs, walk for about 1,900 meters (2,100 yards) to the ski resort. Or take Subway Changping Line to Beishaowa, walk to the nearby Beishaowa bus stop to take bus no. suburb 80 to Cuicunzhen West, and then follow the above route.
Located about 2 kilometers (1.2 miles) to the west of
Badaling Great Wall
, it contains complete skiing facilities, including two 800-meter long primary slide ways, two 600-meter long intermediate slide ways, one 800-meter long advanced slide way with 160-meter fall, one 2,300-meter snowmobile slide way, which is the longest one in Beijing, and two 300-meter long snow tubing slide ways. Other entertainments such as dog-drawn sleigh, snow sauna, DIY ice sculpture are all available here.

Address: Badaling Town, Yanqing County

How to Get There: Hop on bus no. 919 from Deshengmen Bus Station to Xibozi, then take a taxi for about 5 minutes to Badaling Ski Resort. Or take a high speed train from Beijing North Railway Station to Badaling Great Wall Station, then also take a taxi to the Badaling Ski Resort.

Read more:
10 Popular Ski Resorts in Beijing
Popular Ski Resorts around Beijing
In addition to these ski resorts in Beijing suburbs, you may go further to Zhangjiakou, where 2022 Beijing Winter Olympics were held to enjoy skiing. There are many high standard skiing resorts there, like Genting Resort Secret Garden, Wanlong Ski Resort, Changchengling Skiing Field and Dolomiti Mountain Resort. From Beijing North Railway Station and Qinghe Railway Station, you can take a high speed train to reach Zhangjiakou in about one hour.

Read more:
Ski Resorts in Zhangjiakou

More Related Itineraries: