Hospitals and Clinics in Beijing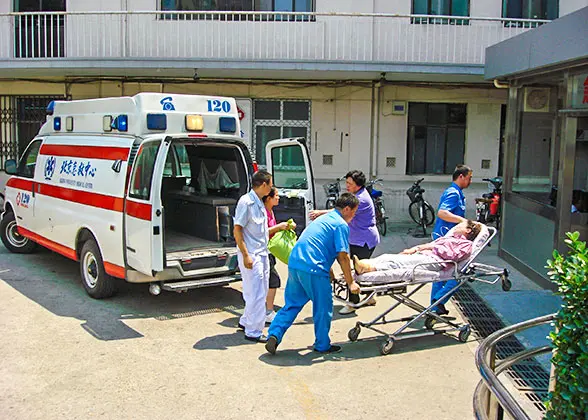 Ambulance, Beijing Emergency Medical Center
Do you feel quite helpless when you are ill in a foreign country? Are you worried about the language barrier with the doctor? These kinds of problem can be solved easily in Beijing. There are 29 high-level hospitals having special foreign clinics which have a high reputation among local foreigners.
They accept patients with a foreign passport, a student card or the identity certificate of Hong Kong, Macau or Taiwan (including: foreign ambassadors to China and their families; foreign specialists in China; foreign employees in China; foreign visitors; foreign students; patients from Hong Kong, Macao and Taiwan)
For the convenience of patients, all the foreign clinics run 24 hours a day. A Hotline is also available. Patients can call a doctor from home or hotel room easily. According to Chinese law, at any one time, doctors can only give a prescription for three day's medicine for common disease and a week's medicine for a chronic illness.

Peking Union Medical College Hospital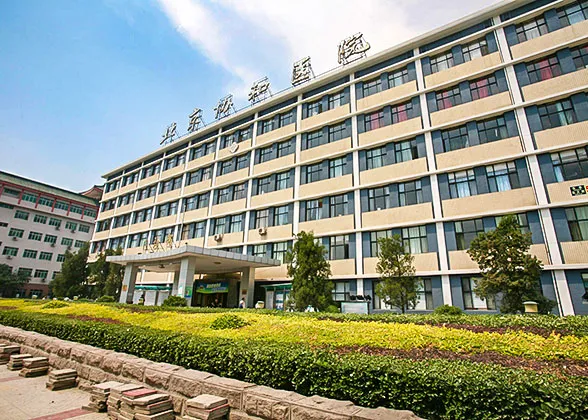 Peking Union Medical College Hospital
With a history of over a hundred years, it is welcomed by Americans and Europeans. It is the appointed one by all the international conferences in Beijing. The foreign clinic accepts over 100 patients each day. There are 100 special sickbeds for foreigners altogether. Some international medical care organizations also have agreements with the Peking Union Medical College Hospital, including European First Aid Center and Asia First Aid Center. They introduce patients to the this palce for treatment. It has two sections: one is in Dongdan and the other is in Xidan.
Special Foreign Sick Room (for reference): CNY800/day (single room); CNY1500/day (suite)
Nutritious Meals (including breakfast, lunch and supper): CNY90/day
Address of East Section: 1, Shuaifu Yuan, Wangfujing, Dongcheng District
Address of West Section: 41, Damu Cang, Xidan, Xicheng District



Beijing Friendship Hospital
Patients from East Asia always choose it as their preference. Kidney Transplantation Operations in there have a high reputation around the world with good quality and low price (only 40% in costs comparing with developed countries).
Special Foreign Sick Room (for reference): CNY240/day (single room)
Nutritious Meals (including breakfast, lunch and supper): CNY90/day
Address: 95, Yong'an Lu, Tianqiao, Xuanwu District
Bus Route: 15, 25, 50, 6



International SOS Clinic
Operating hours: 08:00 - 20:00 all year around
Clinic appointments: +86 (0)10 6462 9112
Dental appointments: +86 (0)10 6462 0333
Address: Suite 105, Wing 1, Kunsha Building,16 Xinyuanli, Chaoyang District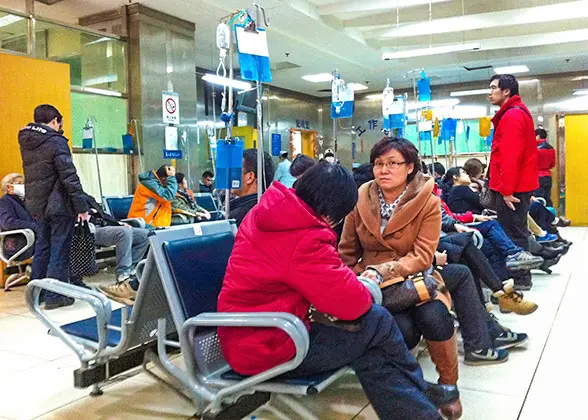 Intravenous Infusion Room

China-Japan Friendship Hospital
It was opened in 1984 with the free economic assistance of Japan. It is a favorite one among Asians, especially the Japanese.
Special Foreign Sick Room (for reference): CNY180/day (single room)
Nutritious Meals (including breakfast, lunch and supper): CNY80/day
Address: Yinghuayuan Dong Jie, Chaoyang District
Bus Route: 62, 713, 379, 419, 602, 807, 847, 984 (get off at Zhong Ri You Hao Yi Yuan Stop)



Beijing United Family Hospital and Clinics
Tel: +86 10 5927 7000
Emergency: +86 10 5927 7120
Address: 2, Jiangtai Lu, Chaoyang District
United Family Health & Wellness Center-Jianguomen
Tel: 85321221
Address: B1, St. Regis Hotel, 21, Jianguomenwai Dajie, Chaoyang District
Shunyi Branch
Tel: 80465432
Address: 818 Pinnacle Plaza, Tianzhu Real Estate Zone, Shunyi District
Dental Clinic (Shunyi Branch)
Tel: 80461102
Address: Pinnacle Plaza, Shunyi District



International Medical Center Beijing
Tel: +86 10 6465 1561/2/3
Regular Hours: 08:00~20:00
Address: 50 Liangmaqiao Lu, Chaoyang District
Bus Route: 405, 416, 420, 421, 499, 503, 516, 627, 671, 672, 675, 701, 707 (get off at Yanshaqiao Nan Stop)



Hong Kong International Medical Clinic
Appointment Hotline: +86 10 6553 2288/2346/2345/2347
Address: 2, Chaoyangmenwai Dajie, Dongcheng Disrict (9/F, Hong Kong and Macro Center)
Bus Route: 44, 800, 858, Te2 (get off at Dong Shishitiao Qian Nan Stop)



Golden Childhood Club Capital Institute of Pediatrics
Tel: +86 10 85623777
Address: 242 South Building of Capital Institute of Pediatrics, 2, Yabao Lu, Chaoyang District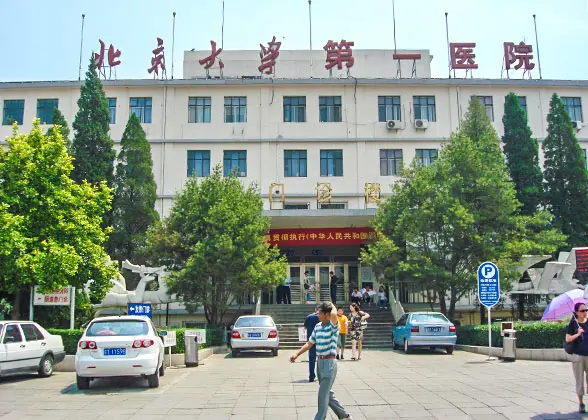 Peking University First Hospital

New Century International Children's Hospital
Tel: +86 10 6802 5588 (reserve & reception), +86 10 8804 6100 (emergency room)
Address: 56, Nanlishi Lu, Xicheng District



OASIS International Hospital
24h Service Hotline: +86 10 5985 0333
Appointment Hotline: 400 87 62747
Fax: +86 10 5985 0222
Location: No. 9, North Jiuxianqiao Road, Chaoyang District



New Century Harmony Pediatric Clinic
Tel: +86 10 6456 2599
Fax: +86 10 6456 8299
Address: K-01, 19 Block, Harmony Business Center, Liyuan Jie, Tianzhu Town, Shunyi District



Amcare Women's & Children's Hospital
Hotline: 800 610 6200
Information: +86 10 6434 2388 - 8157
Customer Service Manager: +86 10 6434 2388 - 8159
Fax: +86 10 6434 2410
E-mail: contact@amcare.com.cn
Address: 9, Fangyuan Xi Lu, Chaoyang District



Bayley & Jackson Medical Center
Tel: +86 10 8562 9998
24 Hour Emergency: +86 10 8562 9990
E-mail: info@bjhealthcare.com
Clinic Hours: Monday to Friday: 09:00~18:00; Saturday: 09:00~16:00
Address: 7, Ritan Dong Lu, Chaoyang District



Confidant Medical Services
Tel: +86 10 6559 6769
Address: 701, Chang'an Club, 10, Dong Chang'an Jie, Dongchegn District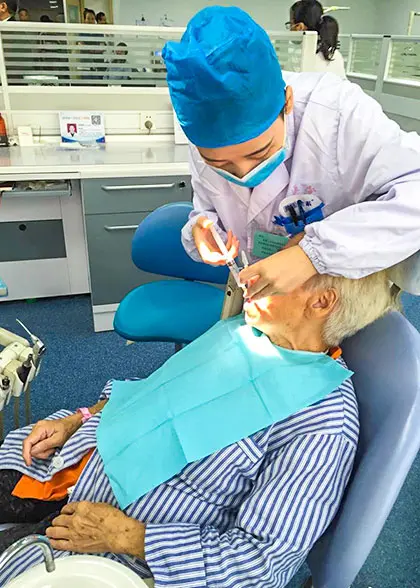 Dental Clinic in Beijing

Vista Clinic
Tel: +86 10 8529 6618
Fax: +86 10 8529 6615
E-mail: vista@vista-china.net
Address: B29 of Beijing Kerry Center, 1, Guanghua Lu, Chaoyang District



Joinway Dental Clinic
Tel & Fax: +86 10 8447 6092
E-mail: Joinway@dentalcn.com
Address: 11D, Building D, Oriental Kenzo Plaza, 48, Dongzhimenwai Dajie, Dongcheng District



APM's Puhua International Hospital - Shuangjing
24 Hour Patient Service Hotline: +86 10 5363 1264
Front Desk Tel: +86 10 8773 5522
Fax: +86 10 8773 5006
Address: 54 North Wusheng Road, East Third Ring Road, Chaoyang Didstrict