Top 10 Universities in Beijing
Beijing embodies many top universities in China and here list top 10 universities in Beijing, among which are many universities in Beijing for international students. The campuses of those famous colleges and institutes are mainly located in Haidian District and Xicheng District. Haidian university town is the most famous one; renowned colleges, such as Peking University and Tsinghua University are set up here. Additionally there are university towns in Changping, Chaoyang and Liangxiang.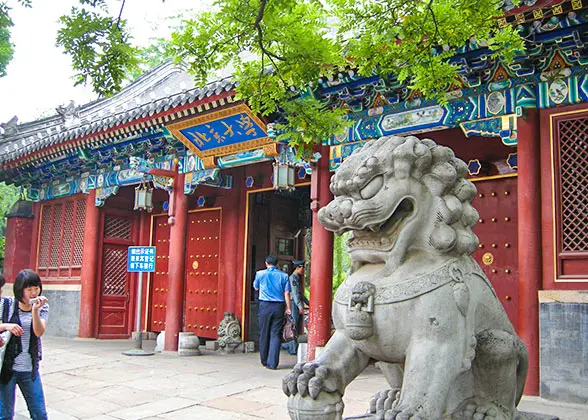 Peking University
Located near to the
Old Summer Palace
(Ruins of Yuanmingyuan) and the
Summer Palace
, it was originally founded as the Imperial University of Peking in 1889. It got its present name in 1912. The campus has a total area of 2,743,532 square meters. Since its establishment, it has been a comprehensive and national key college in China. Recently, under the support of the nation, it has been in a new historical development. It got great achievements in knowledge developing, talent scouting, teachers recruiting and science researching. Thus it has become a center for teaching and research and an important bridge for international communication.
Website: http://english.pku.edu.cn/
Location: 5, Yiheyuan Rd, Haidian District
Transportation: Take bus 332, 333, 584, Yuntong 106, Yuntong 114, Yuntong 118, Yuntong 124 or Night Bus 8 to Beijing Daxue Ximen.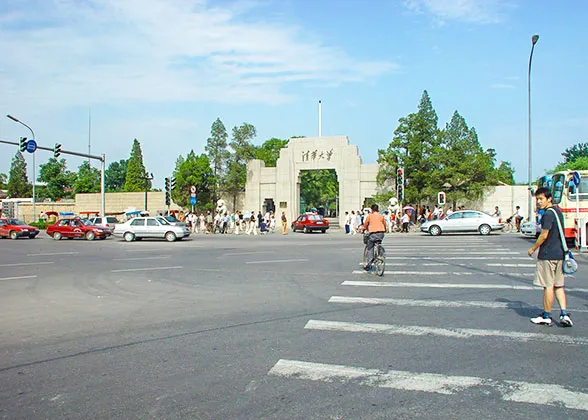 Tsinghua University
Based on university of Beijing ranking, it's one of the top 10 universities in Beijing. Established in 1911, it was originally named 'Tsinghua Xuetang'. It adopted its present name in 1928. Since the adjustment of national colleges, it became a multidisciplinary one, focusing on engineering and technical personnel training for the country, known as 'the cradle of engineers'. Since China opened up to the world in 1978, it has entered a new period of vigorous development. At present, it has now over 25,900 students, including 13,100 undergraduates and 12,800 graduate students. As one of China's most renowned colleges, Tsinghua has become an important institution for fostering talent and scientific research.
Website: https://www.tsinghua.edu.cn/en/
Location: Qinghua Garden, 30, Shuangqing Rd, Haidian District
Transportation: Take bus 320, 331, 365, 375, 498, 508, 579, 601, 614, 681, 982, 81 Express, Te 4, Te 19, Yuntong 105 or 126 to Qinghua Daxue Ximen.
Renmin University of China (RUC)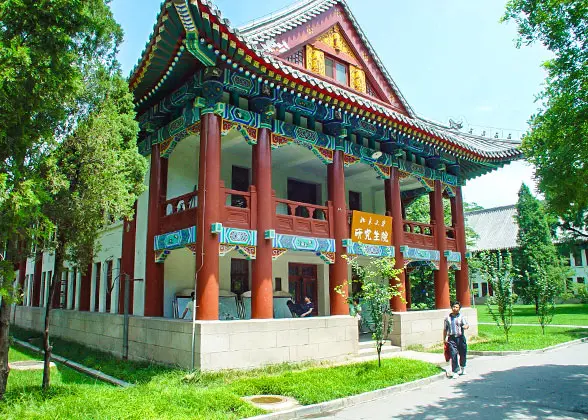 Graduate Studies Office, Peking University
Also known as the People's University of China, it established in 1937, is an important teaching and research base in the areas of the humanities, social sciences, and management science in China. It acquired its present name on October 3, 1950. An outstanding environment is provided for students from both home and abroad to learn and live at the RUC. It has produced 180,000 highly qualified talented graduates who specialize in various fields. At present, the RUC has an enrollment of about 18,750 students, which breaks down into 9,260 undergraduate students and 9,490 postgraduate students.
Location: 59, Zhongguancun Street, Haidian District
Transportation: Take 302, 320, 323, 332, 355, 365, 549, 584, 614, 653, 139 Express, Te 4, Te 15, Yuntong 105, Yuntong 106 or Night Bus 8 to Renmin Daxue.
Beijing Normal University (BNU)
Established as the Faculty of Education of the Capital Metropolitan University in 1902, it is almost as long as the history of Chinese modern education. It lays great emphasis on exchange and cooperation with educational institutions nationally, regionally and internationally, making every endeavor to pursue the global prestige. At present, there are about 19,500 full-time students, 8,500 undergraduate students, 9,000 graduate students, 3,370 international students and 31,650 part-time students in BNU. It devotes into International Cooperative Programs and has made cooperative agreements with 164 institutions from over 30 countries.
Location: 19, Xinjiekouwai Street, Haidian District
Transportation: Take bus 22, 47, 88, 344 Express, 345, 345 Express, 508, 510, 579, 618, 883, 885, 889, 66 Express, Yuntong 104, Night Bus 4 or 38 to Beijing Shifan Daxue.
Beihang University (BUAA)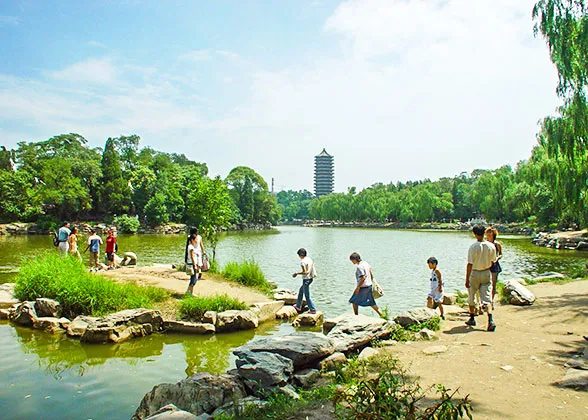 Weiming Lake in Peking University
Formerly known as Beijing Institute of Aeronautics and one of the top 10 universities in Beijing, it was founded on October 25, 1952. With an area of over 100 hectares, BUAA is the first aeronautical and astronautical engineering one in China. As one of the top-ranked research one, BUAA has had more than 40 projects that were ranked first in China.
BUAA has focused on developing its international academic exchange programs and cooperation. It has established cooperation with 152 colleges and research institutions from 40 countries, including the Canada, UK, France, Germany, Russia and USA. At present, BUAA has a total enrolment of over 26,000, among which there are more than 300 overseas students.
Location: 37, Xueyuan Rd, Haidian District
Transportation: Take bus 331, 375, 386, 392, 438, 478, 484, 498, 606, 632, 693, 14 Express, 106 Express, Yuntong 103 or Night Bus 14 to Beijing Hangkong Hangtian Daxue.
Beijing Foreign Studies University
BFSU for short, it was originally known as Yan'an School of Foreign Languages based on the Russian Language Unit of the Third Branch of the Chinese People's Anti-Japanese Military and Political College in 1941. It got its present name in 1994. BFSU has been China's principal base offering training in foreign language learning and teaching. BFSU was affiliated with the Ministry of Foreign Affairs from its establishment to the early 1980s and is now a key university under the Ministry of Education. It has established cooperation with 320 colleges and cultural institutions from 65 countries.
Location: 2, North Xisanhuan Rd, Haidian District
Transportation: Take bus 74, 323, 374, 610, 634, 645, Te 8, Yuntong 103, Yuntong 109, Yuntong 110, Yuntong 201 or Night Bus 30 to Weigongqiao.
Beijing International Studies University (BISU)
As the former Beijing Second Foreign Languages Institute and one of the top 10 universities in Beijing, it was founded in 1964 thanks to China's late Premier Zhou En Lai's great concern about the foreign languages study. It is an authorized school eligible to offer thirteen post-graduate courses in foreign languages. It recruits overseas students for various levels of study, ranging from postgraduate, undergraduate to short-term language studies. It pays attention to international cooperation and has established at different times long-term cooperative or exchange programs with 114 colleges from U.S., UK, Japan, Korea, Australia, France, Canada, Germany, Russia, Spain, Switzerland, Egypt, Syria, Malaysia, Hong Kong, etc. Mutual academic interactions, exchange of scholars and students, joint training programs, etc. are frequent.
Location: 1, Dingfuzhuang Nanli, Chaoyang District
Transportation: Take bus 411, 488, 517, 615, 639, 648, 690, 2 Express or Yuntong 111 to Di'er Waiguoyu Xueyuan.
Communication University of China (CUC)
Location: 1, East Dingfuzhuang Street, Chaoyang District
Transportation: Take bus 411, 488, 517, 615, 639, 648, 690, 2 Express, or Yuntong 111 to Dingfuzhuang.
University of International Business and Economics
Location: 10, East Huixin Street, Chaoyang District
Transportation: Take bus 13, 18, 119, 125, 361, 379, 409, 419, 567, 596, 674, 684, 696, 944, Te 16, Yuntong 101, Yuntong 201, Night Bus 26 or 28 to Duiwai Jingmao Daxue.
Central University of Finance and Economics (CUFE)
Location: 39, South Xueyuan Rd, Haidian District
Transportations: Take 16, 87, 92, 645, 651, 35 Express, Te 15 or Night Bus 14 to Zaojunmiao.

China Student Tours:


4 Days Beijng Package from $539


8 Days Beijing Xi'an Shanghai from $1412


6 Days Beijing & Xi'an Tour from $919
- Last updated on Apr. 23, 2023 by Catherine He -
Questions & Answers on Top 10 Universities in Beijing
Asked by Violet Doan from SINGAPORE | Aug. 28, 2019 08:28

Reply
Hi, Tsinghua University allow public go in to visiting ? Thanks
Answers (1)
Answered by Paul from MALAYSIA | Aug. 29, 2019 20:37

0

0

Reply
Yes, of course. You can visit it during weekends, summer and winter holidays, national holiday at 8:30 - 11:30, 13:30 - 16:30.